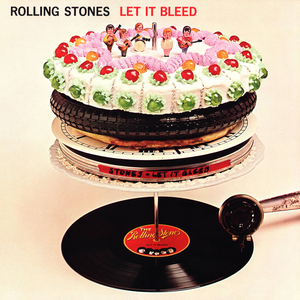 The Rolling Stones is an English rock band formed in London in 1962. Active for …
Read Full Bio ↴
The Rolling Stones is an English rock band formed in London in 1962. Active for six decades, they are one of the most popular and enduring bands of the rock era. In the early 1960s, the Rolling Stones pioneered the gritty, rhythmically driven sound that came to define hard rock. Their first stable line-up consisted of vocalist Mick Jagger, multi-instrumentalist Brian Jones, guitarist Keith Richards, bassist Bill Wyman, and drummer Charlie Watts. During their formative years, Jones was the primary leader: he assembled the band, named it, got them gigs, and drove their sound and image. After Andrew Loog Oldham became the group's manager in 1963, he encouraged them to write their own songs. Jagger and Richards became the primary creative force behind the band, alienating Jones, who had developed a drug addiction that interfered with his ability to contribute meaningfully.

Rooted in blues and early rock and roll, the Rolling Stones started out playing covers and were at the forefront of the British Invasion in 1964, becoming identified with the youthful and rebellious counterculture of the 1960s. They then found greater success with their own material, as "(I Can't Get No) Satisfaction" (1965), "Get Off of My Cloud" (1965), and "Paint It Black" (1966) became international number-one hits. Aftermath (1966) – their first entirely original album – is considered by The Daily Telegraph to be the most important of their formative records. In 1967, they had the double-sided hit "Ruby Tuesday"/"Let's Spend the Night Together" and experimented with psychedelic rock on Their Satanic Majesties Request. They returned to their rhythm and blues roots with hit songs such as "Jumpin' Jack Flash" (1968) and "Honky Tonk Women" (1969), and albums such as Beggars Banquet (1968), featuring "Sympathy for the Devil", and Let It Bleed (1969), featuring "You Can't Always Get What You Want" and "Gimme Shelter". Let It Bleed was the first of five consecutive number-one albums in the UK.

Jones left the band shortly before his death in 1969, having been replaced by guitarist Mick Taylor. That year they were first introduced on stage as "The Greatest Rock and Roll Band in the World". Sticky Fingers (1971), which yielded "Brown Sugar" and included the first usage of their tongue and lips logo, was their first of eight consecutive number-one studio albums in the US. Exile on Main St. (1972), featuring "Tumbling Dice", and Goats Head Soup (1973), yielding the hit ballad "Angie", were also best sellers. Taylor was replaced by Ron Wood in 1974. The band continued to release successful albums, including their two largest sellers: Some Girls (1978), featuring "Miss You", and Tattoo You (1981), featuring "Start Me Up". Steel Wheels (1989) was widely considered a comeback album and was followed by Voodoo Lounge (1994), a worldwide number-one album. Both releases were promoted by large stadium and arena tours, as the Stones continued to be a huge concert attraction; by 2007 they had recorded the all-time highest-grossing concert tour three times, and as recently as 2021 they were the highest-earning live act of the year. From Wyman's departure in 1993 to Watts' death in 2021, the band continued as a four-piece core, with Darryl Jones playing bass on tour and on most studio recordings, while Steve Jordan became their touring drummer following Watts' death. Their 2016 album, Blue & Lonesome, became their twelfth UK number-one album.

The Rolling Stones' estimated record sales of 200 million make them one of the best-selling music artists of all time. The band has won three Grammy Awards and a Grammy Lifetime Achievement Award. They were inducted into the Rock and Roll Hall of Fame in 1989 and the UK Music Hall of Fame in 2004. Billboard magazine and Rolling Stone have ranked the band as one of the greatest of all time.

Full Wikipedia article: https://en.wikipedia.org/wiki/The_Rolling_Stones

Studio albums
The Rolling Stones / England's Newest Hit Makers (1964)
12 X 5 (1964)
The Rolling Stones No. 2 / The Rolling Stones, Now! (1965)
Out of Our Heads (1965)
December's Children (And Everybody's) (1965)
Aftermath (1966)
Between the Buttons (1967)
Their Satanic Majesties Request (1967)
Beggars Banquet (1968)
Let It Bleed (1969)
Sticky Fingers (1971)
Exile on Main St. (1972)
Goats Head Soup (1973)
It's Only Rock 'n Roll (1974)
Black and Blue (1976)
Some Girls (1978)
Emotional Rescue (1980)
Tattoo You (1981)
Undercover (1983)
Dirty Work (1986)
Steel Wheels (1989)
Voodoo Lounge (1994)
Bridges to Babylon (1997)
A Bigger Bang (2005)
Blue & Lonesome (2016)
Hackney Diamonds (2023)
Jump to: Overall Meaning ↴ Interesting Facts ↴ Line by Line Meaning ↴
Well, I followed her to the station
With a suitcase in my hand
Yeah, I followed her to the station
With a suitcase in my hand
Whoa, it's hard to tell, it's hard to tell
When all your love's in vain
When the train, come in the station
I looked her in the eye
Well the train come in the station
And I looked her in the eye
Whoa, I felt so sad so lonesome
That I could not help but cry
When the train left the station
It had two lights on behind
Yeah, when the train left the station
It had two lights on behind
Whoa, the blue light was my baby
And the red light was my mind
All my love was in vain
All my love's in vain
Overall Meaning
The Rolling Stones's Love in Vain is a mournful blues song that describes a man's heartbreak after being left by his lover. The singer has followed his love to the station, and as she leaves him, he is left with nothing but a suitcase in his hand. He watches as she boards the train and looks her in the eye, feeling sad and lonely as the train departs. The train's two lights—one blue, representing his love, and one red, representing his mind—serve as a metaphor for the singer's conflicting feelings.
The lyrics speak to the pain of unrequited love, as the singer is left to deal with the aftermath of a failed relationship. The repeated refrain, "all your love's in vain," underlines the futility of his efforts to win back his lover. The song's structure is simple, with a slow, mournful melody and minimal instrumentation. Mick Jagger's vocals are understated and emotive, conveying the singer's sense of loss and heartbreak.
Love in Vain was written by blues legend Robert Johnson and first recorded by him in 1937. The Rolling Stones covered the song in 1969 on their album Let it Bleed. The song has since been covered by numerous other artists, including Eric Clapton, Cassandra Wilson, and Buddy Guy.
Interesting Facts:
Interesting Facts
Note: This section uses generative AI, which can be inaccurate.


Line by Line Meaning
Well I followed her, to the station
I went after her to the station
With a suitcase in my hand
Carrying my luggage with me
Yeah, I followed her to the station
Yes, I followed her to the station
Whoa, it's hard to tell, it's hard to tell
It's difficult to know, it's difficult to know
When all your love's in vain
When you love someone and they do not love you back
When the train, come in the station
When the train arrives at the station
I looked her in the eye
I gazed into her eyes
Well the train come in the station
The train has arrived at the station
And I looked her in the eye
And I stared into her eyes
Whoa, I felt so sad so lonesome
I felt sorrowful and alone
That I could not help but cry
That I was compelled to weep
When the train left the station
When the train departed from the station
It had two lights on behind
It had two lights shining from behind
Yeah, when the train left the station
Yes, when the train left the station
Whoa, the blue light was my baby
The blue light represented my beloved
And the red light was my mind
And the red light represented my thoughts
All my love was in vain
All the affection I shared was pointless
All my love's in vain
All my love was fruitless
Lyrics © CONCORD MUSIC PUBLISHING LLC
Written by: Robert Leroy Johnson

Lyrics Licensed & Provided by LyricFind
To comment on or correct specific content,
highlight it
Genre not found
Artist not found
Album not found
Search results not found
Song not found