Everyday things are getting worse
Everyday things are getting worse
Time so hard, dog and all a look work
Time so hard, dog and all a look work
Everyday things are getting worse
Everyday things are getting worse
I took him down to the market place
And them laugh at my dog
You never see smoke without fire
I said
Oh
You gotta hold your head up high
Everyday things are getting worse
Everyday things are getting worse
Time so hard, why oh why oh lord
Time so hard, look upon Maud and Gerard
Writer(s): CANIC AGARD, SYDNEY CROOKS, LOREN ROBINSON

Contributed by Gavin O. Suggest a correction in the comments below.
To comment on specific lyrics,
highlight them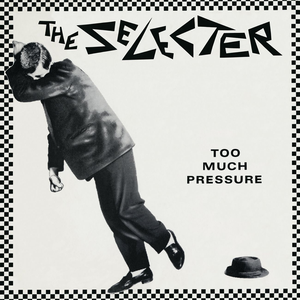 The Selecter, a ska revival band from Coventry, England, formed in the late 1970s as one of the essential bands of the British ska movement. The profilic lead singer is Pauline Black. The Selecter are known for hits as 'On My Radio', 'Too Much Pressure', 'Missing Words', 'Three Minute Hero' and 'Celebrate The Bullet'. The Selecter featured a racially mixed line up, and the name of the band is a reference to the Jamaican word for a music selecter, known elsewhere as the DJ.
Read Full Bio
The Selecter, a ska revival band from Coventry, England, formed in the late 1970s as one of the essential bands of the British ska movement. The profilic lead singer is Pauline Black. The Selecter are known for hits as 'On My Radio', 'Too Much Pressure', 'Missing Words', 'Three Minute Hero' and 'Celebrate The Bullet'. The Selecter featured a racially mixed line up, and the name of the band is a reference to the Jamaican word for a music selecter, known elsewhere as the DJ.
- - -

The Selecter are a British ska revival band from Coventry, formed in the late 1970s as one of the essential bands of the British ska movement.

Much of what set apart The Selecter from many of the other ska bands at the time was the voice of Pauline Black. She had to disguise herself as a man in order for the band to get gigs, but once they did, there was no disguising her voice. Like other ska bands of this movement, The Selecter featured a racially mixed line up, and songs about violence, politics, marijuana, a fictional spy's theme song, James Bond, and reggae classics. The name of the band is a reference to the Jamaican word for a music selecter, known elsewhere as the DJ. Also typical to the style is the mix of one vocalist singing, and the other toasting in a Jamaican style, a precursor to rapping.

The Selecter's first recording Too Much Pressure was recorded at the end of 1979 and beginning of 1980 and issued on the pre-eminent 2 Tone/Chrysalis label. Their second recording Celebrate the Bullet was issued in 1981. Though the band has continued to regroup and reform on and off, most of the many recordings available are recompiled selections from these first two albums, either live or studio recordings. The Selecter's first two albums are essential British ska recordings.

Pauline Black has been the singer in The Selecter since its formation in 1979 when the band spearheaded the Two Tone movement alongside The Specials releasing the singles "The Selecter", "Three Minute Hero", "The Whisper", "Missing Words" and "On My Radio" as well as two albums; "Too Much Pressure" and "Celebrate The Bullet". The Selecter were also featured in the cult film Dance Craze. The band split in 1982, Pauline carved out a career in TV and theatre, appearing in dramas like The Vice, The Bill, Hearts and Minds and 2000 Acres of Sky. She won the 1991 Time Out award for Best Actress for her portrayal of Billie Holiday in the play All or Nothing At All and starred next to Christopher Lee in the schlock horror film The Funny Man. She reformed The Selecter in 1991 and has released several new albums and has toured all over the world.

Nick Welsh is probably best known for being the bassist in The Selecter and formerly Bad Manners but he has worked with some of the biggest names in Ska and Reggae, Prince Buster, Laurel Aitken, Rico Rodriguez, Dave Barker and most recently Lee "Scratch" Perry with whom he received a Grammy Award Certificate for his work on the CD Jamaican ET which won The Best Reggae Category in 2002. Nick also writes music for TV which has been used world-wide on shows as diverse as WWE (World Wrestling Entertainment), The Osbournes and even adverts for Ariel soap powder.

Neol Davies the founder and writer of the classic hits returns with a brand new band in 2010.

neoldaviesakatheselecter plays the mainstage at Bestival 2011 with new album and remixes.

Original line-up

Pauline Black : vocals
Compton Amanor: guitar
Charley Anderson: bass guitar
Charley Bembridge: drums
Desmond Brown: Hammond keyboard
Neol Davies: guitar
Arthur Hendrickson: vocals

Anderson and Brown left The Selecter in 1980. They were replaced by James Mackie: Hammond organ and Adam Williams: bass guitar

Reformed line-up: 1991

Pauline Black: vocals
Neol Davies: guitar
Arthur 'Gaps' Hendrickson - vocals
Martin Stewart: keyboards
Nick Welsh : bass
Perry Melius : drums


The Selecter 2010 lineup includes

Founder and songwriter Neol Davies- vocals/guitars
Lead Vocals- John Gibbons
Daniel Crosby- Drums
Andre Buyani- Bass
Tim Cansfield- Guitar
Victor Travino- Congas & Percussion
Dean Ross- Hammond Organ
Selecter Horns
Genre not found
Artist not found
Album not found
Search results not found
Song not found