Jump to: Overall Meaning | Line by Line Meaning
Well can't keep looking backwards
There's a lot for me to learn
And I'm looking forward overly
There's a lot for me to burn
There's a one outside the window
There's a lot for me to learn
Hear less than half of what I see
There's a lot for me to burn
All these small talk conversations
There's a lot for me to learn
And Facebook Invitations
There's a lot for me to burn
All the mystery is over
There's a lot for me to learn
But I keep coming up empty handed baby
There's a lot for me to burn
Well they come in greater numbers
There's a lot for me to learn
They enjoy the mediocre
There's a lot for me to burn
I try to stick my piece in the air
There's a lot for me to learn
But I keep coming up ended handed baby
There's a lot for me to burn
I came up to a shadowy figure
There's a lot for me to learn
Who tried to treat me to all the secrets
There's a lot for me to burn
Yeah, I said that way is not for me
There's a lot for me to learn
I guess I'll languish right here in obscurity
There's a lot for me to burn
Well can't keep looking backwards
There's a lot for me to learn
And I'm looking forward overly
There's a lot for me to burn
There's a one outside the window
There's a lot for me to learn
I guess I'll languish right here in obscurity
Overall Meaning
The lyrics to The Sheepdogs' song Learn & Burn contain the theme of not dwelling on the past but focusing on the future and moving forward. The narrator highlights how there is a lot for them to both learn and burn as they progress in life. They mention various scenarios and situations in which they can either gain knowledge and understanding or let go and move on from negativity.
In the first stanza, the narrator acknowledges that there is so much for them to learn and they cannot keep looking back at the past. They must concentrate on the future, which may bring challenges that they will need to burn through to overcome. The second stanza focuses on social interactions and how the narrator must learn from small talk and ignore Facebook invitations that can add unnecessary drama to their current situation.
The third stanza references the fact that many people enjoy mediocrity, but the narrator knows deep down that they have something more to offer. They attempt to stick their piece in the air to make themselves known, but it seems to be futile. In the final stanza, the narrator encounters a shadowy figure that tries to reveal secrets to them, but they understand that this way of thinking is not for them. They choose to remain in obscurity and continue to learn and burn in their own way.
Overall, the song's lyrics convey a message of perseverance, learning, letting go of negativity, and moving forward.

Line by Line Meaning
Well can't keep looking backwards
I need to stop dwelling on the past and focus on what I can learn and achieve in the present.
There's a lot for me to learn
There are so many things I have yet to discover and understand.
And I'm looking forward overly
I am eager and optimistic about the future and all it holds.
There's a lot for me to burn
There are things that I need to let go of and move on from, even if it hurts.
There's a one outside the window
There is something or someone just out of reach that I want to learn more about.
Hear less than half of what I see
I am often misinformed or don't fully understand what is happening around me.
All these small talk conversations
Pointless chit-chat doesn't help me learn or grow.
Facebook Invitations
Social media distractions are taking up valuable time and energy that could be used for more productive pursuits.
All the mystery is over
I've exhausted my interest in things that used to intrigue me and need to find new things to challenge myself with.
But I keep coming up empty handed baby
My efforts to learn and grow aren't always successful, and can be frustrating at times.
Well they come in greater numbers
Others may have different priorities or interests than me, and that's okay.
They enjoy the mediocre
Some people are content with settling for less than their full potential, but that doesn't mean I have to be.
I try to stick my piece in the air
I'm trying to make my voice heard and stand out from the crowd.
But I keep coming up ended handed baby
Despite my efforts, I often feel like I'm not making progress or achieving my goals.
I came up to a shadowy figure
I encountered someone or something mysterious and intriguing.
Who tried to treat me to all the secrets
This figure offered me knowledge or insight that I was curious about.
Yeah, I said that way is not for me
I realized that this path or opportunity wasn't the right fit for me.
I guess I'll languish right here in obscurity
I may not be well-known or successful right now, but I won't give up on my goals and dreams.
Contributed by Alaina I. Suggest a correction in the comments below.
To comment on or correct specific content,
highlight it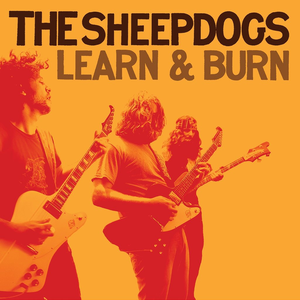 The Sheepdogs is a Canadian rock and roll band formed in Saskatoon, Saskatchewan in 2006. The group consists of lead singer and guitarist Ewan Currie, bass guitarist Ryan Gullen, drummer Sam Corbett, guitarist Jimmy Bowskill, and Shamus Currie (brother of lead singer Ewan Currie) playing trombone, keyboards, and tambourine. The Sheepdogs became the first unsigned band to make the cover of Rolling Stone in 2011 by winning this contest. They have since grown to popularity in Canada and the United States.
Read Full Bio
The Sheepdogs is a Canadian rock and roll band formed in Saskatoon, Saskatchewan in 2006. The group consists of lead singer and guitarist Ewan Currie, bass guitarist Ryan Gullen, drummer Sam Corbett, guitarist Jimmy Bowskill, and Shamus Currie (brother of lead singer Ewan Currie) playing trombone, keyboards, and tambourine. The Sheepdogs became the first unsigned band to make the cover of Rolling Stone in 2011 by winning this contest. They have since grown to popularity in Canada and the United States.

"From the prairie city of Saskatoon, Canada come the Sheepdogs, 4 young gentlemen who revel in the joy of rock n roll so wholeheartedly, it's downright contagious. Sporting the long-haired looks of their musical forefathers, the lads make the most of their 2 guitars, bass and drums combo. Soulful vocalizations, everybody harmonizing, old-school guitar chops winding, riffing and chiming, and a grooving rhythm section that keeps it all going. Having already cemented their reputation as dynamic performers in their hometown, the Sheepdogs now turn their attention to spreading their affection for rock n roll cross-country. They have spent the last year covering the great white north, playing from Vancouver island to Montreal. They have played festivals, headlined a bill during 2007's Junofest, opened for the likes of Matt Mays and el Torpedo, and performed before thousands at 2006's Saskatoon Centennial Celebration. In January 2007 they released their debut LP Trying to Grow, a collection of guitar-driven originals that recall classic rockers like the Stones, CCR, and the Kinks. The album's title-track was featured in a province-wide campaign in their native Saskatchewan. Early 2008 has already seen the completion of their follow-up album, which mixes elements of southern rock and moody soul with gleeful straight-forward rockers. Once again, the boys are hitting the road, spreading their rock n roll revival to the rest of Canada."
-Bill Shakespeare, August 2007

Band Lineup:
Ewan Currie - lead vocals, guitar
Leot Hanson - backing vocals, guitar
Ryan Gullen - backing vocals, bass
Sam Corbett - backing vocals, drums

http://www.thesheepdogs.com/
Genre not found
Artist not found
Album not found
Search results not found
Song not found