Here it goes and this won't take long
just let me dedicate a song
To a girl who'd turn this boy to stone
And you know who you are
Here's a hint
She doesnt have a car
Or the time to be in love with me
Why did you say
This feeling has to stay
Left me to wait for so long
You don't have to stay
But I hope you'll do it anyway
All you did was up and go
Excuse me but this won't take long
I'm sorry for writing you this song
But just what do you think you deserve
Because when you had the chance for romance
You burned it at both ends
I guess I'm not sorry at the least
What made you say
This feeling has to stay
Picking yourself for so long
You don't have to stay
But I hope you'll do it anyway
All you did was up and go
You dont have to go
What makes you stay we'll never know
All you did was up and go
up and go
up and go
What would make you stay
up and go
What would make you stay
I guess we'll never know
I guess we'll never know
I guess we'll never know
You don't have to stay
But I hope you'll do it anyway
All you did was up and go
You dont have to go
What makes you stay we'll never know
All you did was up and go
up and go
up and go
What would make you stay
up and go
What would make you stay
I guess we'll never know
I guess we'll never know
I guess we'll never know
You didn't have to stay...so you didn't
Up then went away
All you did was up and go
Up and go
Up and go
I guess we'll never know
I guess we'll never know
I guess we'll never know
Contributed by Keira R. Suggest a correction in the comments below.
To comment on specific lyrics,
highlight them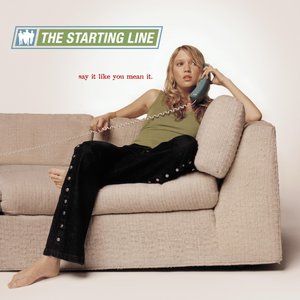 The Starting Line is an American pop punk band that was formed in 1999 in Churchville, Pennsylvania. The band consists of Kenny Vasoli (vocals, bass), Matt Watts (guitar), Mike Golla (guitar), Brian Schmutz (keyboards, vocals) and Tom Gryskiewicz (drums). Having four studio albums under their belt, the group are best known for their 2007 rock radio hit "Island" as well as their popular 2002 single "The Best of Me". In 2008, the band began a hiatus, which ended several months later but the group has only toured intermittently since then.
Read Full Bio
The Starting Line is an American pop punk band that was formed in 1999 in Churchville, Pennsylvania. The band consists of Kenny Vasoli (vocals, bass), Matt Watts (guitar), Mike Golla (guitar), Brian Schmutz (keyboards, vocals) and Tom Gryskiewicz (drums). Having four studio albums under their belt, the group are best known for their 2007 rock radio hit "Island" as well as their popular 2002 single "The Best of Me". In 2008, the band began a hiatus, which ended several months later but the group has only toured intermittently since then.

Vasoli has lately been focusing on his side project, known as Person L. Tom has been recording with his new band, Cheap Seats, with Matt as their manager. Mike also has a side project, called The Traded Series. The origins of the group that would become The Starting Line go back to 1999, via an AOL instant message from Churchville, Pennsylvania guitarist Matt Watts to vocalist/bassist Kenny Vasoli. It asked if the then fourteen-year-old Vasoli, who was at that time in a band called Smash Adams, was interested in "Jamming and shit", as the message title read.

Only a few weeks later, Vasoli found himself rehearsing with his future bandmates Watts, guitarist Mike Golla and drummer Tom Gryskewicz. Soon, the band started touring under the name Sunday Drive, selling out home-made merchandise and a self-recorded demo cassette that the guys titled 'Four Songs'. Their first official release was a three-way split with The Jimmy Tuesday Band and The Commercials contributing three songs each, the work released on KickStart Audio in 2000.

Sunday Drive was soon approached by We the People Records and asked to produce a recording session (the infamous We the People Records Sessions). Set for a release in December 2000, the twelve songs were initially planned to become the band's debut full-length With Hopes of Starting Over on We the People Records, but they ended up serving only as demos for tracks on future releases, as the band signed with Drive-Thru Records in April 2001. On Drive-Thru, they soon released their debut EP With Hopes of Starting Over. Yet, as the name Sunday Drive was already taken by a Christian rock band, they went on as The Starting Line.

On July 16, 2002, almost exactly one year after the release of their EP, the full-length Say It Like You Mean It followed. The songs ranged from energetic and fast-paced to melancholy and calm, dealing with performing on stage ("Given the Chance"), feeling homesick ("Left Coast Envy") and getting even with Vasoli's ex-girlfriend Karina ("Up & Go", "Hello Houston", among others). The hit single "The Best of Me" and its two music videos, as well as the second single "Leaving", received heavy radio and TV airplay, securing The Starting Line a spot on the Warped Tour.

Due to their desire to put out new material, the band decided to release an all-unplugged EP, recorded in three sessions over the following year. The first three songs (recorded in The Prize Fight's Bob Jones' bedroom in August 2002), the second session (recorded in Vasoli's basement in March 2003) and the last track (recorded on the band's touring bus in April 2003) became The Make Yourself at Home EP, released on November 25, 2003. The CD and the DVD version issued simultaneously, featuring an acoustic set performed live at Skate & Surf 2003 in Asbury Park, New Jersey, would be their last releases put out solely on Drive-Thru Records, as The Starting Line was signed by Geffen Records soon afterwards.

Their major label debut, Based on a True Story, came out in May 2005. Lyrically, the band dissociated themselves from the post-relationship formula that was predominant on their previous records. On this album, a lot of the songs (e.g. "Inspired By the $", "Autography" and "The B-List") were explicitly inspired by the band's disdain for their record label Geffen and its executives. The album was far more successful than the band's 2002 effort and sold 42,000 copies within its first week, as opposed to its predecessor's 11,000. The release was followed by the semi-headlining Nintendo Fusion Tour with Fall Out Boy, kicking off in September 2005. A few dates into the tour, The Starting Line were — at their request — released from their record deal with Geffen, and became free agents. In early January 2006, their signing with Virgin Records was announced.

On March 5, 2008 the band announced in an e-mail and on Absolutepunk.net they would be going on a break in order for Ken and Brian to explore Person L, Matt and Tom to explore The Seventy Six, and Mike to spend time with his two daughters and explore The Traded Series. The band had been playing with the idea of coming back in 2011, but in a chat with absolutepunk.net, Kenny Vasoli said, ""it's looking good, may even be earlier. I hung with Matt and Tom the other day, we all are still in love with one another.

On November 10, 2009, The Starting Line released their first-ever live concert CD, film and documentary DVD titled "Somebody's Gonna Miss Us" via Image Entertainment on a 2-disc set. Through intimate and honest interviews with the band, friends and family fans will get a glimpse into the inner workings of the group and a career that spanned nearly a decade, five releases, and thousands of shows.

On December 29, 2009, The Starting Line had a reunion concert at the Theater of Living Arts. Starting Line guitarist Matt Watts stated on the website AbsolutePunk that "this doesn't mean that TSL are back together....It simply means that we're taking a break from our break, and wanted to play a fun show in Philadelphia and continue to focus on our lives outside of TSL"

The Starting Line added a second holiday show on December 30, 2009 in Philadelphia at the Trocadero Theater. This was added due to the fact that the first holiday show scheduled for December 29, 2009 sold out in a little over an hour and the band would like to give their local fans a better chance to see them. Towards the end of their set, Kenny Vasoli announced the band's reunion. However, the group has only toured intermittently since then.

Main Website: http://www.startinglinerock.com
MySpace: http://www.myspace.com/thestartingline
Genre not found
Artist not found
Album not found
Search results not found
Song not found