It Was Supposed to Be So Easy
The Streets Lyrics
It was supposed to be so easy...
Just take back the DVD
Withdraw that extra money
Tell mum I wouldn't be back for tea
Then grab my savings and hurry
So first to get the film back in time
To avoid that big fine
I had to do a fast hill climb
But a faster decline
But I flew a bit quick
Arms like a lunatic
Had to stop for a few ticks
I started feeling sick
Got to the video shop in a state
But chuffed it, wouldn't be late
Only when he flicked open the case
I'd left the disc at my place
[Chorus]
Today I have achieved absolutely naught
In just being out of the house, I've lost out
If I wanted to end up with more now
I should have just stayed in bed like I know how
So I failed on the DVD
But I still had to get the money
Tell mum I couldn't make tea
Get the savings and then hurry
Rushin' to the cash machine
Still a bit mashed and lean
Then of course a mandatory car
Drives by and splashes me
Get there the queue's outrageous
Ladies taking ages
My rage is blowing gauges
How long's it take to validate your wages?
At last my turn comes
Press the 50 squid button: Insufficient funds
[Chorus]
So I failed on the DVD
Couldn't withdraw any money
But I still had to call mum
Get the savings, and then hurry
So to call mum so that
I could tell her I can't go and that
At least I remembered my phone, man
I didn't know her number offhand
Where's my phone, have I got it?
Oh this is a crock of shit!
I lost the fucking thing
Wait, wait, it's in my pocket
But the batteries nearly flat
Got to call, quick snap
Aww shit, the battery is flat
[Chorus]
So I've failed on the DVD
Couldn't withdraw any money
Or call mum about tea
I'll have to get the savings and hurry
But where was the money?
I knew I'd left it on the
Side, next to the telly
This is not even funny
I left it in the living room
Ready to pick up as soon
As I passed through
On the way out to the rendezvous
So the shoebox full of money
Just disappearing from me
That's not what I call funny
+A grand don't come for free+
[Chorus]
Oy, soaked to the bone in me jeans
You want me to stop?
I imagine my mum's weeping right now
And the thousand pounds you swore
That I left on the table this morn
Has simply disappeared before my eyes, his eyes, and yours
And I'm a thousand pounds poorer
Hundred thousand pennies, no more
A thousandth of a million squid
Or two monkeys
Or a whole fifty scores
Gone, withdrawn, from my life
The money is no more for sure
It was supposed to be so easy...
Lyrics © Universal Music Publishing Group
Written by: Michael Geoffrey Skinner

Lyrics Licensed & Provided by LyricFind
To comment on specific lyrics,
highlight them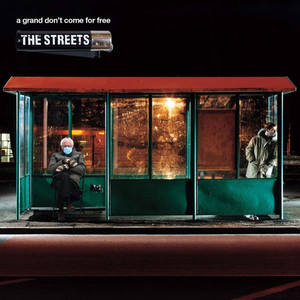 It Was Supposed to Be So Easy
There are two artists with this name:
1. A British rapper
2. A Finnish rock band

1. Mike Skinner (born November 27, 1978), more commonly known by his stage name The Streets, is a rapper from Birmingham, England. He was born in Barnet in North London and that's where his accent, sometimes called 'Mockney' by the press, comes from. You can hear his actual accent on the start of 'Fake Streets Hats' from his album The Hardest Way To Make An Easy Living recorded in 2006.
Read Full Bio
There are two artists with this name:
1. A British rapper
2. A Finnish rock band

1. Mike Skinner (born November 27, 1978), more commonly known by his stage name The Streets, is a rapper from Birmingham, England. He was born in Barnet in North London and that's where his accent, sometimes called 'Mockney' by the press, comes from. You can hear his actual accent on the start of 'Fake Streets Hats' from his album The Hardest Way To Make An Easy Living recorded in 2006. He moved to Birmingham shortly after he was born and is a Birmingham City fan. He has suffered from epilepsy since he was five.

He signed a five album record deal in 2002, and has fulfilled his contract by releasing five albums: Original Pirate Material (2002), All Got Our Runnin's (2003), A Grand Don't Come For Free (2004), The Hardest Way To Make An Easy Living (2006), Everything Is Borrowed (2008) and Computers and Blues (2011).

When playing live, Skinner is joined by Kevin Mark Trail on backing vocals, Johnny Drum Machine on drums, Wayne Fibes on guitar and bass, Chris Brown on keyboards and Magic Mike on samplers.

In January 2011, Skinner's management announced that Skinner will no longer perform as The Streets.
---------------

2. The Streets was a band originated from Turku, Finland in the early 1980's. Their most known song is Kestääkö siivet from the album Kestääkö siivet (1980), which is also featured on the soundtrack of Mika Kaurismäki's film Arvottomat (The Worhless) 1982.

The Streets were:

Asmo Kärkkäinen, guitar
Jouni Hemberg, lead vocals
Kari Laihonen, keyboard
Tapio Vesa, bass guitar
Eero Valkonen, drums
Genre not found
Artist not found
Album not found
Search results not found
Song not found