Let's Push Things Forward
The Streets Lyrics
This ain't the down, it's the upbeat, make it complete
So what's the story, guaranteed accuracy, enhanced CD
Latest technology, darts at treble twenty
Huge non-recoupable advance, majors be vigilant
I excel in both content and deliverance
So let's put on our classics and we'll have a little dance, shall we?
No sales pitch, no media hype
No hydro, it's nice and ripe
I speak in communications in bold type
This ain't your archetypal street sound
Scan for ultrasound
North, South, East, West and all round
And then to the Underground
[Chorus: Repeat 2X]
You say that everything sounds the same
And then you go buy them
There's no excuses, my friend
Let's push things forward
As we progress to the check point
I wholeheartedly agree with your viewpoint
But this ain't your typical garage joint
I make points which hold significance
That ain't a bag it's a shipment
This ain't a track, it's a movement, I got the settlement
My frequencies are transient and resonate your eardrums
I make bangers not anthems, leave that to the Artful Dodger
The broad shouldered fifty-one percent shareholder
You won't find us on Alta Vista
Cult classic not bestseller, you're gonna need more power
Plug in the free phase and the generator, crank it up to gigawatts
Critics, ready with your pot shots, the plot thickens
Put on your mittens for these sub zero conditions
But remember I'm just spitting, remember I'm just spitting
Once bitten, forever smitten
[Chorus]
Spit jewels like Eastern riches, junkie fixes
Around here we say 'birds', not bitches
As London Bridge burns down Brixton's burning up
Turns out your in luck, I knows this dodgy fuck in the Duck
So it's just another show flick for your local city poet
In case you geezers don't know it, let's push things forward
It's a tall order but we're taller, calling all maulers
Back street brawlers, corner shop crawlers, victory's flawless
Love us or hates us but don't slate us
Don't conform to formulas, pop genres and such
Sharp darts, double dutch, parked cars troubles you much
With more bud - let's - push - things - forward
[Chorus]
Lyrics © Universal Music Publishing Group
Written by: MICHAEL GEOFFREY SKINNER

Lyrics Licensed & Provided by LyricFind
To comment on specific lyrics,
highlight them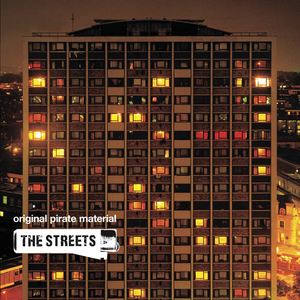 Let's Push Things Forward
There are two artists with this name:
1. A British rapper
2. A Finnish rock band

1. Mike Skinner (born November 27, 1978), more commonly known by his stage name The Streets, is a rapper from Birmingham, England. He was born in Barnet in North London and that's where his accent, sometimes called 'Mockney' by the press, comes from. You can hear his actual accent on the start of 'Fake Streets Hats' from his album The Hardest Way To Make An Easy Living recorded in 2006.
Read Full Bio
There are two artists with this name:
1. A British rapper
2. A Finnish rock band

1. Mike Skinner (born November 27, 1978), more commonly known by his stage name The Streets, is a rapper from Birmingham, England. He was born in Barnet in North London and that's where his accent, sometimes called 'Mockney' by the press, comes from. You can hear his actual accent on the start of 'Fake Streets Hats' from his album The Hardest Way To Make An Easy Living recorded in 2006. He moved to Birmingham shortly after he was born and is a Birmingham City fan. He has suffered from epilepsy since he was five.

He signed a five album record deal in 2002, and has fulfilled his contract by releasing five albums: Original Pirate Material (2002), All Got Our Runnin's (2003), A Grand Don't Come For Free (2004), The Hardest Way To Make An Easy Living (2006), Everything Is Borrowed (2008) and Computers and Blues (2011).

When playing live, Skinner is joined by Kevin Mark Trail on backing vocals, Johnny Drum Machine on drums, Wayne Fibes on guitar and bass, Chris Brown on keyboards and Magic Mike on samplers.

In January 2011, Skinner's management announced that Skinner will no longer perform as The Streets.
---------------

2. The Streets was a band originated from Turku, Finland in the early 1980's. Their most known song is Kestääkö siivet from the album Kestääkö siivet (1980), which is also featured on the soundtrack of Mika Kaurismäki's film Arvottomat (The Worhless) 1982.

The Streets were:

Asmo Kärkkäinen, guitar
Jouni Hemberg, lead vocals
Kari Laihonen, keyboard
Tapio Vesa, bass guitar
Eero Valkonen, drums
Genre not found
Artist not found
Album not found
Search results not found
Song not found