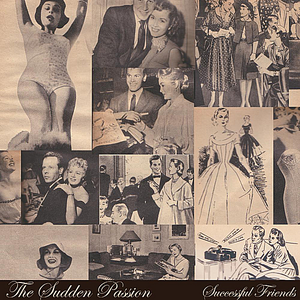 The Sudden Passion started off in 2005 as a collection Bradley M. Palermo's (of Electro group Femme Fatality) Indie/Alt-Country demo tracks. His most direct influences were drawn from folk rock bands and old-time country acts alike. The content of his songs revolve around his tour adventures, love sagas, and tales of barroom brawls. While all the ditties were originally showcased as solo/acoustic, the project has since evolved into a full 5 piece band featuring Shane Mongeau (Midnight Dance Craze
Read Full Bio
The Sudden Passion started off in 2005 as a collection Bradley M. Palermo's (of Electro group Femme Fatality) Indie/Alt-Country demo tracks. His most direct influences were drawn from folk rock bands and old-time country acts alike. The content of his songs revolve around his tour adventures, love sagas, and tales of barroom brawls. While all the ditties were originally showcased as solo/acoustic, the project has since evolved into a full 5 piece band featuring Shane Mongeau (Midnight Dance Craze, Femme Fatality ) Matt Henderson (ex Still Life) on bass, on guitar, Andrew Roberts on drums, and Carly J on backing vocals.

"Central Standard Time", their first full length album, was released digitally and on CD in August 2010. It was recorded in in both St. Louis, MO (where Palermo is originally from) and Los Angeles, CA (where the band now resides). A collection of The Sudden Passion's demo's and live tracks, "Worst Side", were also released the same day.

"Sucessful Friends", the new 5 song EP, was released in late 2011. It was written, performed and recorded entirely by Mongeau and Palermo. A video for the title track was released on October 3, 2011.

The Sudden Passion released "Southern Fashion" in late 2012. The album is their second full length release, and is available on 12" colored vinyl as well as CD and compact disk. A video for the single "Don't Know Me At All" was released in Feb 2013.
Genre not found
Artist not found
Album not found
Search results not found
Song not found
We have lyrics for 'Walk of Shame' by these artists:



Avantgardet Jag har en hammare på min axel Som försöker slå mig…
Billy Bob Thornton She wore black on black It was perfect for the night She…
Bowling for Soup She bumped her head on the doorway ducking out before…
Bugbee I run from the sun And bark at the moon Im aware…
Deap Vally Gonna take a walk of shame Baby I don't feel no…
Eight to the Bar Ooh This is a little song for all you bad girls…
Fallon Jimmy I woke up, Rubbed my eyes, Tried to remember What the hell I…
Flying Blind All eyes on me Catastrophe I don't believe astrology What…
Guttermouth In the hall late for class Night before still kickin' my…
Here Come the Mummies You know those jealous eyes (Do the walk of shame) They're…
Jimmy Fallon I woke up, Rubbed my eyes, Tried to remember What the hell I…
Jimmy Fallon feat. Dave Matthews I woke up, Rubbed my eyes, Tried to remember What the hel…
Kill Clouseau Listen up here we go again. It seems we always end…
Like The It's another beautiful day And I can feel it rising up…
Mesh Tell me what you feel Because all of this is real Tell…
Not Literally Hello daylight, my old friend. I've gone and done it yet…
P!nk One step, two steps, counting tiles on the floor Three steps…
Slaughterhouse You gotta go, you, you gotta go You, you, gotta go,…
The Like It's another beautiful day And I can feel it rising up…
Thee More Shallows We don't wanna learn what our hearts can't hold But I…



We have lyrics for these tracks by The Sudden Passion:



Parallel Line If the world doesn't owe you anything then, Maybe I do, Mayb…
Southern Fashion Touching down, Places I've outgrown, Tasting that misery I u…
Texas Sky Well it must have been the summer of '99, My dreams…

The lyrics can frequently be found in the comments below or by filtering for lyric videos.