Somewhere in the desert there's a hole, where the water's running hot and cold and no-one ever goes there at all. We can find it if we try, we can hide out 'til the time is right to ride out. We will pour our jars in reservoirs and turn the world off - paint the sky a shade of orange - cos that's how I like sunsets. Oo-Ee-Oo...
Contributed by Dylan Y. Suggest a correction in the comments below.
To comment on specific lyrics,
highlight them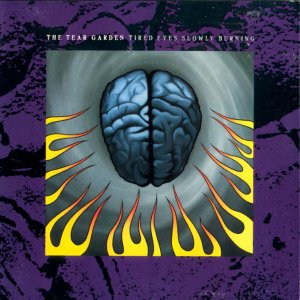 The Tear Garden was formed by Edward Ka-Spel of The Legendary Pink Dots and cEvin Key of Skinny Puppy in 1985, after Key served as a sound engineer on tour in Canada for Ka-Spel. Various other "guests" from Skinny Puppy and the Pink Dots appear on future albums The band released EPs in 1985 and 1986, combined on 1987's full length, Tired Eyes Slowly Burning. Their debut was their most electronic and mixed together the psychedelic, experimental, and industrial sounds each band was known for.
Read Full Bio
The Tear Garden was formed by Edward Ka-Spel of The Legendary Pink Dots and cEvin Key of Skinny Puppy in 1985, after Key served as a sound engineer on tour in Canada for Ka-Spel. Various other "guests" from Skinny Puppy and the Pink Dots appear on future albums The band released EPs in 1985 and 1986, combined on 1987's full length, Tired Eyes Slowly Burning. Their debut was their most electronic and mixed together the psychedelic, experimental, and industrial sounds each band was known for. Later albums veer more into the space rock style of the Pink Dots. Their most recent release from 2002, Eye Spy with my Little Eye, is a collection of out-takes from the mid-80s period.

An excerpt from a Nettwerk Records press release, July 1996:
The roots of The Tear Garden extend back to 1983 when Cevin Key, on the verge of forming Skinny Puppy, struck up a trans-Atlantic correspondence with Edward Ka-Spel, the lead vocalist and driving force behind The Legendary Pink Dots. Three years later, Ka-Spel visited Vancouver for a series of three live performances with Key as sound technician, and during his visit, they recorded The Tear Garden's self-titled debut EP.
In 1987, Ka-Spel returned to open for Skinny Puppy on their North American tour, after which the duo retreated to the studio for two weeks to produce the now classic electronic-psychedelic album, Tired Eyes Slowly Burning. It was during these sessions that the project's ranks began to expand, with guest appearances by Key's fellow Puppies Dwayne Goettel and Nivek Ogre.
Four years later, the Garden bloomed again, this time growing well beyond the Key/Ka-Spel partnership to include not only Goettel, but a wide assortment of friends, including most of the Pink Dots. This fruitful month-long collaboration spawned two releases: an album called The Last Man To Fly, and a (very long) EP called Sheila Liked The Rodeo.
Another four years passed. Four years that saw literal and figurative deaths (the departure of both Skinny Puppy and LPD from their long-time labels; the subsequent break-up of SP; the tragic passing of Dwayne Goettel) and births (Edward's son, Calyxx; Download; Key's return to Nettwerk).
In late December, 1995, in the midst of this turbulence, The Tear Garden gathered once more, perhaps to attempt to trigger the dawn of a tranquil new era. The result was To Be An Angel Blind, The Crippled Soul Divide, an album of fragile and powerful beauty that digs even deeper into the psychedelic underground than its predecessors, adding a range of influences from dub bass to country slide guitar, all the while retaining the dark electronic melancholy that has become the project's signature.
-------
Four more years passed. Tear Garden got back together in 1999 and in 2000, Crystal Mass was released. In 2001, a "best of" collection was issued by the Russian label Brudenia, Для Тех, Ҡто Прогулялся Бьі С Богами (which translates to "For Those Who Would Walk with the Gods") as well as an "outtakes" collection released by Cevin Key's Subconscious Communications label, Eye Spy with My Little Eye.
2007 saw the release of The Secret Experiment, once again on Subconscious Communications. This is from the "Vault 2" series but features new music.

Currently, Edward and cEvin wrapped up their sessions of 13 tracks, compiled into a brand new upcoming TG release, available through Subcon.

Discography

* Tired Eyes Slowly Burning (1987)
* Last Man to Fly (1992)
* Sheila Liked The Rodeo (1993)
* Bouquet of Black Orchids (1993)
* To Be an Angel Blind, The Crippled Soul Divide (1996)
* Crystal Mass (2000)
* Eye Spy With My Little Eye (2002)
* The Secret Experiment (2007)

http://brainwashed.com/teargarden/
Genre not found
Artist not found
Album not found
Search results not found
Song not found