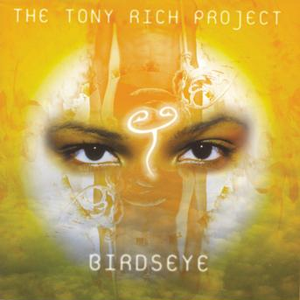 Antonio "Tony Rich" Jeffries was born in 1971 in Detroit, Michigan. With a dive…
Read Full Bio ↴
Antonio "Tony Rich" Jeffries was born in 1971 in Detroit, Michigan. With a diverse music style that is often confused with Babyface, Tony Rich mixes elements of jazz, rock and soul into his tracks.

Tony Rich got his start in the music industry as a staff writer at LaFace Records. While there, Rich penned hits for Boyz II Men, Johnny Gill, TLC and Toni Braxton.

While living in Detroit, Rich started playing in jazz fusion and soul bands and worked with local Detroit songwriters. It was at this time that John Salley, Detroit Pistons player and record producer, encouraged Rich to work with his artists and to even make his own tracks.

Meeting with R&B singer Pebbles, Tony Rich was introduced to her then-husband L.A. Reid. As co-founder of LaFace Records, Reid convinced Rich to move to Atlanta and to begin writing and producing for established acts. One of Rich's first projects was a session with Elton John and Sounds of Blackness for a Curtis Mayfield tribute LP. He then expanded his portfolio to include work with the previously mentioned stars.

In early 1996, Rich made his solo debut with the cd Words and the hit single Nobody Knows, which made it to number 2 on the top 100. Both the album and single went platinum and in 1997, Tony Rich won the Grammy for Best Male R&B album. The album featured two Grammy-nominated singles, Like A Woman and Nobody Knows.

The album was followed up in 1998 by Birdseye which, while critically praised, failed to generate much commercial success. Rich seemingly disappeared from the music world for several years after his album's release.

In 2003, Rich came back on the scene with the album Resurrected. Carrying a very different style this time around, the album featured Rich rocking out on the guitar as well as singing smooth ballads.

In 2006, Rich released a fourth album, Pictures. The album contains snapshots of a relationship, and is far more in the veins of his earlier works.

In 2008, he released his fifth album, Exist through Hidden Beach Recordings. Originally it was set for release on September 16, however it was pushed back to September 23, 2008. The album features download-only single, Part the Waves.
Jump to: Overall Meaning ↴ Line by Line Meaning ↴
So you feel that I'll leave you
That I'll change my mind and walk away
But I found you
So I'll bake you
A chocolate cake
Do you know that I love you
By the way I look into your mind
I surrender my heart
With a teary eye
Take your hands
And place them all around my ears
Take my heart
And hook it up to your face
We're as one
You and me
A silly man
So my dear
Please forgive me
For the situation that I'm in
'Cause I promise
That it's over
It's in the wind
Reach for me
And I'll catch you
You can wings as long as I'm with you
Don't fly away
Not away
At least not alone
And we fly high
We fly higher than the highest kite
Over mountains
Where non-belivers in disguise hide
We're so silly
(Hahahaha)
Making faces just to make us smile
Yeah, ain't no doubt about it baby
Like no others
You and me
A silly man
Take my heart and use it
I want to give you
I want to love you
I'll be more than consistent
I'll make it better
If you will never
Never leave me
Oh, so we're friends
And we made a special commitment
So we're lovers
And we vow to never let it end
So in love with each other
So we make love like instruments
Under covers
We listen to
A silly man
Overall Meaning
The song Silly Man by The Tony Rich Project revolves around the idea of unconditional love and strong commitment. The lyrics convey the message that nobody is perfect and everyone has flaws, but despite that, the person singing the song promises to love their partner unconditionally. The song starts with the singer addressing their partner's insecurities and reassuring them that they will never leave them. The singer even promises to bake them a chocolate cake, which is a symbol of their affection and commitment.
The chorus of the song emphasizes the unity between the two people in love, and the singer asks their partner to hook their heart up to their face and take their hands and place them all around their ears. This represents the idea that they are connected to each other in a profound way, and their love is strong enough to overcome any obstacle. The song's overall message is that love is playful and joyful, and the two people in love can be silly and make each other smile. It's evident in the last lines of the song where the singer refers to themselves as a "silly man," and promises to make their partner happy.

Line by Line Meaning
So you feel that I'll leave you
You think that I will abandon you
That I'll change my mind and walk away
But I'll decide to leave and depart
But I found you
I discovered you
So I'll bake you A chocolate cake
In return, I'll prepare a tasty dessert for you
Do you know that I love you
Are you aware of how much I care for you?
By the way I look into your mind
I exhibit my affection through my gaze into your thoughts
I surrender my heart
I give up my emotions
With a teary eye
While shedding tears
Take your hands
Hold your palms
And place them all around my ears
And encircle them around my ears
Take my heart
Lift my emotions
And hook it up to your face
And attach it to your visage
We're as one
We're united
You and me
Us, who originated from the same beginnings
A silly man
An eccentric individual
So my dear
My beloved
Please forgive me
Excuse me
For the situation that I'm in
Due to the circumstances I face
'Cause I promise
Given that I pledge
That it's over
That it concluded
It's in the wind
It became history
Reach for me
Extend your arm to me
And I'll catch you
I'll grab hold of you
You can wings as long as I'm with you
You can soar as long as we're together
Don't fly away
Don't depart
Not away
Not alone
At least not alone
At least not by yourself
And we fly high
And we fly to great heights
We fly higher than the highest kite
We soar more than the most elevated toy glider
Over mountains
Across hills
Where non-believers in disguise hide
Where hidden skeptics lie in wait
We're so silly
We're so amusing
(Hahahaha)
(A laugh)
Making faces just to make us smile
Putting on expressions to trigger our joy
Yeah, ain't no doubt about it baby
Yes, there's no hesitation about it, babe
Like no others
Unlike anyone else
You and me
Us, the two of us
A silly man
An offbeat person
Take my heart and use it
Use my feelings as your own
I want to give you
I desire to give you
I want to love you
I want to care for you
I'll be more than consistent
I'll remain unwavering and reliable
I'll make it better
I'll improve it
If you will never
If you would never
Never leave me
Never abandon me
Oh, so we're friends
Oh, so we're buddies
And we made a special commitment
And we agreed to a unique obligation
So we're lovers
So we're great companions
And we vow to never let it end
And we make a solemn promise to keep it lasting
So in love with each other
So affectionate with each other
So we make love like instruments
So we have sex like experts
Under covers
Beneath sheets
We listen to
We pay attention to
A silly man
An absurd person
Lyrics © BMG Rights Management
Written by: ANTONIO JEFFRIES

Lyrics Licensed & Provided by LyricFind
To comment on or correct specific content,
highlight it
Genre not found
Artist not found
Album not found
Search results not found
Song not found