Sirens ring, the shots ring out
A stranger cries, screams out loud
I had my world strapped against my back
I held my hands, never knew how to act
And the same black line that was drawn on you
Was drawn on me
And now it's drawn me in
6th Avenue heartache
Below me was a homeless man
I'm singin' songs I knew complete
On the steps alone, his guitar in hand
It's fifty years, stood where he stands
Now walkin' home on those streets
The river winds move my feet
Subway steam, like silhouettes in dreams
They stood by me, just like moonbeams
Look out the window, down upon that street
And gone like a midnight was that man
But I see his six strings laid against that wall
And all his things, they all look so small
I got my fingers crossed on a shooting star
Just like me just moved on
Lyrics © Warner Chappell Music, Inc.
Written by: JAKOB DYLAN

Lyrics Licensed & Provided by LyricFind
To comment on specific lyrics,
highlight them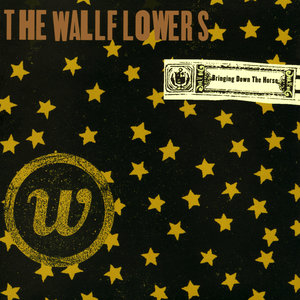 "6th Avenue Heartache" is a song by the American rock band The Wallflowers. It was released in April 1996 as the lead single from their 1996 sophomore album Bringing Down the Horse. The song became their first hit, peaking at number 8 on the US Modern Rock Tracks chart, number 10 on the US Mainstream Rock Tracks chart, and number 33 on the US Hot 100 Airplay chart.

The background vocals in this song are by Adam Duritz from Counting Crows, and Mike Campbell from Tom Petty and The Heartbreakers plays slide guitar.
Read Full Bio
"6th Avenue Heartache" is a song by the American rock band The Wallflowers. It was released in April 1996 as the lead single from their 1996 sophomore album Bringing Down the Horse. The song became their first hit, peaking at number 8 on the US Modern Rock Tracks chart, number 10 on the US Mainstream Rock Tracks chart, and number 33 on the US Hot 100 Airplay chart.

The background vocals in this song are by Adam Duritz from Counting Crows, and Mike Campbell from Tom Petty and The Heartbreakers plays slide guitar. The video, shot in New York, was directed by movie director David Fincher, known for such films as Seven and Fight Club.

What's the song about? Jakob explains, "That's a real literal story. I spent some time in New York City and every morning when I woke up this homeless guy would be on the steps of the building across the street from mine. He lived there, and he'd wake up every day and play songs on his guitar. I woke up every day hearing him sing. After two months or so, he wasn't there anymore. All his stuff was still there, but he had disappeared. Pretty soon people started taking his stuff, and he never came back. I related to him in some way. He liked doing the same thing I liked doing, even though we came from two drastically different worlds. He moved on and I moved on, but in some way I felt a connection to him."
Genre not found
Artist not found
Album not found
Search results not found
Song not found