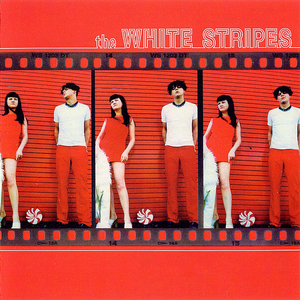 The White Stripes was an alternative rock band, formed in 1997 in Detroit, Michi…
Read Full Bio ↴
The White Stripes was an alternative rock band, formed in 1997 in Detroit, Michigan, United States. They disbanded in 2011. The group consisted of songwriter Jack White (vocals, piano/keyboards, guitar) and Meg White (drums, vocals).

After releasing several singles and three albums within the Detroit independent music underground, The White Stripes rose to prominence in 2002, as part of the garage rock revival scene. Their successful albums White Blood Cells and Elephant drew them attention from a large variety of media outlets in the United States and the United Kingdom.

The White Stripes used a low-fidelity, do-it-yourself approach to writing and recording. Their music features a melding of punk and blues influences and a raw simplicity of composition, arrangement, and performance. The duo is also noted for their fashion and design aesthetic which features a simple color scheme of red, white, and black.

The White Stripes' discography consists of six studio albums, two extended plays (EP), one video album, 26 singles and fourteen music videos. The band has sold approximately 12 million albums worldwide, 2 million in the US alone, and their latest three albums have each won a Grammy Award for Best Alternative Music Album.

On February 2, 2011, the band announced on their website that they had disbanded.

Official band website: www.whitestripes.com
Jump to: Overall Meaning ↴ Interesting Facts ↴ Line by Line Meaning ↴
You're lookin' at me
Nowhere to go
What they're sayin'
I just don't know
A floor below me
Ceiling above
And I'm in the middle
With nobody to love
Nobody to love
Nobody to love
Nobody to love
Yeah
Well lookin' at me
Nowhere to go
Know what they're sayin'
I just [don't know?]
A floor below me
A ceiling up above
And I'm in the middle
With nobody to love
Nobody to love
Yeah, hey, yeah, yeah, yeah, yeah, yeah
Overall Meaning
The White Stripes' "Slicker Drips" is a song about feeling lost and alone in the world. The song opens with the lines, "You're lookin' at me, Nowhere to go, What they're sayin', I just don't know." The singer is lost in his thoughts and does not seem to understand or care about what others are saying. He is stuck in the middle, with no one to love or care for him, trapped between a floor below him and a ceiling above him.
As the song progresses, we see the singer's feelings of loneliness and isolation intensify. He repeats the line, "Nobody to love" several times, highlighting the raw emotion behind his words. The repetition of the line also emphasizes the singer's lack of connection to anyone or anything around him.
The lyrics suggest that the singer is feeling disconnected from the world and struggling with feelings of alienation. This thought-provoking song highlights the struggles that many people face when dealing with loneliness and the feeling that they don't belong.
Interesting facts about "Slicker Drips":
Interesting Facts
Note: This section uses generative AI, which can be inaccurate.


Line by Line Meaning
You're lookin' at me
Someone is staring at me
Nowhere to go
I am feeling lost and trapped
What they're sayin'
I can't understand what they are saying
I just don't know
I am feeling confused and unsure
A floor below me
I am standing on a lower level
Ceiling above
I am inside a closed space
And I'm in the middle
I am stuck in the middle of a situation
With nobody to love
I am feeling lonely and unloved
Nobody to love
I have no one to share my life with
Nobody to love
I am all alone in this world
Nobody to love
I am lonely and longing for someone to care for me
Yeah
An expression of sadness or frustration
Well lookin' at me
Someone is still staring at me
Know what they're sayin'
I still can't understand what they are saying
I just don't know
I am still feeling confused and unsure
A floor below me
I am still on the lower level
A ceiling up above
The closed space is still there
And I'm in the middle
I am still stuck in the middle
With nobody to love
I am still feeling lonely and unloved
Yeah, hey, yeah, yeah, yeah, yeah, yeah
An expression of prolonged sadness or frustration
Lyrics © Universal Music Publishing Group
Written by: JACK WHITE

Lyrics Licensed & Provided by LyricFind
To comment on or correct specific content,
highlight it
Genre not found
Artist not found
Album not found
Search results not found
Song not found