Little wooden soldier boy,
How he's bored to be a toy.
Sitting on the mantelpiece,
Was not his idea of peace.
So one night at half past one,
He ordered all the toys to come.
He told them all a good game to play,
Next day.
The teddy bears and wind-up toys,
Together made a lot of noise.
The other side formed into ranks,
Proud 'cause they had plastic tanks.
High up on the shelf to see,
The soldier had to jump with glee.
At last before his eyes he saw,
A real war.
With a battle raging on the floor,
The soldier boy was urging more.
Soon the floor was strewn with bits,
Fur and stuff and building kits.
The soldier boy was feeling high,
As smoke clouds rolled across the sky.
He gave a last triumphant cry,
And fell into the fire.
Lyrics © Sony/ATV Music Publishing LLC
Written by: JIM MCCARTY, JIMMY PAGE, KEITH RELF

Lyrics Licensed & Provided by LyricFind
To comment on specific lyrics,
highlight them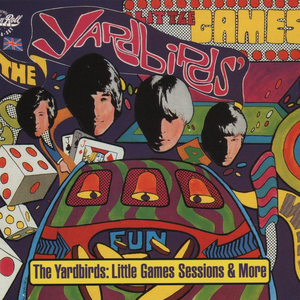 The Yardbirds was a 1962 British rock band, noted for spawning the careers of several of rock music's most famous guitarists, including Eric Clapton, Jeff Beck, and Jimmy Page. Jeff Beck replaced Eric Clapton, who went on to the Bluesbreakers. Beck then asked Page if he would like to join the band as a bassist, but quickly switched to guitar. The Yardbirds were a blues based band whose sound evolved into experimental pop rock, they had a string of hits including For Your Love, Over, Under, Sideways, Down and Heart Full of Soul.
Read Full Bio
The Yardbirds was a 1962 British rock band, noted for spawning the careers of several of rock music's most famous guitarists, including Eric Clapton, Jeff Beck, and Jimmy Page. Jeff Beck replaced Eric Clapton, who went on to the Bluesbreakers. Beck then asked Page if he would like to join the band as a bassist, but quickly switched to guitar. The Yardbirds were a blues based band whose sound evolved into experimental pop rock, they had a string of hits including For Your Love, Over, Under, Sideways, Down and Heart Full of Soul. They were the crucial link between British Rhythm and Blues and psychedelia; they set the framework for heavy metal explored further by Led Zeppelin and the guitarists they spawned were extremely influential in music. They broke up in 1968.
They had a short but powerful appearance in the Antonioni movie 'Blow Up.'
Genre not found
Artist not found
Album not found
Search results not found
Song not found