Gone, gone away,
Gone away,
Almost nothing to do.
Gone away,
Now I'm far from you,
Though I'm alone now,
And there's nobody near,
I hush my voice,
Lest they should hear
My prayers go up to the sky,
Deep within me I die,
I'll never cry,
No-one must see me this way.
Left, left to find,
Someone kind,
Who won't leave me behind,
Who will guide me,
When I am blind
Soothe my brow,
When thoughts hurt my brain
Help me love,
When faced with pain.
I long to find someone who,
Will remind me of you,
Only the black rose knows what I will do.
Silence, silence now,
Not a sound,
Stillness everywhere now,
And the trees,
To the wind gently bow
Only visions of the past and the gloom,
And for the moment you're in the room,
And just as flowers bloom and die,
No-one watching to cry
Only the black rose stands up to the sky.
Only the black rose stands up to the sky.
Only the black rose.
Lyrics © Sony/ATV Music Publishing LLC
Written by: KEITH RELF

Lyrics Licensed & Provided by LyricFind
To comment on specific lyrics,
highlight them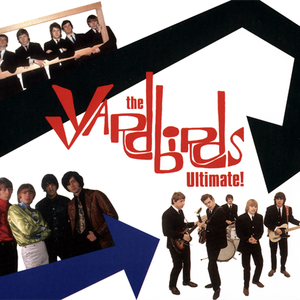 The Yardbirds was a 1962 British rock band, noted for spawning the careers of several of rock music's most famous guitarists, including Eric Clapton, Jeff Beck, and Jimmy Page. Jeff Beck replaced Eric Clapton, who went on to the Bluesbreakers. Beck then asked Page if he would like to join the band as a bassist, but quickly switched to guitar. The Yardbirds were a blues based band whose sound evolved into experimental pop rock, they had a string of hits including For Your Love, Over, Under, Sideways, Down and Heart Full of Soul.
Read Full Bio
The Yardbirds was a 1962 British rock band, noted for spawning the careers of several of rock music's most famous guitarists, including Eric Clapton, Jeff Beck, and Jimmy Page. Jeff Beck replaced Eric Clapton, who went on to the Bluesbreakers. Beck then asked Page if he would like to join the band as a bassist, but quickly switched to guitar. The Yardbirds were a blues based band whose sound evolved into experimental pop rock, they had a string of hits including For Your Love, Over, Under, Sideways, Down and Heart Full of Soul. They were the crucial link between British Rhythm and Blues and psychedelia; they set the framework for heavy metal explored further by Led Zeppelin and the guitarists they spawned were extremely influential in music. They broke up in 1968.
They had a short but powerful appearance in the Antonioni movie 'Blow Up.'
Genre not found
Artist not found
Album not found
Search results not found
Song not found