Someone Watching Over Me
The Zutons Lyrics
Well I'm sure there's someone watching over me
At night, while I'm sleeping.
'Cause no harm ever seems to come to me,
At night,while I'm sleeping
They never let me wake to see
Who could be standing and guarding me
And when the morning comes
They never seem to stick around
I see demons and spies with Cyclops eyes
At night, while I'm sleeping.
And girls with claws and blood-stained floors
At night, while I'm sleeping.
I see bullets of steel and they clip my heels
At night, while I'm sleeping
And all the blades they spin and slit my skin
At night, while I'm sleeping
I must have had a hundred fights and changed from dark into light.
But when I awoke all this violence and pain was all right
I'm gonna wait alone under my sheets and pretend to close my eyes
And I will wait until the sun comes up
I will wait all night
I don't care if you don't come and show yourself
'Cause I know you're always near me
And when it's dark again I'll count to ten and you'll be standing by me
Lyrics © Sony/ATV Music Publishing LLC
Written by: BOYAN CHOWDHURY, ABIGAIL HARDING, DAVID MCCABE, SEAN PAYNE, RUSSELL PRITCHARD

Lyrics Licensed & Provided by LyricFind
To comment on specific lyrics,
highlight them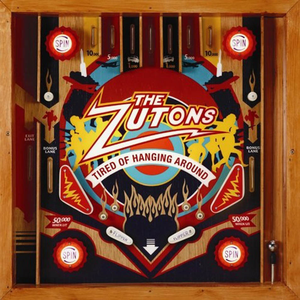 The Zutons is a British band whose music has proved difficult to categorise, and has been described as "psychedelic cartoon punk" with a unique blend of rock pop, jazz, funk, and general eclecticism. The band consists of: David McCabe (lead vocals, guitar), Abi Harding (saxophone, vocals), Russell Pritchard (bass) and Sean Payne (drums). Guitarist Boyan Chowdhury left in 2007. The band has three albums out as of 2008 - 2004's "Who Killed the Zutons?", 2006's "Tired of Hanging Around" and 2008's "You Can Do Anything"
Read Full Bio
The Zutons is a British band whose music has proved difficult to categorise, and has been described as "psychedelic cartoon punk" with a unique blend of rock pop, jazz, funk, and general eclecticism. The band consists of: David McCabe (lead vocals, guitar), Abi Harding (saxophone, vocals), Russell Pritchard (bass) and Sean Payne (drums). Guitarist Boyan Chowdhury left in 2007. The band has three albums out as of 2008 - 2004's "Who Killed the Zutons?", 2006's "Tired of Hanging Around" and 2008's "You Can Do Anything"

The band formed in Liverpool, England in 2001, taking their name from Magic Band guitarist Bill Harkleroad, better known as Zoot Horn (or "Zuton") Rollo. With all the members being Liverpudlian, this led to comparisions with The Coral, especially as both bands were signed to the same record label - Deltasonic - and had the same producer - Ian Broudie. Their debut album - Who Killed The Zutons? - was released on October 18th 2004, and reached number 9 in the UK album chart.

Line up

David McCabe on lead vocals and guitar Abi Harding on saxophone and vocals
Sean Payne on drums, percussion and vocals
Russell Pritchard on bass guitar and vocals
Genre not found
Artist not found
Album not found
Search results not found
Song not found