In my life cell a lonley place
Purple light that never stops
Flash by flash
It burns my mind
Lighting the shadows in my head
Behind me... A black mirror
I lose my soul
I lose my days
I lose my mind
I lose my life
Behind me... A black mirror
White walls around me
Lots of hands that scratch outside
Everyday the same... Again and again
A terrible noise that rise from there
I hear their call...
They could eat me
I scream without voice
Nobody is here in my life cell
Silence... It prepares us to die
Devi-hate obsession
It makes me blind
This life is steeling my sight
Behind me... A black mirror
Nothing to see nothing to take
Now I´m trapped in my life cell
Behind me... A black mirror
Caught in this endless trap
Something is burning inside me...
It´s killing me... It makes me feel alive
Contributed by Chase A. Suggest a correction in the comments below.
To comment on specific lyrics,
highlight them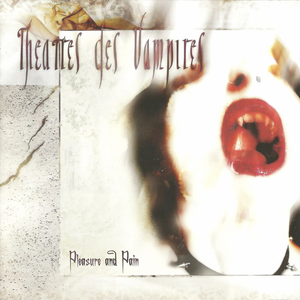 Theatres des Vampires is a metal band from Rome, Italy, founded in 1994 by Alessandro "Lord Vampyr" Nunziati. They are mostly noted for the predominant theme of vampirism within their lyrics. The original genre of the band was melodic black metal, they gradually changed their style and evolved into gothic metal.

The band's members expressed a fascination with vampires and anything connected to them, earning themselves and their music the title "vampiric metal" from their contemporaries.
Read Full Bio
Theatres des Vampires is a metal band from Rome, Italy, founded in 1994 by Alessandro "Lord Vampyr" Nunziati. They are mostly noted for the predominant theme of vampirism within their lyrics. The original genre of the band was melodic black metal, they gradually changed their style and evolved into gothic metal.

The band's members expressed a fascination with vampires and anything connected to them, earning themselves and their music the title "vampiric metal" from their contemporaries. The band created a coherent image of vampirism in their stage performance and within the lyrical themes and atmospheres of their music, which contributed heavily to the gaining of their fan-base.
During their career, the band was first primarily influenced by symphonic black metal, but later tended to include differing influences, including: classicalmusic, opera, darkwave, deathrock, gothic rock and several electro-industrial sub-genres. Throughout this stylistic deviation, a few characteristics of the band's music have remained consistent; melancholic atmospheres and lyrics, vocal styles of akin to gothic metal, and their vampiric image.

The band has produced ten albums in ten years with the English label Plastic Head, and has gained more recognition within the metal scene in Europe, South America and Russia, partially due to the band's participation in various festivals around the world. These include: Vampyria III in London in 1999, Gods of Metal in Italy in 2000, Wave-Gotik-Treffen in Leipzig in 2003 and in 2006, Gotham in London in 2004, Female Voices Festival in Wieze, Belgium in 2006.

In 2003, the band toured with Christian Death throughout Europe, and recorded an album with Valor of Christian Death and Gian Pyres of Cradle of Filth as special guests.

The band's shows have always seen a reasonable level of attendance, and have become more dramatic over the band's career, incorporating fireworks and "out of line" appearances by Scarlet.

Since 2004, Sonya Scarlet has remained the solo vocalist and front of the band, replacing her previous role as backing vocals.
Scarlet sometimes cuts herself with razors at performances, freely letting fans drink her blood, promising them the gift of immortality. In 2005 several English clubs forbade her performing the display of bloodletting, because it violates English laws against the incitement to commit suicide.

On 28 November 2005, Aural Music released the album Pleasure and Pain. Distributors throughout Europe bought the album and it was published with permission in Europe, South America, the USA, Russia, and Japan.

On 19 March 2007, they released their album Desire of Damnation. Desire of Damnation is a double CD, with live songs from The Addiction tour 2006 and some new studio songs and remixes.

Guitarist Robert "Morgoth" left the band in 2006 and was replaced by Stephan Benfante.

On 2 May 2008, they released their 8th studio album Anima Noir. With this album their sound evolves once again, taking the route of electronic/industrial gothic metal while still retaining vampiric lyrics.
In November, 2008, Theatres des Vampires announced that they would go on a temporary hiatus due to both personal and health related issued of vocalist Sonya Scarlet.

On 14 January 2011 Aural Music released the album Moonlight Waltz, their ninth studio album. A music video for the song "Carmilla" was filmed on August 28 and 29, directed by David Bracci, who worked on most of Dario Argento's films in the past decade, and has also directed the "Lilith Mater Inferorum" music video.

The name "Théâtre des Vampires" was inspired by a fictional location created by Gothic fantasy writer Anne Rice of the same name. Rice's Théâtre des Vampires is a Parisian theater, in which vampires pretend to be mortal actors, their performances consisting of the feeding on mortals disguised as part of a play and staged in front of human audiences. The location is mentioned in several of Rice's books, including Interview With the Vampire and The Vampire Lestat.

Official site: http://www.theatres-des-vampires.net
Genre not found
Artist not found
Album not found
Search results not found
Song not found