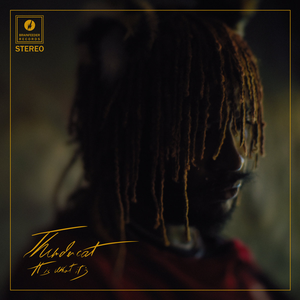 Stephen Lee Bruner, stage name Thundercat (b. October 19 1984, Los Angeles, CA, …
Read Full Bio ↴
Stephen Lee Bruner, stage name Thundercat (b. October 19 1984, Los Angeles, CA, USA) is a virtuoso bassist, composer, producer and singer. Born into a family of musicians, he and his brother were part of legendary thrash punks Suicidal Tendencies (since 16 years of age) - Bruner has collaborated with many, including jams with Snoop Dogg, Kendrick Lamar, Mac Miller and Stanley Clarke.

"I do believe that hip-hop can be the new jazz, and I'm helping create that", Bruner said in an interview to Bass Player, in 2008.

He is part of the new generation of jazz literate, hip-hop loving instrumentalists who can play beyond traditional limits - a mutant jazz cat - and that's how 'Thundercat' (a monicker he chose), suits him well (even if it's purely the result of an unhealthy cartoon addiction dating back to childhood).
Jump to: Overall Meaning ↴ Line by Line Meaning ↴
Ay, yo
Yo, ay, ay
Yo, ay
Yo, ay, ay
Ay, yo
Yo, ay, ay
Yo, ay
Yo, ay, ay
Overall Meaning
The opening lyrics to Thundercat's song "How Sway" are a series of calls and responses. The artist may be addressing his fellow musicians or the audience at a live performance, as the use of repeated "yo"s can be a way to engage and energize a crowd. The simple phrasing may also be an indication of the laid-back, improvisational feel of the song, which draws heavily from funk, jazz, and hip-hop traditions.
As the song progresses, Thundercat's lyrics become more complex and introspective. He reflects on the challenges of fame and the difficulty of staying true to one's artistic vision in a commercial industry. The chorus of "How Sway" repeats the phrase "How am I supposed to know?" which can be read as a commentary on the pressure artists face to create successful work without sacrificing their unique style and voice. As Thundercat continues, he touches on themes of self-doubt, alienation, and the search for meaning in life.

Line by Line Meaning
Ay, yo
Listen closely to what I'm about to say
Yo, ay, ay
I'm confused and seeking answers
Yo, ay
I'm frustrated and need clarity
Yo, ay, ay
I'm questioning and searching for truth
Ay, yo
Pay attention to my words
Yo, ay, ay
I'm struggling to understand
Yo, ay
I can't find the right path
Yo, ay, ay
I'm feeling lost and seeking guidance
Lyrics © Universal Music Publishing Group
Written by: Stephen Lee Bruner

Lyrics Licensed & Provided by LyricFind
To comment on or correct specific content,
highlight it
Genre not found
Artist not found
Album not found
Search results not found
Song not found