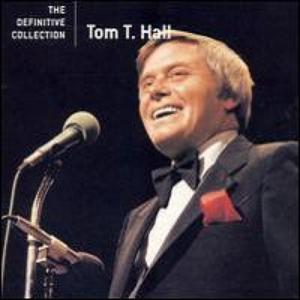 Tom T. Hall (born May 25, 1936 in Olive Hill, Kentucky; died August 20, 2021) wa…
Read Full Bio ↴
Tom T. Hall (born May 25, 1936 in Olive Hill, Kentucky; died August 20, 2021) was an American country music songwriter, singer, instrumentalist, novelist, and short-story writer. He wrote 12 No. 1 hit songs, with 26 more that reached the Top 10, including the No. 1 international pop crossover hit "Harper Valley PTA" and "I Love", which reached No. 12 on the US Billboard Hot 100. He is included in Rolling Stone's list of 100 Greatest Songwriters. He became known to fans as "The Storyteller", thanks to his storytelling skills in his songwriting. Hall won the Grammy Award for Best Album Notes in 1973 for the notes he wrote for his album Tom T. Hall's Greatest Hits. He was nominated for, but did not win, the same award in 1976 for his album Greatest Hits Volume 2. He was a member of the Grand Ole Opry from 1971.

As a teen, Hall put together a band called the Kentucky Travelers that performed before movies for a travelling theater. During a stint in the Army, Hall performed over the Armed Forces Radio Network and wrote comic songs about Army experiences. His early career included being a radio announcer at WRON, a local radio station in Ronceverte, West Virginia.

Hall's big break came in 1963 when singer Jimmy C. Newman recorded his song "DJ For a Day." In 1964 Hall moved to Nashville, TN, and within months had songs climbing the charts. Nicknamed "The Story Teller", he has written songs for dozens of country stars such as Johnny Cash, George Jones, Loretta Lynn, Waylon Jennings, and Alan Jackson.

One of the most popular songs, "Harper Valley PTA", was originally recorded in 1968 by Jeannie C. Riley, sold over six million copies, and won both a Grammy and CMA award. The song later would inspire the motion picture and television program of the same name.

Hall's own recording career took off after that and he had such hits as "A Week in the Country Jail," "Old Dogs, Children and Watermelon Wine," "I Love," "Country Is", "The Year Clayton Delaney Died," "The Old Side of Town," and "I Like Beer." He was also noted for his children's songs, the most popular being "Sneaky Snake".

He also hosted the syndicated country music TV show Pop Goes the Country.

His son, Dean Hall, is also a singer and is member of the MuzikMafia.

A hard-rock adaptation of his song I love was featured in a series of successful television commercials for Coors beer.

Hall largely retired from writing new material in 1986 and from performing in 1994; his final public performance, which was also his first in several years, was in 2011.

Discography


Singles Written and Performed By Tom T. Hall

* "I Washed My Face in the Morning Dew" (#30, 1967)
* "Ain't Got The Time" (#68, 1968)
* "The World The Way I Want It" (#66, 1968)
* "Ballad of Forty Dollars" (#4, 1969)
* "Homecoming" (#5, 1969)
* "Strawberry Farms" (#40, 1969)
* "Day Drinkin'" (#23, 1970)
* "Salute to a Switchblade" (#8, 1970)
* "Shoeshine Man" (#8, 1970)
* "A Week in a Country Jail" (#1, 1970)
* "Ode to Half a Pound of Ground Round" (#21, 1971)
* "One Hundred Children" (#14, 1971)
* "The Year That Clayton Delaney Died" (#1, 1971) (also reached #42 on the Pop Singles Chart)
* "Me and Jesus" (#8, 1972) (also reached #92 on the Pop Chart)
* "More About John Henry" (#26, 1972)
* "The Monkey That Became President" (#11, 1972)
* "Old Dogs, Children, And Watermelon Wine" (#1, 1973)
* "Ravishing Ruby" (#3, 1973)
* "Spokane Motel Blues" (#16, 1973)
* "Watergate Blues" (#16, 1973)
* "Country Is" (#1, 1974)
* "I Love" (#1, 1974) (also reached #2 on the Adult Contemporary Chart and #12 on the Pop Singles Chart)
* "Sneaky Snake" (#69, 1974) (reached #55 on the Pop Singles Chart the following year)
* "That Song Is Driving Me Crazy" (#2, 1974) (also reached #63 on the Pop Singles Chart)
* "Deal" (#8, 1975)
* "I Care" (#1, 1975)
* "I Like Beer" (#4, 1975)
* "Faster Horses (The Cowboy And The Poet)" (#1, 1976)
* "Fox On The Run" (#9, 1976)
* "Negatory Romance" (#24, 1976)
* "It's All in the Game" (#12, 1977)
* "Your Man Loves You, Honey" (#4, 1977)
* "What Have You Got to Lose" (#9, 1978)
* "Son of Clayton Delaney" (#14, 1979)
* "You Show Me Your Heart (And I'll Show You Mine)" (#11, 1979)
* "Back When Gas Was Thirty Cents a Gallon" (#36, 1980)
* "Jesus On the Radio (Daddy On the Phone)" (#9, 1980)
* "Solder Of Fortune" (#51, 1980)
* "The Old Side of Town" (#9, 1980)
* "Everything From Jesus To Jack Daniels (#42, 1983)
* "P.S. I Love You" (#8, 1984)
* "A Bar with No Beer" (#40, 1985)
* "Down At The Mall" (#65, 1986)



Singles Written By Tom T. Hall But Performed By Other Artists

* "Mad" performed by Dave Dudley (#6, 1964)
* "Artificial Rose" performed by Jimmy C. Newman (#8, 1965)
* "Back In Circulation" performed by Jimmy C. Newman (#13, 1965)
* "City of the Angels" performed by Jimmy C. Newman (#37, 1965)
* "What We're Fighting For" performed by Dave Dudley (#4, 1966)
* "Back Pocket Money" performed by Jimmy C. Newman (#10, 1966)
* "California Uptight Band" performed by Flatt & Scruggs (#20, 1967)
* "Dropping Out of Sight" performed by Jimmy C. Newman (#32, 1967)
* "Louisiana Saturday Night" performed by Jimmy C. Newman (#24, 1967)
* "Town That Broke My Heart" performed by Bobby Bare (#16, 1968)
* "Anything Leaving Town Today" performed by Dave Dudley (#12, 1968)
* "There Ain't No Easy Run" performed by Dave Dudley (#10, 1968)
* "Harper Valley PTA" performed by Jeannie C. Riley (#1, 1968) (also reached #1 on the Pop Singles Chart and #4 on the Adult Contemporary Chart)
* "Greenwich Village Folk Song Salesman" performed by Jim & Jesse (#49, 1968)
* "(Margie's At) The Lincoln Park Inn" performed by Bobby Bare (#4, 1969)
* "George (And the Northwoods)" performed by Dave Dudley (#10, 1969)
* "One More Mile" performed by Dave Dudley (#12, 1969)
* "Boo Dan" peroformed by Jimmy C. Newman (#31, 1969)
* "That's How I Got To Memphis" performed by Bobby Bare (#3, 1970)
* "Pool Shark" performed by Dave Dudley (#1, 1970)
* "If I Ever Fall in Love (With a Honky Tonk Girl)" performed by Faron Young (#4, 1970)
* "Second Handed Flowers" performed by George Jones (#5, 1972)
* "You Always Come Back (To Hurting Me)" performed by Johnny Rodriguez (#1, 1973) (also #86 on the Pop Singles Chart)
* "I Can Still Hear the Music in the Restroom" performed by Jerry Lee Lewis (#13, 1975)
* "I'm Not Ready Yet" performed by George Jones (#2, 1980)
* "Dropping Out Of Sight" performed by Bobby Bare (#35, 1981)
* "Little Bitty" performed by Alan Jackson (#1, 1996)
* "That's How I Got To Memphis" performed by Deryl Dodd (#36, 1996)
Jump to: Overall Meaning ↴ Line by Line Meaning ↴
Country is sittin' on the back porch
Listen to the whippoorwills late in the day
Country is mindin' your business
Helpin' a stranger if he comes your way
Country is livin' in the city
Knowin' your people knowin' your kind
Country is what you make it
Country is all in your mind
Country is workin' for a living
Thinkin' your own thoughts lovin' your town
Country is teachin' your children
Find out what's right and stand your ground
Country is a havin' the good times
Listen to the music singing your part
Country is walkin' in the moonlight
Country is all in your heart
Overall Meaning
The lyrics to Tom T. Hall's song "Country Is" describe what it means to live a simple, happy life in the country, regardless of whether someone actually lives in a rural area or not. The first verse talks about sitting on a back porch, listening to the whippoorwills at the end of a long day. It's a peaceful moment of reflection, with no particular agenda other than to soak up the beauty of nature. The second verse describes a sense of community, where everybody knows everybody else's business, but in a supportive way that helps people come together and lift each other up. In this version of country living, it doesn't matter whether someone lives in the city or not--what matters is that they have a connection to the people around them, and a sense of pride in their own identity.
The third verse emphasizes the importance of hard work and independent thinking, two virtues that are valued in this version of the country. People work for a living, and take pride in doing a good job. They also take time to think for themselves, and to make their own decisions, even if others around them may disagree. The fourth verse speaks to the idea of passing on values to future generations, specifically the importance of finding out what's right, and standing up for it, even when it's hard. This sense of responsibility is also a hallmark of this particular vision of country living.
The last two verses of the song evoke a sense of celebration and joy. In this version of the country, good times are had by all, with music and moonlight serving as the backdrop. This is a place where people can be themselves, enjoy life, and feel a sense of belonging. Overall, the lyrics to "Country Is" paint a picture of a simple, joyful life, characterized by hard work, community, and a strong sense of identity.

Line by Line Meaning
Country is sittin' on the back porch
Country life is all about relaxing and enjoying nature, like sitting on your back porch and listening to the sounds of the whippoorwills as the day comes to an end.
Listen to the whippoorwills late in the day
One of the simple pleasures of country living is enjoying the sounds of nature, like the whippoorwill's call at dusk.
Country is mindin' your business
Living in the country often means having more privacy, and respecting others' privacy by minding your own business.
Helpin' a stranger if he comes your way
Part of country life is being a good neighbor, and lending a hand to someone in need if they cross your path.
Country is livin' in the city
Even if you live in a city, you can still embody country values, like knowing and supporting your community.
Knowin' your people knowin' your kind
Being part of a city community means knowing and supporting the people who share your values and way of life.
Country is what you make it
Whether you live in the country or the city, you can create a country lifestyle by living simply, valuing nature, and treating others with kindness and respect.
Country is all in your mind
Ultimately, the spirit of country living comes from within, and can be nurtured no matter where you find yourself.
Country is workin' for a living
In the country, people often work hard to make a living, and take pride in their work ethic and self-sufficiency.
Thinkin' your own thoughts lovin' your town
Country life allows for more independent thought and a strong sense of community pride for the town you call home.
Country is teachin' your children
One of the most important aspects of country life is passing down traditional values and skills to the next generation.
Find out what's right and stand your ground
Country values often include a strong sense of morality and the desire to stand up for what one believes is right, even if it's not easy.
Country is a havin' the good times
Despite the hard work, country living allows for enjoying the simple pleasures in life, like music, food and community festivals.
Listen to the music singing your part
Music is an important part of country life, and the joy of singing along with others reinforces feelings of community and togetherness.
Country is walkin' in the moonlight
Another simple pleasure of country life is enjoying the peace and solitude of nature, like taking a walk on a moonlit night.
Country is all in your heart
At its core, country living is about valuing family, community and a connection to nature, creating a strong sense of home in one's heart.
Lyrics © Sony/ATV Music Publishing LLC
Written by: Tom Hall

Lyrics Licensed & Provided by LyricFind
To comment on or correct specific content,
highlight it
Genre not found
Artist not found
Album not found
Search results not found
Song not found