carbon made found her at the
End of a chain "time to race"
She said "race the downhill"
Behind crystalline irises
Loons can drive
Where the world bleeds white
Just keep your eyes on her
Keep
Don't look away
Keep your eyes on her horizon
Bear claw free fall
A gunner's view black and blue
Shred in ribbons of lithium
Blow by blow
Her mind cut in sheets
Layers deep now unravelling
Just keep your eyes on her.
Get me Neil on the line
No I can't hold
Have him read "snow glass apples"
Where nothing is what it seems
"Little sis you must crack this"
He says to me
"you must go in again carbon
Made only wants to be unmade"
Blade to ice it's
Double diamond time
And keep your eyes on her
On her eyes on her horizon
Lyrics © Downtown Music Publishing
Written by: TORI ELLEN AMOS

Lyrics Licensed & Provided by LyricFind
To comment on specific lyrics,
highlight them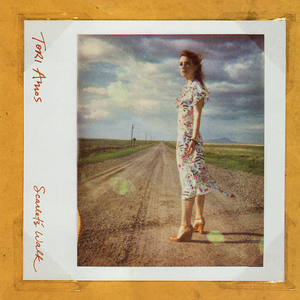 "Next she meets up with the manic depressive CARBON. They travel through the Black Hills of Dakota and to Wounded Knee, scene of one of the darkest episodes in Native American history. "All Carbon wants is to disintegrate into nothingness. So its an extremely destructive story. Just as people risked their lives to keep their sacred land, a meltdown is about to happen in her life and a waltz into insanity is on the horizon. She's on this downhill race in her mind and Scarlet has to get to her before she kills herself.
Read Full Bio
"Next she meets up with the manic depressive CARBON. They travel through the Black Hills of Dakota and to Wounded Knee, scene of one of the darkest episodes in Native American history. "All Carbon wants is to disintegrate into nothingness. So its an extremely destructive story. Just as people risked their lives to keep their sacred land, a meltdown is about to happen in her life and a waltz into insanity is on the horizon. She's on this downhill race in her mind and Scarlet has to get to her before she kills herself." They end up in a ski resort - Bear Claw, Free Fall and Gunner's View in the song are all ski runs. But for Carbon the normal parameters and boundaries have ceased to apply and given way to self-mutilation and an urge to plunge over the cliff. Scarlet walks into this madness, but the outcome is left unresolved."
-Tori, from Scarlet's Walk bio
Genre not found
Artist not found
Album not found
Search results not found
Song not found