All the commas
(Murda on the beat so it's not nice)
Ooh, hmm
For this life, I cannot change (change)
Hidden Hills, deep off in the main (main)
M&M's, sweet like candy cane (M&M's, cane, cane)
Drop the top, pop it, let it bang (top, pop it, pop it)
For this life, I cannot change (change)
Hidden Hills, deep off in the main (main)
M&M's, sweet like candy cane (M&M's, cane, cane)
Drop the top, pop it, let it bang (top, pop it, pop it)
Drop the top, play hide and seek (yeah)
Jump inside, jump straight to the league (league)
Take a sip, feel just how I be (it's lit)
On freeway, but no, ain't nothin' free (straight up)
Bend laws, bend lanes (skrrt, skkrt)
Been bustin' bills, but still ain't nothin' change (skrrt, skkrt)
You in the mob soon as you rock the chain (mob)
She caught the waves just thumbin' through my braids (alright)
Heatin' up, baby, I'm just heatin' up (it's lit)
Need your love, not a need, it is a must (yeah)
Feelin' stuck, you know how to keep me up (yeah, yeah)
Icy love, icy like a hockey puck (alright)
For this life, I cannot change (change)
Hidden Hills, deep off in the main (main)
M&M's, sweet like candy cane (M&M's, cane, cane)
Drop the top, pop it, let it bang (top, pop it, pop it)
For this life, I cannot change (change)
Hidden Hills, deep off in the main (main)
M&M's, sweet like candy cane (M&M's, cane, cane)
Drop the top, pop it, let it bang
All the ones, all the chains piled on the mantle (yeah)
All the dawgs, all the dawgs low creep right behind me in the Phantom (it's lit)
Yeah, never go, never go dip on the set, stayed Santana
Yeah, run it back, turn the lights on when I hit up Green Lantern (it's lit, alright)
Yeah, fly the broads, fly the dawgs down to Atlanta
Yeah, in the cut in Medusa, lay low, yeah, I might be
Yeah, roll up, help me calm down when I move in high speed
Yeah, if I send one, need to text back 'cause you know what I need (straight up)
Oh, please (oh please)
Oh me (oh me)
Oh my (oh my)
We been movin', we been movin' for some time (alright)
Flexin', flexin' try to exercise
(Exercise, exercise, exercise, exercise, yeah, yeah)
For this life, I cannot change (change)
Hidden Hills, deep off in the main (main)
M&M's, sweet like candy cane (M&M's, cane, cane)
Drop the top, pop it, let it bang (top, pop it, pop it)
For this life, I cannot change (change)
Hidden Hills, deep off in the main (main)
M&M's, sweet like candy cane (cane)
Drop the top, pop it, let it bang (bang, yeah)
Lyrics © Universal Music Publishing Group, Sony/ATV Music Publishing LLC, Warner Chappell Music, Inc.
Written by: Felix Leone, Jacques Webster, Shane Lee Lindstrom

Lyrics Licensed & Provided by LyricFind
To comment on specific lyrics,
highlight them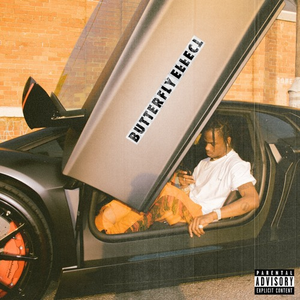 The 'butterfly effect' is the concept that small causes can have large effects. Travis Scott is also using a double-entendre with "butterfly" wherein as he refers to the doors on his Lamborghini car.

La Flame describes moving to his new life, how great it is, and how he could never go back to the old one. The production on this song is handled by Murda, who has produced a lot of the Travis Scott and Quavo collaboration album Huncho Jack, Jack Huncho.
Genre not found
Artist not found
Album not found
Search results not found
Song not found