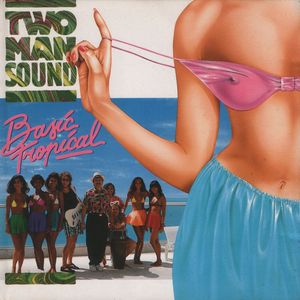 El Negro (mamy que sera loque quiere el negro)
Two Man Sound from Belgium, formed in 1972, are known for "Qué Tal America," their international underground disco anthem of 1979. The 12" story seems to be that this was first released on the Canadian Attic label in 1978 - a different version to the US version released the following year - which was also repressed in 1981. Possibly one of the best basslines of any disco track ever.

Bandmembers were Lou Deprijck (also known from Lou & The Hollywood Bananas)
Read Full Bio
Two Man Sound from Belgium, formed in 1972, are known for "Qué Tal America," their international underground disco anthem of 1979. The 12" story seems to be that this was first released on the Canadian Attic label in 1978 - a different version to the US version released the following year - which was also repressed in 1981. Possibly one of the best basslines of any disco track ever.

Bandmembers were Lou Deprijck (also known from Lou & The Hollywood Bananas), Sylvain Vanholme (founder of the Wallace Collection) and Pipou (Yvan or Yves Lacomblez) (co-writer of "Ca plane pour moi").
Genre not found
Artist not found
Album not found
Search results not found
Song not found
We have lyrics for 'El Negro' by these artists:



El Makabelico Carros nuevos y blindados Se ven de nuevo en Tijuana Hay nue…
Gisselle Tengo un problema en mi casa por que estoy enamora, de…
Pepe Ramos Ahí viene el negro cantando, trae clavado un sentimiento Ahí…
Reno 871 Miraló- Con 25 y va pelón Pero que fachas de cabrón De…
Reno871 Miralo, con 25 y va pelon. Pero que fachas de cabron De…



We have lyrics for these tracks by Two Man Sound:



Capital Tropical Bom oye mi son Biribiribom El basilon de capital Bom biribom…
Charlie Brown Se voce quiser vou Ihe mostrar A nossa Sao Paulo terra…
Copacabana Gavin Friday & The Man Seezer Miscellaneous Man of Misfort…
Disco Samba Dê, dê, dêdêredê, dê, dê, dêdêredê dê, dê Dê, dê, dêdêredê,…
Disco Samba (Complete Version) Pe tee, pee te, pee te, Pe tee, pee te, pee…
Mariana Non basta un raggio di sole in un cielo blu…
Que tal America I'm only half a man When I'm not by your side I…
Samba Megamix Pe tee, pee te, pee te, Pe tee, pee te, pee…

The lyrics can frequently be found in the comments below or by filtering for lyric videos.