Living Proof
UFO Lyrics
Rock this down
Ruff this place
I see sugar all over your face
She jives softly
She jives mine
She make love like a capital crime
Hand me down my shiny shoes
And mohair suit that's news
I'm giving up my weekend
I'm fixing up a fuse
Give me up molasses
Put me on the roof
Call me up barumba
I'm a living proof
Shake shake
Shake this town
I jump willy
I jump mine
I jump baby she can spin on a dime
Cool her up or you can cool her down
She move me crazy
She do the brown
Murder of crowns
The laying on of hands
Driving in the dead zone
With no map or plans
Give me up molasses
Put me on the roof
Call me up barumba
I'm a living proof
Shake shake
Shake this town
Walk any mountain
I don't care
Big brown bear
Ha ain't going nowhere
You made some sugar on it
Show me the walk
Give me that sweet southern talk
Contributed by Jeremiah F. Suggest a correction in the comments below.
To comment on specific lyrics,
highlight them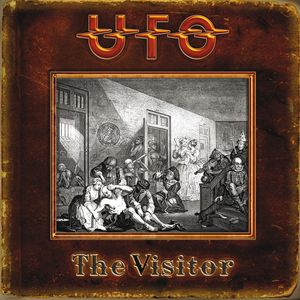 There is more than one artist with this name:

1) UFO is a British hard rock/heavy metal band that was formed in 1969, with lead singer Phil Mogg, guitarist Mick Bolton, bassist Pete Way, and drummer Andy Parker. UFO was a transitional band between the rock of Led Zeppelin and the metal to come in the New Wave of British Heavy Metal. Their early releases are commonly referred to as "space rock" with obvious influence from the 60s rock scene.

In 1973 the band recruited an 18 year old Michael Schenker from the band Scorpions.
Read Full Bio
There is more than one artist with this name:

1) UFO is a British hard rock/heavy metal band that was formed in 1969, with lead singer Phil Mogg, guitarist Mick Bolton, bassist Pete Way, and drummer Andy Parker. UFO was a transitional band between the rock of Led Zeppelin and the metal to come in the New Wave of British Heavy Metal. Their early releases are commonly referred to as "space rock" with obvious influence from the 60s rock scene.

In 1973 the band recruited an 18 year old Michael Schenker from the band Scorpions. This marked a departure from their space rock sound to a more hard edged rock sound. They released a string of critically acclaimed rock albums in the 70s that gained them a following in America and made them stars in the UK. Around the time of the 1978 release of Obsession, tensions between Schenker and Mogg were mounting. UFO arguably reached their peak at this time. In 1978 they toured extensively and recorded material for the double live album Strangers in the Night which was released in 1979. This album is considered by many fans and critics to be one of the best live rock albums ever produced. Immediately after the Strangers in the Night tour Michael Schenker left the band.

After this period UFO's popularity began to decline as they continue to release material. In 1988 they disbanded due to lackluster sales, decline in popularity, and their inability to (or perhaps refusal to) capitalize on the popularity of the glam rock movement. But the hiatus was short lived.

In 1992 Mogg and Way put together another UFO lineup that met with some new interest from fans. In 1993 the original UFO got back together (with Schenker) and the result was 1995's Walk on Water, which some consider to be one of the best comeback rock albums ever.

Schenker re-joined and quit UFO many times in the early 2000s. Due to Schenker's instability as a band member (and erratic tour behavior) Mogg eventually gained full control of the UFO band brand and Schenker is now forever from the picture (most likely).

UFO has released 20 studio albums, and many live/compilation albums. Though the lineup has changed many times over the years the core members of the band were usually involved along the way: Phil Mogg (vocals), Pete Way (bass), Andy Parker (drums), and Paul Raymond (guitar).

UFO's influence was strongly felt in the '80s metal scene and they have been cited as a primary influence of Kirk Hammett of Metallica, Dave Mustaine of Megadeth, and Iron Maiden who gives thanks to UFO in the liner note of The Number of the Beast.

UFO's official website: http://www.ufo-music.info

2) UFO is a Danish rapper/singer-songwriter and member of the Danish hip-hop group Ufo&Yepha.

3) UFO is the alias of UK Happy Hardcore artist Jason Holloway who is known for his production on such labels as Raverbaby and Jellybaby.

4) UFO is a Latvian singer/songwriter also known as Kaspars Upacieris. He also hosts a radio show BB Brokastis with Andris Freidenfelds.

5) UFO was one of the first Costa Rican punk band and one of the most important during the 90's-early 00's in the Costa Rican alternativa music scene.

6) UFO! A Bay Area native pioneered the San Francisco Drum and Bass scene and co-founded the Phunckateck collective. An innovative producer.

2002 saw UFO! releasing an original material CD on Thermal Recordings, called "The Future is Listening". Releases include a mix CD on Vortex called "Maelstrom," and a special edition mix CD for Circa footwear. UFO! has worked Hive, Echo, and Techno producer John Tejada.

UFO! remixed a track for Hollywood Records, rock band Tinfed, called "Drop", and several singles including "Tech has Taken Over Me", "Sideswipe" (produced with Kaos) and "Besame" (produced with Arqer and Realtime).

"Enemy Infiltration", an anthem of 1999, blazed across the U.S. and abroad. The stunning string arrangement on the track had producers from the revered Trouble on Vinyl label from the U.K. sampling it for one of their own releases called "Mission Control".

7) UFOUnited Future Organization otherwise known as UFO is a nu-jazz duo made up of Japanese-born Tadashi Yabe (直 矢部, Yabe Tadashi?) and Frenchman Raphael Sebbag (ラファエルセバーグ, Raphael Sebbag?). One of the three original founding members, Toshio Matsuura left the group in 2002 to work with Universal Japan on a remix album project

8) UFO is a Hungarian music band. The most successfully years were the 90s for them.

9) UFO is an Indonesian music band. They released the first album early 2000 named "Brutal Pop".They've entered an Indonesian ska compilation album

10. UFO is a Norwegian band mostly cover band
Genre not found
Artist not found
Album not found
Search results not found
Song not found