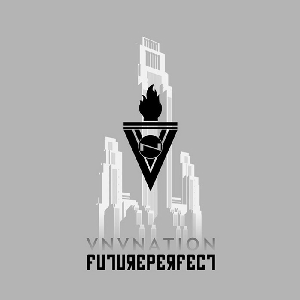 VNV Nation is an electronic music group formed in London in 1990, now based in Hamburg, Germany, that combines elements of trance, synthpop and electronic body music (EBM) into what they call Futurepop. VNV Nation began as a one man project from Ronan Harris. In 1995 Mark Jackson joined the band permanently as a live drummer but left the band in 2017.

VNV Nation's inspiration was originally the clash of the modern and classical European cultures
Read Full Bio
VNV Nation is an electronic music group formed in London in 1990, now based in Hamburg, Germany, that combines elements of trance, synthpop and electronic body music (EBM) into what they call Futurepop. VNV Nation began as a one man project from Ronan Harris. In 1995 Mark Jackson joined the band permanently as a live drummer but left the band in 2017.

VNV Nation's inspiration was originally the clash of the modern and classical European cultures, where mythology and technology live in an uneasy fusion, but this has since broadened to encompass a world view. The music ranges from electronic dance music to ballads and classically inspired music. Inspirations are taken from a wide range of styles including contemporary underground club culture, industrial, trance and classical music. The lyrics draw on philosophy, religion, literature, art, politics and different forms of symbolism, although VNV Nation does not advocate any ideology. It is a metaphor for expression. The letters VNV stand for "Victory Not Vengeance". The meaning behind this stylised motto is that one should strive to achieve, not sit in bitter regret.

VNV Nation's first releases were in 1990 with two self produced vinyl releases, "Body Pulse" and "Strength of Youth" (which are now long deleted with Ronan Harris himself not having a copy). After working on some VNV Nation tracks and supporting Nitzer Ebb on tour whilst living in Toronto, Canada, Ronan returned to London and released some tracks on sampler CDs. This caught the interest of German label Discordia and in July 1995, "Advance and Follow" was released. At around about the same time, Mark Jackson joined the band.

In January 1998, VNV Nation signed with the German label, Off Beat Records, releasing their second album "Praise the Fallen" in June 1998 and the EP "Solitary EP" in September 1998. With VNV Nation increasing in popularity, they began their first headline tour in Germany in September 1998.

In 1999, the Off Beat label collapsed, leading to VNV Nation (along with other artists such as Covenant, Suicide Commando and Velvet Acid Christ) collaborating with Stefan Herwig (a former A&R manager with Off Beat) to create Dependent Records. In late 1999, the album "Empires" was released, staying at number 1 in the German Alternative Chart (DAC) for seven weeks, and winning the award for DAC Album of the Year.

From "Empires" two singles were released "Darkangel", which tops the DAC for 5 weeks in mid 1999 and "Standing", which stays at no.1 in the DAC for 8 weeks in early 2000 (the maximum a single can remain in the DAC) winning a German Alternative Music Award for most successful single of 2000 and sharing the place for most successful single in the DAC's history with the Chemical Brothers. A limited edition of the "Standing" single was also released entitled "Standing / Burning Empires" which contained alternate versions and remixes by VNV Nation of tracks from "Empires". This remains one of the most sought after VNV rarities, fetching large sums on auction sites, although it has recently been released on iTunes to allow casual listeners to purchase it.

In March 2001, "Advance and Follow v2" was released as a limited edition, which was a remastered and partially re-recorded version of the original 1995 album "Advance and Follow". The band were never particularly happy with the first album due to it being recorded in less than a week, so the release was seen by the band as a way to put that right.

In October 2001, VNV Nation embarked on their "Futureperfect" tour of Europe and North America, promoting the album "Futureperfect" which was released in January 2002. It reached number 25 in the full German Album Charts, with the single "Beloved" reaching number 60 in the full German Singles Chart. Following the release of "Beloved", VNV Nation part ways with Dependant and create their own label "Anachron Records".

In June 2003, the Honour 2003 EP is released, promoting the "Pastperfect" live DVD, which following many delays and problems was finally released in May 2004. Following this the rest of 2004 and beginning of 2005 was spent producing the album "Matter and Form", which was released in April 2005. Preceeding the album release, one of the tracks "Chrome" was sold in March 2005 as a download on the VNV Nation website, as well as iTunes.

In April 2007, the album "Judgement" was released, and an extensive world tour in support of the album followed. In January 2009, VNV Nation published their plans for 2009 on their website, indicating that the long delayed "Reformation" EP would be available, but now as a full "CD Pack". Also due for release in 2009 is the new album entitled "Of Faith, Power and Glory".

In November 2017 Mark Jackson left the band to "pursue other paths in life".

To read more about Ronan Harris and his motivations behind the band and 2009's "Of Faith, Power and Glory," please visit http://www.dieselpunks.org/profiles/blogs/interview-ronan-harris-of-vnv
Genre not found
Artist not found
Album not found
Search results not found
Song not found
We have lyrics for 'Liebestod' by these artists:



Morgan Doors used to be open But now they've been nailed shut L…
Morgan feat. Asia Argento Doors used to be open But now they've been nailed shut L…
Tiefenrausch es ist als hätte der abend mit kühlem hauch den tag mit…



We have lyrics for these tracks by VNV Nation:



4 A.M This song is strictly intrumental....…
After Fire We have been waiting for you, anticipating you We shall not…
Airships I pressed my face against the glass Smiled as my breath…
Arclight At first light lay proud foundations. Sense the greatness t…
Arena Before me plays the endless film Relentless splinters I rec…
Art of Conflict The art of war is of vital importance to the…
Beloved It's colder than before The seasons took all they had come…
Beloved (Grey Dawn version by VNV Nation) ---It's colder than before... ---The season's took all they …
Carbon A million points of light Ascending to the sky Monuments i…
Carry You Conceal your deepest worries Confine your thoughts inside …
Chosen Order is shattered in a strange guttural tone that resounded…
Chrome A million faces, each a million lies For each and all…
Circling Overland 1-1-2029, the stars are shining bright Nerves connected to …
Cold Put your hand into my hand. Put your head against my…
Control Until I should die, until I should break Not a god,…
Darkangel In your dream you see me clear I have no restraint,…
Darkangel (Apocalyptic mix by Das Ich) I'd only come here seeking peace I'd only come here seeking…
Descent All God's children would have cause To think the devil now…
Distant The paths that I once tread Have all but gone Only embers…
Distant (Rubicon II) The paths that I once tread have all but gone. Only embers…
Endless Skies How many years since you found yourself Staring at an endle…
Entropy In the face of grave defeat Are heard cries for mercy No…
Epicentre I asked myself was I content with the world that…
Everything Don't tell me it's the end of everything It always seems…
Fallout I tried to escape, fallout All around me, yeah The blast…
Farthest Star The will to greatness clouds the mind Consumes the senses, …
Fearless So many little things followed me So many little things tha…
Foreword This is your world. These are your people. You can live for…
Forsaken When I have nothing left to feel. When I have nothing…
Fragments See the faces. Etched in stone. The frozen faces of multitu…
Freude Bin ich nicht Mensch, blutet mir nicht das Herz? Kein…
Freude (Schlachtfeld version by :wumpscut:) Bin ich nicht Mensch, blutet mir nicht das Herz. (Am I…
Frika Over time desire shall fall and lie and fade Await unequaled…
From My Hands So much I thought I'd have to say Though I…
Further At the end of days, at the end of time When…
Genesis Breathing an air Permeated, soaked in darkness Emanating fro…
Genesis (Icon Of Coil Version) Breathing in an air Permeated, soaked in darkness Emanating …
Ghost I climbed down, to watch the tide Mark the time that…
Gratitude It is not love, if love is cold to touch It…
Holding On I thought the future held A perfect place for us That toge…
Homeward The hallowed lands so far behind As fleeting dreams still l…
Honor Passive fields. January two thousand and twelve A nation th…
Honour 2003 Passive fields. January two thousand and twelve. A nation t…
If I Was The light of day is fading To bid the darkness in When…
Illusion I know it's hard to tell how mixed up you…
In Defiance I think back upon the person I knew you to be Righting…
Joy Have I no control, is my soul not mine? Am I…
Kingdom Our domain, this kingdom come Now godless lands whose ways a…
Lastlight Forget your fears and want no more At first light lay…
Left Behind So afraid to open your eyes You know too well that…
Legion Enveloped in a sentiment, a sound that rushes over me. Engag…
Momentum Beginning to move Slowly changing Cells connect The sum o…
Nemesis Everybody wants to live in a lie But why should we…
Nova I long to feel my heart burned open wide, 'til…
Off Screen The lighting is set, are we ready to play out…
Outremer Thus to holy war, our songs that turned to roar Onward…
Perpetual Find it in you, raise your eyes Look beyond the place…
Precipice The hope of my redemption, is such that I believe…
Prelude [Instrumental]…
Primary Straight ahead, in lines, cannot deviate Speed maintained a…
Procession I sat above them all and watched for days I felt…
Radio Words will never say enough They are just born of hope…
Requiem QCN Quis contra nos? Statutum et ordina Tum est Juro ego Si spir…
Resolution No pride to feel, no waiting country No parades to line…
Retaliate I can almost hear Your heart in the darkness How fast it…
Rubicon Praying for myself. These thoughts I try to hide. I have f…
Saviour As the stars appear I know I'll find you staring at…
Secluded Spaces It seems so long ago now That I was sitting here Taking…
Second Skin The sound of words I longed for said So far pleasure…
Sentinal Can we say that we are free Our hands are bound…
Sentinel Can we say that we are free? Our hands are bound…
Serial Code Take a look at what you've done And gaze upon what…
Serial Killer In a face, a view Through eyes this world collides I am…
Solitary Set me aflame and cast me free Away you wretched world…
Solitude Set me aflame and cast me free. Away, you wretched world…
Space & Time Tear apart the life and times of familiar faces And tracing…
Standing Eyes betray the soul and bear it's thinking. Beyond words th…
Still Waters Here among the streets Static noise of moving lines Isolat…
Streamline Build me a future, splendid and graceful Make it better by…
Structure (Intstrumental)…
Suffer Hours from sunrise, here in the heart of darkness Where eve…
Teleconnect Pt. 1 Show me the ways, give me the means To pull away…
Teleconnect Pt. 2 Lend me your deepest wisdom Give me a sinner's chance Lear…
Tempest These are not words, they're only feelings There are no sou…
Testament Procrastinating, pretending to worry Solving problems by pus…
The Farthest Star The will to greatness clouds the mind Consumes the senses, v…
The Great Divide Deep is the longing in the heart that ever strives The…
Tomorrow Never Comes Heaven help us, we've lost control This should be our fines…
Verum æternus If you and I had been Anything less than these tormented…
Voice We are not the same I am just one voice We are…
Where There Is Light The carousel begins to slow, I take my chances So far…

The lyrics can frequently be found in the comments below, by filtering for lyric videos or browsing the comments in the different videos below.