A Woman Named America
Vacuum Lyrics
Chance is on my side
Where the heartland sleeps
Openwide preaching a gospel of sin
Trance a continent
We create historic events
Riding the landslide to win
Ready for the action I feel the power
Striking the attraction her magic hour
Ready for the game
A woman named America
A woman named America
Loudness of the thunder
Start operation,
Marching up around her D-day invasion
Ready for the game
A woman named America
A woman named America
Dreams my freedom come
Climb a mountain
Bathe in the sun
Conquer the land in between
Steam my motor shines,
down the arcade t-fords in line
Planting my flag on the scene
Drive
A lightning fade
At the wheels of this motorcade
Riding a landslide to win...
Contributed by Aubrey A. Suggest a correction in the comments below.
To comment on specific lyrics,
highlight them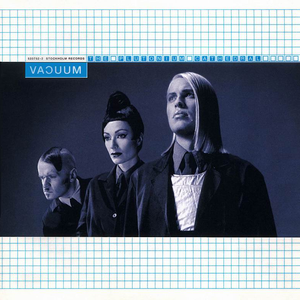 There is more than one band called Vacuum:

1) a Czech death/doom metal band
2) a Swedish syntpop formation
3) a Dutch punk band (see Vacuüm)
4) an Italian black metal act
5) a Chilean powerviolence band
6) a New Zealand early punk band Bill Direen (guitar,vocals) Stephen Cogle (bass,vocals)
Peter Stapleton (drums) Brendan Arnold (percussion & vocals) Peter Fryer (organ)
Allen Meek (organ) 1978 - 1979
6) A Swedish punk rock band

1) Vacuum
Read Full Bio
There is more than one band called Vacuum:

1) a Czech death/doom metal band
2) a Swedish syntpop formation
3) a Dutch punk band (see Vacuüm)
4) an Italian black metal act
5) a Chilean powerviolence band
6) a New Zealand early punk band Bill Direen (guitar,vocals) Stephen Cogle (bass,vocals)
Peter Stapleton (drums) Brendan Arnold (percussion & vocals) Peter Fryer (organ)
Allen Meek (organ) 1978 - 1979
6) A Swedish punk rock band

1) Vacuum (SWE) is the name of a swedish song-writing/production duo consisting of Mattias Lindblom and Anders Wollbeck. They also work together as a pop-group under the same name. As songwriters they have written hits for artists such as Monrose, Garou, Tarja Turunen and Rachel Stevens to name a few. Anders and Mattias met in 1996 when the band Vacuum recorded their first album "The Plutonium Cathedral". They work out of their studio "Home" situated in central Stockholm, Sweden but are constantly on the move to wherever their work takes them.

In 04 Vacuum released the album "Your Whole Life Is Leading Up To This". It was followed by two singles "Six Billion Voices" in 06 and "Walk On The Sun" in 07. Due to high demand as song-writers, Vacuum the band is only active from time to time. The band still enjoys a huge fan-following.

As songwriters they have worked with many artists around the world. In 2007, they've worked with artists such as Tarja Turunen (I Walk Alone, Die Alive etc), Monrose (What You Don't Know), Cinema Bizarre (Heavensent, Get Off), Edyta Gorniak and many more.

Mattias is keeping a popular blog at www.myspace.com/mattiaslindblom

For more info visit an official web-page: http://www.vacuum-people.com

History (unofficial version)

The group was formed in 1996 by Alexander Bard and Anders Wollbeck.
The history of the group can be divided into two distinct parts: before the departure of the group's leader Alexander Bard in 1999 and after his departure, since which the singer Mattias Lindblom has become the group's new leader. The first two full albums of 1997 and 1998 were characterized by classical music influences and socially-, politically- and even astronomically-themed lyrics, which are very unusual for synth pop music; the 2004 album "Your Whole Life Is Leading Up to This", written by Wollbeck/Lindblom, steered away from synth pop to trance/techno and personal lyrics dealing with love and the meaning of life.

Line-Up:
Mattias Lindblom - vocals
Anders Wollbeck - keyboards, guitars, programming



Vacuum (NL) is also a punk band from Utrecht.
Formed in 1982 and released 2 Full-lengths:
"Vacuum"(1984) and "Feest" (1986)
and where also featured on two tapes with Bart FM Droog: "Destructief Jong Nederland" (1982) & "De Droog Tapes" (1983) and a VA album: "Hatelijke Groenten" With the Tracks Sport/Autonoom/WGV/Liefde.

Line-up:
J.P.Kuil - Bass / vocals
Rob Kuil - Guitar / vocals
Hanneke Schreuder - Programming / vocals
Hans Sulmann - Guitar / vocals



The black metal band Vacuum (IT) released the demo "Ascensus" in 2005, via Eerie Art Records.


The Czech doom metal band Vacuum started in 1995. in 1996 they released demo 'Climbing My Sky' which was later released on cd by Machine Gods Records in Portugal. Then band disappeared in history


The Chilean powerviolence band Vacuum are from Temuco, playing fast as hell.
Line up:
Bodoke (vocals)
Coty (guitar)
Mario (bass and guitar)
Pablo (drums)
Genre not found
Artist not found
Album not found
Search results not found
Song not found