And oh, I don't remember what they said to me
When I didn't know they were too cool to care
And too strait to dare
And now, all of the truths are just drenched in dreams
And all of the words like tooth teeth and lips
Are all just pheromone
And it seeps down around your knees
Cause baby we're just bloated beasts
With eyes sunk so deep in our skulls
We were dead long ago
Don't you know
And now, all of the pulls are just sucker punch
So take what you can
Cause baby you're a loaded gun
And I've been trying so very hard to let it go
But you're too cool to care
And too strait to dare
I saw fire he was dealing out a dull dose
And some say he sings
But brother he just bleeds
SAFEWORD
These are the Trojan fires
Burning beggars in the street
And you can put your head down baby
But don't fall asleep
Because we're living every day like it can't get any worse
Yeah it's a plan that takes a body from the bed to a hearse
And the feeling now is all too absurd
Come on baby say the safeword
You build a troubled fortune
On the bodies that you break
When the things that you kill are the same
As the things that you take
And all the crazy kids keep squinting while they stare at the sun
And when the night comes around they think they've finally won
And the feeling now is all too absurd
Come on baby say the safeword
And I'd like to get to know you if you know what I mean
Plug into your TV screen
FRIENDSHIP ROAD
Who will take it, who will take it, who will take it, now it's gone, gone, gone...
Contributed by Elijah B. Suggest a correction in the comments below.
To comment on specific lyrics,
highlight them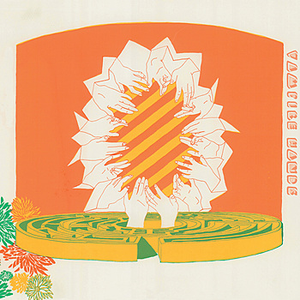 VAMPIRE HANDS IS:
ALEX ROSE-DRUMS
CHRIS BIERDEN-BASS
CHRIS ROSE-GUITAR
COLIN JOHNSON-DRUMS/SYNTH

Location: Minneapolis, MN

Influences: ROYAL TRUX, PLASTIC ONO BAND, NEIL YOUNG, CAN, THE METERS, WHITE NOISE, EXUMA AND RED KRAYOLA.

The four-piece started out in 2004 and have since gone on to release four recordings and complete four national tours. Their new album, "Hannah in the Mansion," was released in 2009, on St. Ives records.
Genre not found
Artist not found
Album not found
Search results not found
Song not found