An ancient business, a modern piece of glasswork
Down on the corner that you walk each day in passin'
The elderly sales clerk won't eye us with suspicion
The whole, immortal corporation's given its permission
A little stairway, a little piece of carpet
A pair of mirrors that are facing one another
Out in both directions, a thousand little Julias
That come together in the middle of Manhattan
You waited since lunch
It all comes at once
Around the corner, the house that modern art built
A house for modern art to keep it out the closets
The people who might own it, the sins of pride and envy
And on the second floor, the Richard Serra Skate Park
You waited since lunch
It all comes at once
Sit on the park wall, ask all the right questions
"Why are the horses racing taxis in the winter?"
Look up at the buildings, imagine who might live there
Imagining your wolfords in a ball upon the sink there
You waited since lunch
It all comes at once
Lyrics © Universal Music Publishing Group
Written by: Christopher Joseph Baio, Christopher William Tomson, Ezra Koenig, Rostam Batmanglij

Lyrics Licensed & Provided by LyricFind
To comment on specific lyrics,
highlight them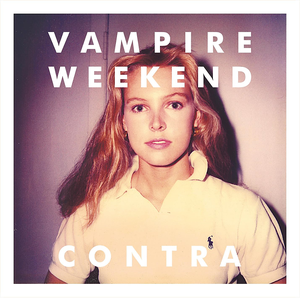 Vampire Weekend is an indie rock band which formed in February 2006 in New York City, New York, United States. The band consists of Ezra Koenig (vocals, guitar), Chris Baio (bass) and Christopher Tomson (drums). Rostam Batmanglij has left the band in early 2016 to begin solo career, but will continue to collaborate with Ezra. The band has released four albums: "Vampire Weekend" (2008), "Contra" (2010)","Modern Vampires of the City" (2013) and "Father of the Bride" (2019).
Read Full Bio
Vampire Weekend is an indie rock band which formed in February 2006 in New York City, New York, United States. The band consists of Ezra Koenig (vocals, guitar), Chris Baio (bass) and Christopher Tomson (drums). Rostam Batmanglij has left the band in early 2016 to begin solo career, but will continue to collaborate with Ezra. The band has released four albums: "Vampire Weekend" (2008), "Contra" (2010)","Modern Vampires of the City" (2013) and "Father of the Bride" (2019). The band has gained positive comparisons to such artists as Paul Simon, Haircut 100 and The Walkmen.

Vampire Weekend received much buzz from local blogs throughout 2007 during their rise to a record deal with indie label XL Recordings. Rolling Stone placed Cape Cod Kwassa Kwassa at number 57 for the top 100 songs of 2007.

The band's debut album, "Vampire Weekend" was released on January 28. 2008. It was a surprise success, peaking at #17 on the Billboard 200.

Their second album "Contra" was released on January 12, 2010. It contains the single "Cousins". The album debuted at #1 on the Billboard 200, only the 12th independently released and distributed album to achieve such a feat.

They are self-proclaimed "specialists in the following styles: 'Cape Cod Kwassa Kwassa', 'Upper West Side Soweto', 'Campus', and 'Oxford Comma Riddim.'"

The name "Vampire Weekend" comes from a movie that Ezra Koenig made in the summer of his freshman year at college. You can watch the trailer on Youtube, here.

Their official site is http://www.vampireweekend.com/
Genre not found
Artist not found
Album not found
Search results not found
Song not found