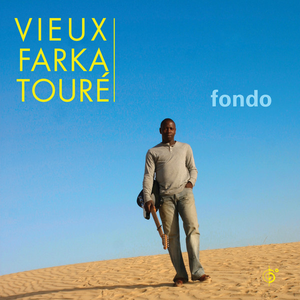 Vieux Farka Touré is a Malian singer and guitarist, and son of one of the Afric…
Read Full Bio ↴
Vieux Farka Touré is a Malian singer and guitarist, and son of one of the African continent's most internationally renowned musicians Ali Farka Touré.

Since his childhood, Vieux Farka Touré has been deeply inspired by the music of his father, Ali Farka Touré. Growing up in Mali's capital, Bamako, as well as in his father's hometown of Niafunké in the Sahara desert - both teeming with rich musical life - Vieux proved himself a precocious talent as a drummer and calabash player. Ali, however, grew concerned about his son's future as he observed his son's budding musical gifts. Having long suffered in the music industry himself before finally finding a home with World Circuit Records, Ali did not want his son to have to have to face the same hardships. He forbade Vieux to play music and decided that Vieux should become a soldier instead. Vieux, as stubborn as his father's moniker FARKA (donkey) suggested, began instead to play along with his father's recordings in hiding, determined to pursue his musical aspirations.

In 1999, Vieux -- now a young man -- decided to take his destiny into his own hands. He enrolled in the National Arts Institute in Bamako, openly defying his father's wishes. It was there that Vieux truly discovered his musical calling, picking up the guitar and beginning to compose his own music. By the time he left the Arts Institute, he was already a locally celebrated guitar virtuoso, able to emulate almost perfectly his father's playing. Word began to spread throughout Bamako that Ali's successor was emerging. It was then that Toumani Diabaté - the world's premiere kora player - first took notice of Vieux, and brought him into his performing ensemble. Recognizing Vieux's abilities, Toumani urged Ali to accept his son's chosen path. Ali agreed, and under Toumani's artistic guidance, Vieux flourished. He performed in France and South Africa and even began to accompany his father on guitar. At the same time, his own stunning compositions introduced new sounds and influences into the tradition of desert blues from Northern Mali.

In 2005, Vieux reconnected with his friend Eric Herman, a North American musician and producer with whom Vieux had played while he was a student at the Arts Institute. Both Vieux and Eric realized that it was time that Vieux record his debut album. They quickly got to work in the studio. Toumani agreed to contribute his awesome talent on two of the tracks. Meanwhile Ali - growing increasingly ill with cancer - offered his final recordings to Vieux's self-titled debut album, the ultimate expression of approval of his son's path, passing him the torch with which to light his way.

Since then, Vieux has released two more studio albums (Fondo, 2009, and The Secret, 2011), a remix album (UFOs Over Bamako, 2008), and a live album (LIVE, 2010).
We have lyrics for 'Slow Jam' by these artists:
B.O.S.E.
Baby looking so fine to me I really wanna see y'a…
Babyface & Tamia
can't believe I'm here Down at the q's jook joint (no…
Don L
Gata vem comigo chapar Mas só a conta Vem tomar um drink…
Grimm Lynn
In this moment I look into your eyes You crack a lovely…
Jinky Vidal
(Usher) I was all alone, I was feelin rather low, I needed s…
Junebug Slim
Hey MR DJ can you play another slow jam Play…
Kanye West Ft Twista & Jamie F
[Luther Vandross:] Are you gonna be* Say that you're gonna b…
M.C. Magic
Hey MR DJ can you play another slow jam Play…
MC MAGIC
Hey MR DJ can you play another slow jam Play…
Midnight Star
Excuse me, may I have this dance I was all alone,…
Monica
I was all alone I was feeling rather low I needed someone…
N-Wise
Somebody said they saw you the person you were kissing…
New Order
As I look at the morning sky Today the wind is…
Sowelu and LEO
Dare ni mo mie nai futari no Bed room Up &…
The Jam Allstars
I was all alone, I was feelin rather low, I needed someone…
Tirzah
I'm frozen, I'm sorry my son But you're too old to…
Twista & Kanye West
Are you gonna be? Say that you're gonna be Oh, oh, oh,…
Usher
I was all alone I was feeling rather low I needed someone…
We have lyrics for these tracks by Vieux Farka Touré:
All the Same
ils sont tous les mêmes. – Je dis de les regarder,…
Bullet The Blue Sky
In the howling wind comes a stinging rain See it driving…
Diarabi
Moom kery la ma chérie Moom kery la ne doumbé e…
Fafa
Fafa doumbeye a foyo sibeygo nafa Aïné fafa-fafa a foyo sibe…
Mali
Naneygo malira – berreygo malira (2 fois) Woka yer magoye…
Savanne
J'ai quitté mon pays et ma Louisiane Mais dans d'autres pays…
Tongo Barra
Mali thine tongonbara Soboy Wo toune yema haou Kouna Denekan…
The lyrics are frequently found in the comments by searching or by filtering for lyric videos
Genre not found
Artist not found
Album not found
Search results not found
Song not found