You could put a blindfold on me
And drop me anywhere in this town
I could always find your front door, true north
No matter how many times you spin me around
There ain't a single street
This truck ain't ever seen
So baby, how can it be
Every time you're with me
I ain't nothing but lost
Jaw drop, damn girl
Yeah, you're lookin' so pretty
Lost like a country boy's first time in the city
Left hand in my hand right hand
Surfin' wind out the window
I'm so lost like a penny in a wishing well fountain
No headlights in the Carolina mountains
Know every inch of this land
Like the back of my hand
But every time I taste your kiss I get
Lost, like I am right now, girl
Lost, and I don't wanna be found, girl
Baby, anywhere that you wanna go
Ain't no place I can't get ya to
Whether it's in drive or in park
In the light or the dark
Baby, I got you
Until you smile, then I
Ain't nothing but lost
Jaw drop, damn girl
Yeah, you're lookin' so pretty
Lost like a country boy's first time in the city
Left hand in my hand right hand
Surfin' wind out the window
I'm so lost like a penny in a wishing well fountain
No headlights in the Carolina mountains
Know every inch of this land
Like the back of my hand
But every time I taste your kiss I get
Lost, like I am right now, girl
Lost, and I don't wanna be found, girl
And I don't wanna be found, girl
Like a ship in the middle of the ocean
No stars to show me where I'm going
Lost, jaw drop, damn girl
Yeah, you're lookin' so pretty
Lost like a country boy's first time in the city
Left hand in my hand right hand
Surfin' wind out the window
I'm so lost like a penny in a wishing well fountain
No headlights in the Carolina mountains
Know every inch of this land
Like the back of my hand
But every time I taste your kiss I get
Lost, like I am right now, girl
Lost, and I don't wanna be found, girl
No, I don't want to be found, girl
Writer(s): walker mcguire

Contributed by Violet D. Suggest a correction in the comments below.
To comment on specific lyrics,
highlight them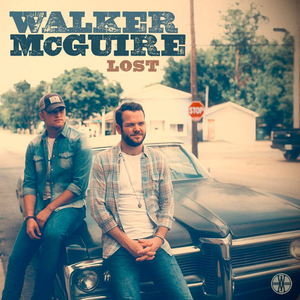 Jordan Walker and Johnny McGuire members

We are a duo in Nashville, TN and are just trying to make it in this dog-eat-dog industry. Tell your mom, sister, dad, grandma...tell the world!
Genre not found
Artist not found
Album not found
Search results not found
Song not found