Despertar
Warcry Lyrics
Tiempo atrás, creíste venderme
esperanzas en mi soledad...
Tu verdad se oculta tras besos que no durarán.
Todo un mundo de arena se rompa ante mí.
Avanzar... la fuerza es quien guía
mi alma a traves de la tempestad,
que revuelve mi mente y no deja ver,
que tras la piel no se puede esconder
más que aquello que uno quiere tener.
Hoy la inocencia se queda atrás...
mi esperanza se vuelve poder,
cada paso me enseña que vivo otra vez.
Los errores de la ingenuidad
se transforman a mi voluntad...
y la vida se abre ante mi tempestad.
Sé que nada es fácil sin fé,
sé que hay cosas que no cambiaré, ni quiero.
Sólo pretenddo seguir mi destino, pues.
Siento paz; la calma que invade mi mente
me muestra, que sin dudar,
la vida me enseña lo que he de cambiar.
Nada es eterno, mi aliento susurra que...
Contributed by Michael L. Suggest a correction in the comments below.
To comment on specific lyrics,
highlight them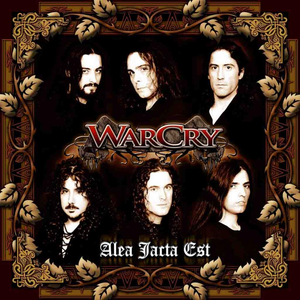 There are 8 artists going by the name of "WarCry"



1) Spanish Epic/Heavy Metal Band, whose legendary leader Victor Garcia (Lead Singer) was also lead singer of the famous Heavy Band Avalanch.

Discography:

2002: WarCry
2002: El Sello de los Tiempos
2004: Alea Jacta Est
2005: ¿Dónde Está La Luz?
2006: La Quinta Esencia
2008: Revolución
2011: Alfa
2013: Inmortal

The band released their 8th studio album "Inmortal" in September 2013.


2) American d-beat punk band from Portland, OR.
Read Full Bio
There are 8 artists going by the name of "WarCry"



1) Spanish Epic/Heavy Metal Band, whose legendary leader Victor Garcia (Lead Singer) was also lead singer of the famous Heavy Band Avalanch.

Discography:

2002: WarCry
2002: El Sello de los Tiempos
2004: Alea Jacta Est
2005: ¿Dónde Está La Luz?
2006: La Quinta Esencia
2008: Revolución
2011: Alfa
2013: Inmortal

The band released their 8th studio album "Inmortal" in September 2013.


2) American d-beat punk band from Portland, OR. This group features members of His Hero Is Gone, Tragedy, Severed Head Of State, Funeral, Call The Police, Bacteria, Hellshock, and Remains of the Day.

3) A thrash/heavy metal band that featured Paul Speckmann and other members of Master.

4) Viking/Black Metal band from Spain (Catalonia).

5) A vegan/straight edge hardcore band from Bloomington/Indiana, active in the early 90s.

6) A Hip-Hop act from Australia during the early 90's.

7) Melodic Death/Doom Metal Band from America (The Flathead Reservation, MT). They have released two albums, Warrior's Path (1999) and Their Fallen World (2009).

8) Japanese noise punk band late 80s / early 90s
Genre not found
Artist not found
Album not found
Search results not found
Song not found