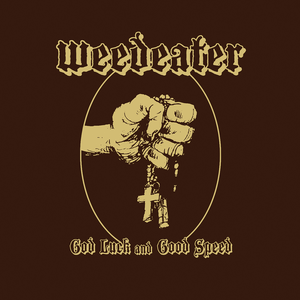 There are two artists called Weedeater;

1) Weedeater are a stoner metal band formed in Wilmington, USA in 1998. The group's most recent album, Goliathan, was released on May 19, 2015.

The band formed in 1998 and was initially planned to be the side-project of Dave "Dixie" Collins, the band's vocalist and bassist who was occupied with his primary project Buzzov*en, however the band disbanded the same year so decided to concentrate his efforts on Weedeater and made it his new primary project
Read Full Bio
There are two artists called Weedeater;

1) Weedeater are a stoner metal band formed in Wilmington, USA in 1998. The group's most recent album, Goliathan, was released on May 19, 2015.

The band formed in 1998 and was initially planned to be the side-project of Dave "Dixie" Collins, the band's vocalist and bassist who was occupied with his primary project Buzzov*en, however the band disbanded the same year so decided to concentrate his efforts on Weedeater and made it his new primary project, recruiting members Dave "Shep" Shepherd on guitar and Keith "Keko" Kirkum on drums.

The band released their debut album titled '... And Justice for Y'all' in 2001 and released their second album 'Sixteen Tons' in 2003, both albums where released via their first record label Berserker Records.

After the release of Sixteen Tons in 2003, the band decided to leave Berserker Records and joined American metal record label Southern Lord Records and released their third album and label debut God Luck and Good Speed. In 2009 a deluxe double LP version on the album was also released. The band was also announced as a support act for the American heavy metal supergroup Down.[6] The band was later announced as one of the acts to play at 2010's Hellfest among the likes of Arch Enemy, Architects and Gwar.

The band entered the studio for their fourth album with producer Steve Albini in early January 2010 who also produced their last album God Luck and Good Speed, and also Arik Roper will be designing the album cover as he did previously for the band's previous albums.[8] Not long after they entered the studio Dave "Dixie" Collins accidentally shot himself in the foot whilst he was cleaning his favourite Shotgun and was reported that he is to be bedridden for the next few weeks during his recovery, this ultimately lead to the band postponing their recording session with Steve Albini until after their tour in March and April.

Despite the setback caused by the accident the band announced that their next album will be titled Jason...The Dragon and was set for a release later that year, they also announced that their March/April tour will now be called the "Nine Toe" tour after Collins lost one of his big toes. The band headlined again in September the same year after it was reported that Keko had torn his meniscus after returning from their previous headlining tour and also that Dave Shepherd had also broken his pinkie finger while supporting Black Cobra in Europe in July, however didn't prevent the group from returning to Albini to record the album unlike the previous two accident which did.

In November 2013 it was announced by French record label Season of Mist had officially listed Weedeater as part of their roster, and along with the announcement the label re-released all of the band's previous albums digitally on December 10 the same year, the band also commented that they will hopefully be entering the studio soon with either producer Steve Albini or Billy Anderson, who have helped produce the band's previous albums. Travis Owen joined the band as drummer and they are scheduled to record their newest album in September 2014 with Steve Albini in Chicago, IL.

Based on reviews from their previous albums the band has often been labelled as stoner, doom and sludge metal as well as being dubbed "Weed metal" due to their lyrical style and also referring to Dave Collins' previous band of similar musical style Buzzov*en, also labelled as a stoner and sludge metal band which may have influenced this band's sound. While the band focuses on metal they also have acoustic elements in songs such as "Woe's Me" and "Kira May" from their second album Sixteen Tons.

The album was finally released on March 15, 2011 after all the setbacks caused by the bands injuries throughout 2010.[12] The band went on tour in the US to support the release of the album however had to cancel the last few shows due to Dave Shepherd breaking his hand which disallowed him to play guitar.[13]


2) A Stoner Metal band formed in the early 1990s in Clearlake, USA, consisting of Doug Jones, Jeff Jones, and Mark Huddleston. In 1995, they released Weedeater on Pearl Records out of Kansas City. The record was produced by Marvin Jackson, Montel Jones, & Weedeater. Assistant Engineering was done by Marc Wilson.
Genre not found
Artist not found
Album not found
Search results not found
Song not found
We have lyrics for 'Willow' by these artists:



A Million Dead Birds Laughing Why fight the branch that brings life? Are you too weak…
Diary of Dreams Just give me nails To be my burden Crucified emotions st…
Diathra The dozing willow declined so beautifully And she was naked…
E.O.E Down in the willow garden Where me and my true love…
Emilie Autumn Willow, weep for me Bow your tallest tree Down to the infamo…
Fergal Matthews By the bright leaves In the garden Of my savior As the pa…
Fredrika Stahl Willow, wherever he goes It seems like I always come to…
Harry James and His Orchestra Let me be your weeping willow tree Surround you with my…
Jack Hardy How the willow weeps In the wind it sings Though we've hea…
Jasmine Thompson Down by the water, under the willow Sits a lone ranger,…
Jesse Winchester Willow, Willow you are ever ready to go Ready to go…
JJ 72 By the bright leaves In the garden Of my savior As the pa…
Joan Armatrading I may not be your best You know good ones Don't come…
Lisa Pressman And when the sky is gray And when the wind is…
Mac Benford & The Woodshed All-Stars Yes, willow weep for me Willow weep for me Bend your branche…
Metal Mother You are an ocean And I, a diver deep You are a…
Paul Schwartz feat. Mario Grigorov Italian: Piangea cantando Nell'erma landa, Piangea la m…
Phantom/Ghost You don't have to go to school What you do is…
Rayland Baxter Take me to my willow and lay me down And tell…
Sarah Slean Willow tree by the sea Where the guards lie How I love…
Satchel Why did we ever put up with you How could we…
Taylor Swift I'm like the water when your ship rolled in that…
The Arcadian Wild Stay, you're in the shade In this world we made Don't stray…
The Creatures I remember the island There's a tale to tell Spin of the…
The Field Mice I said to you I'd always Want you and want you…
The Kites You fall through the trees And you pray with your knees…
Tindersticks Willow, where are you hiding now? Willow, where are you hidi…
Uncle Brian He's got pictures of her on his wall, He watches every…
YADi Tell me what would I do with your heart? Take it…



We have lyrics for these tracks by Weedeater:



Alone You don't know me Leave me alone No one told me Now I'm…
Bull I have I need to see you We see We see right through…
Buzz All aboard my only son One and only chosen one Nothing ven…
Dummy Sometimes I think I don't think I don't know, I can't…
Free Eat everything I see Forget givin' to me I wanna throw it…
Gimme Back My Bullets [Lynyrd Skyrnyrd cover] Life is so strange when its chang…
God Luck and Good Speed Untied we stand Long live dirtweed Mankind is unkind man …
Hammerhandle Way late, last night, you starve, we bite, I know,…
Homecoming I see through you, you know me too, I'm not…
Jason... the Dragon I'm going home, back where I belong, know what I…
Lines Hold my line until the deed is done Need for speed…
Long Gone Face down head high look into my eyes, long gone,…
Mancoon Like condor flight, mancoons and all the like, watch Out we…
Palms and Opium Palms and opium, my brain has come undone, my Thoughts all…
Potbelly It's way too late I should probably not I guess it's OK M…
Processional I really hate your face. I hate the things you do. I…
Southern Cross Got out of town on a boat goin' to Southern…
Time Served Wanted for something I didn't do Goddamn you fucking pig…
Turkey Warlock I know, how you feel, it's all, so unreal, you…
Weed Monkey I am the last weedmonkey this is for real Open the…
Wizard Fight WIZARD FIGHT!…

The lyrics can frequently be found in the comments below, by filtering for lyric videos or browsing the comments in the different videos below.