We have all seen it
We have all turned away
And left behind the fragile
It so easy to
Attribute the blame
To the vicious mind
Again and again and again, a million times
We inherit our mothers' mistakes
Closing our eyes and turning away
Just like we have done before
It's invisible
We can barely detect
The strings that pulls our bodies
Just like marionettes
In a wellknown play
Improvise within our limits
Again and again and again, a million times
We inherit our mothers' mistakes
Closing our eyes and turning away
Just like we have done before
Contributed by Kaitlyn W. Suggest a correction in the comments below.
To comment on specific lyrics,
highlight them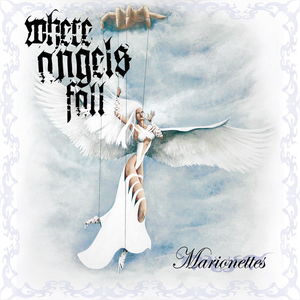 Goth rock/metal act from Norway.

The music has groovy riffs, raw emotions and beautiful melodies. A mix of metal, electronica and symphonic elements.
Where Angels Fall have been playing together since 2004, released two albums, an EP and a digital single.

The band is an energic and solid liveact, and have played on large and small venues like John Dee and Rockefeller in Norway, and european venues like K17, Berlin, London Underworld and Salamandra in Barcelona.
Read Full Bio
Goth rock/metal act from Norway.

The music has groovy riffs, raw emotions and beautiful melodies. A mix of metal, electronica and symphonic elements.
Where Angels Fall have been playing together since 2004, released two albums, an EP and a digital single.

The band is an energic and solid liveact, and have played on large and small venues like John Dee and Rockefeller in Norway, and european venues like K17, Berlin, London Underworld and Salamandra in Barcelona. In 2005 they played at the Quartfestival. (the largest festival in Norway at that time)

They have shared stage with bands like Theatre of Tragedy, Mortiis, Edenbridge, Malice in Wonderland, Lumsk, Mortal Love and Inkubus Sukkubus.

Touring experience includes a small headliner tour in England and a european tour as special guest of Theatre of Tragedy.

In the summer of 2004, the band released the EP "Dies Irae" which got good reviews both in Norway and abroad. Since then there has been two albums and a digital single. A new album is on its way!

The current line-up is:
Eirin Bendigtsen - Lead Vocals
André Bendigtsen - Guitars & Programming
Kristian Svenning - Guitars
Espen Lohne - Bass
Jarle Byberg - Session drums


Where Angels Fall - Official Website
Genre not found
Artist not found
Album not found
Search results not found
Song not found