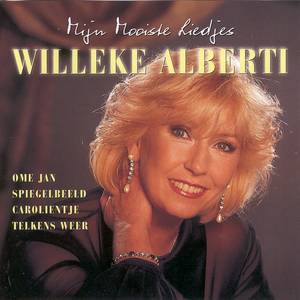 Willeke Alberti (February 3, 1945, Amsterdam, The Netherlands) (real name: Willy Albertina Verbrugge) is a Dutch singer and actress, the daughter of entertainer and singer Willy Alberti.


Biography
Willeke Alberti started her career at the early age of eleven in the musical Duel om Barbara and she recorded her first single in 1958 together with her father. During the 1960s, she was a well-known singer in the Netherlands and had at least one #1 hit with "De Winter Was Lang" ("The Winter Was Long")
Read Full Bio
Willeke Alberti (February 3, 1945, Amsterdam, The Netherlands) (real name: Willy Albertina Verbrugge) is a Dutch singer and actress, the daughter of entertainer and singer Willy Alberti.


Biography
Willeke Alberti started her career at the early age of eleven in the musical Duel om Barbara and she recorded her first single in 1958 together with her father. During the 1960s, she was a well-known singer in the Netherlands and had at least one #1 hit with "De Winter Was Lang" ("The Winter Was Long"), however there was no official Dutch chart at the time. Willeke and her father had a television show between 1965 and 1969. Her singing career from 1970 onwards is less active, however Alberti still releases singles and albums at an irregular interval and plays minor roles in television programs and movies.

Alberti married John de Mol on July 24, 1976. Together they have one son Johnny de Mol, who is currently an actor and television personality. The couple divorced in 1980. She had a second marriage with Danish football player Søren Lerby and a second son was born from that marriage. Søren Lerby and Willeke Alberti separated in 1990.

In 1994, she represented the Netherlands in the Eurovision Song Contest with the song "Waar is de Zon" ("Where is the Sun"), which claimed a meagre four points from the international juries, all coming from Austria. The Netherlands beat only Estonia and Lithuania that evening.
Genre not found
Artist not found
Album not found
Search results not found
Song not found
We have lyrics for these tracks by Willeke Alberti:



Als je komt dan zal ik thuis zijn Toen ik de telefoon opnam, Wist ik het al: dat ben…
Carolientje Carolientje, Carolientje, Carolientje wil een man Carolientj…
Dans Me Gek Hoe lang nog, waarvoor nog Zal ik zijn wat zo hoort Wat…
De glimlach van een kind Jij bent zo wijs, dat zegt een kind Jij bent zo…
De Liefde Van Je Vrienden De liefde van je vrienden sleept je over doorheen De liefde…
De Sauna Ik heb haast geen vragen En ook niks te klagen Soms, dan…
De Winter Was Lang De winter was lang zonder jouw liefde De winter was koud…
Diep in mijn hart Diep in m'n hart kan ik niet boos zijn op…
Draai Je Je Om 'T Is nog niet zo lang geleden Dat we alles samen…
Groetjes Uit Rio Zodra ik 's morgens wakker word wil ik direkt in…
Het afgezaagde zinnetje Ik zoek naar mooie zinnen Over liefde en beminnen Als ik den…
Het Oude Huis Ik hoor de ruzies en de feesten Het kraken van de…
Het wijnfeest Ze zullen pas morgenvroeg naar bed toe gaan Ze hebben reden…
Ik Ben Zo Toe Aan Samen Ik ben zo toe aan samen Ik ben zo moe, ik…
Ik Mis Die Tijd Van Toen We hebben het samen ver gebracht We zwoegden jaren dag en…
Ik Wil Niet Alleen Zijn Met Kerst Een huis in een straatje Een venster en een boom Een kerst…
Jij en ik zijn samen een Jij en ik zijn samen een De hele wereld tegen ons…
Kerstavond Kerstavond, voor de haard op het kleed De winter is koud…
Midi Midinette Een bank aan de Seine, een sterrennacht Zij lacht hem toe…
Mijn Dagboek Ik zit alleen op m'n kamertje Voor me ligt m'n dagboek 'n…
Morgen Ben Ik De Bruid Dit wordt voor mij de laatste nacht In het huis waar…
Nee Jongen Ik Trouw Niet Met Jou Nee jongen, ik trouw niet met jou Hoe kom je daar…
Niemand Laat Zijn Eigen Kind Alleen Niemand laat zijn eigen kind alleen Je bouwt het liefst een…
Norman Norman, oehoehoehoe Norman, mmmmmmmm Norman, ik hou van jo…
Ome Jan Mijn moeder had een broertje, dat was mijn ome Jan En…
Samen zijn M'n vriendje, mag ik even met je praten Want 't verward…
Sla Tomaat En Radijsjes Sla, tomaten en radijsjes Jonge erwten, jonge meisjes Jonge …
Spiegelbeeld Spiegelbeeld vertel eens even Ben ik heus zo oud als jij I…
Stel Me Geen Vragen Ik heb geleerd van eerdere fouten Maar wat jij wilt is…
Telkens weer Telkens weer, haal ik me in m'n hoofd Dat ik die…
Vanavond Om Kwart Over Zes Ben Ik Vrij Je hebt me geleerd van jou te gaan houden Zoveel als…
Vlinder Van Een Zomer Er is geen band die ons nog bindt Ik ben je…
Waar is de zon Waar ben je gebleven Waar ging je naar toe Ik heb nog…
Waar naar toe De wereld wankelt en is moe, levensmoe Moeder natuur raakt …
Zeg 't Maar Zeg het maar, ik wil het weten Heb ik soms wat…
Zijn Eigen Wonder refr.: Niemand laat zijn eigen kind alleen Je bouwt het lief…

The lyrics can frequently be found in the comments below or by filtering for lyric videos.