Well I'm afraid that the circles we've been drinking ourselves in
Aren't big enough for the vowels that we try to fit inside of them
When I was young I drank too much and I'd be lying if I said
I didn't feel so god damn young tonight
Maybe too young
To ask what's on my mind
Like if freedom means doing what you want well
Don't we gotta want something?
And wont you tell me that
We want something more than just more beer
Than just more beer!
And on the night that I play my last show
I'll be screaming so hard that my heart explodes!
And I'll be singing
Yea I'll be singing we are free
Yea we are free!
Oh but wont you promise me
That we wont ever forget what that means
I know it's hard to give a shit sometimes
But promise me we'll always try!
Cause I don't wanna hate you
And I don't wanna hate me
And I don't wanna have to hate everything anymore
Contributed by Connor V. Suggest a correction in the comments below.
To comment on specific lyrics,
highlight them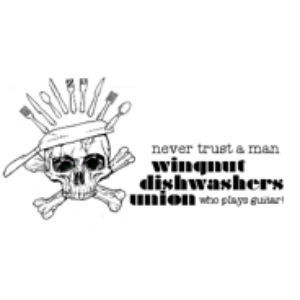 Do You Wanna Go to Party Town?
Wingnut Dishwashers Union was sometimes a one human punk band, sometimes a sprawling twelve piece orchestra, and always based straight outta Brattleboro, VT. The project lasted in one form or another from the demise of Johnny Hobo and the Freight Trains in 2007 until songwriter Pat "The Bunny" moved from Vermont to Arizona to get off junk in December 2009. Since the beginning of 2011, he has played in a new Tucson-based band called Ramshackle Glory. He no longer performs as Wingnut Dishwashers Union.
Read Full Bio
Wingnut Dishwashers Union was sometimes a one human punk band, sometimes a sprawling twelve piece orchestra, and always based straight outta Brattleboro, VT. The project lasted in one form or another from the demise of Johnny Hobo and the Freight Trains in 2007 until songwriter Pat "The Bunny" moved from Vermont to Arizona to get off junk in December 2009. Since the beginning of 2011, he has played in a new Tucson-based band called Ramshackle Glory. He no longer performs as Wingnut Dishwashers Union.

Most recordings by this band are out of print. They are widely available to pirate online, which is openly encouraged by the band themselves. You can still get the full length, full band CD "Burn the earth! Leave it behind!" from the DIY Bandits at http://www.diybandits.com. You can order a really cheap solo CD of the first batch of Wingnut Dishwashers Union songs from the undercover label Rock-It Records by looking really carefully on http://www.plan-it-x.com. There are still copies of two different split seven-inches lying around, put out by http://www.craftyrecords.net and Triumph of Life Records if you can track them down.

An incomplete list of musicians that played with Wingnut Dishwashers Union during their career. Never shall they all be remembered! Pat "The Bunny" (guitar/vocals) Flash-C (trumpet/drums) Ian Skumfuk (washtub bass), Davis (drums), Mike (guitar/harmonica/piano/accordion/bass) Agatha (banjo) Matt (guitar/bass/trumpet/slide guitar/piano) Dallas (drums/bass) Jacob (guitar) Douglas (theramin) Alex (noisebox) Scott (guitar/drums) Kris (bass) Michael (clarinet) Adhi (saxaphone) Michael Jordan (drums) Thorin (guitar) Emily (cello) Niki (banjo)
Genre not found
Artist not found
Album not found
Search results not found
Song not found