[Intro: kung fu sample from "8 Diagram Pole Fighter"]
Today I'll talk about kindness
Justice, faith and kindness
I want you to listen carefully
Kindness and faith, are the foundation
Without them, we can't become good people
And with justice, we know we can lead a good life
And how can I be a good man then, eh?
Well, first of all, you have to practice honesty
Uhmm...
Keep your temper, never lose control of yourself
Keep control...
Be patient, if you learn to do these things, you can master anything
[Chorus: The Persuasions "Gypsy Woman" sample]
Out of nowhere, there came a caravan
This was around a campfire light
A lovely woman in motion
Her hair was as dark as the night
[Method Man]
Cruising on the interstate, just follow while I innovate
Too many try and imitate, medallion like a dinner plate
Front and get ya dinner ate, chinchilla for the winter, wait
I'm trying to bring the "Sexy Back" like Timbaland and Timberlake
Spitting like a calico, kush from a Cali hoe
Tell that joker "tally ho", put shots in that Denali, yo
RZA you know how we go, on them 20's, that's how we roll
And I don't eat berries but eat a Berry like Halle though
The game criminal, my, my chain figaro
My, my dames pigeon-toed, I'm still the same nigga though
Uh, kid rock a fitted low, still got a wicked flow
And I'm like Barry Bonds on anything that RZA throw
[Ghostface Killah]
On anything that RZA throw, Ironman's invisible
I left my chick for cheating on me, now that bitch is miserable
Popping bottles, painting hella Wallo's on my physical
We gon' have a ball, might as well pick a testicle
Purple haze festivals, smoke a nigga like a bowl
Fuck a coma, now the state you laying is a vegetable
You wanna see me? Like you ain't checkable
You like a CD, I burn you and I wrecked a few...
[Chorus]
[Interlude: kung fu sample (RZA)]
Only God, has lept into avenged mind
And can, distinguish good, from evil
Hahaha (Aiyo Cappa)
[Cappadonna]
We gotta get more cake together, so we could branch out
Preserve land, get a boat and a ranch house
Call me a dreamer, but I hustle for real
You thought that I fell off but now I'm attacking the field
All in Chicago, grinding, putting it down
Crush blocks of MC's, I ain't playing around
Yo, you heard me on The Bassment, giving it to 'em
Fake dudes hiding they self, but I could see through 'em
Diggler, what? I'm trying to live and raise kids
While you throwing up ya sign, I'm laying 'em down, kid
Plus, I'm back home now, doing my thing
Thirty dollars to Medina just to cop me a ring
[Chorus 2X]
[Outro: kung fu sample]
A good friend, holds his drink
Bad company makes bad wine!
Drinking among friends
Red wine means a good life
A few drinks bring comfort
Two drinks are enough
Money can't buy courage
Riches mean nothing to us
Brilliant, a display of genius
Lyrics © Universal Music Publishing Group, Downtown Music Publishing, Warner Chappell Music, Inc.
Written by: CURTIS MAYFIELD, DENNIS DAVID COLES, ROBERT DIGGS, DARRYL ROBERT HILL, CLIFFORD SMITH

Lyrics Licensed & Provided by LyricFind
To comment on specific lyrics,
highlight them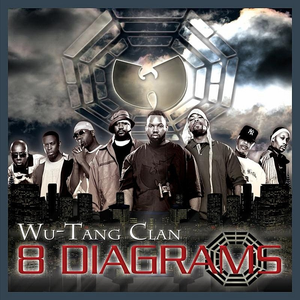 Wu-Tang Clan is a hip-hop group that consists of: RZA, GZA/Genius, Ghostface Killah, Raekwon, Ol' Dirty Bastard, Method Man, Inspectah Deck, U-God, and Masta Killa. They are frequently joined by fellow childhood friend Cappadonna, a quasi member of the group. They were formed in (and are associated with) the New York City borough of Staten Island (referred to by members as "Shaolin"), though Masta Killa and GZA are from Brooklyn and Inspectah Deck is from the Bronx.
Read Full Bio
Wu-Tang Clan is a hip-hop group that consists of: RZA, GZA/Genius, Ghostface Killah, Raekwon, Ol' Dirty Bastard, Method Man, Inspectah Deck, U-God, and Masta Killa. They are frequently joined by fellow childhood friend Cappadonna, a quasi member of the group. They were formed in (and are associated with) the New York City borough of Staten Island (referred to by members as "Shaolin"), though Masta Killa and GZA are from Brooklyn and Inspectah Deck is from the Bronx. They have gone on to become multi-platinum record producers, Grammy winners, TV and film stars, screenwriters, product spokespersons, business owners and, most recently, major motion picture composers. The Clan featured nine MCs until the death of Ol' Dirty Bastard in 2004. One of the most critically and commercially successful hip hop groups of all time, Wu-Tang Clan shot to fame through their uncompromising brand of hardcore rap music. Since their debut, they have introduced or launched the careers of numerous other artists and groups, and already in 1994 there were credited to be over 300 Wu-Tang Clan affiliates, known as the Wu-Tang Killa Bees, consisting of rappers, producers, and record label CEOs.

The founders of the Wu-Tang Clan were RZA, GZA, and Ol' Dirty Bastard, who had previously formed the group Force of the Imperial Master (later known as All In Together Now after the release of a popular single by that name). The group attracted the attention of some notable figures in the industry, including Biz Markie, but did not manage to secure a record deal. After the crew dissolved, GZA and RZA (then known as Prince Rakeem) embarked on their solo careers with Cold Chillin' Records and Tommy Boy Records respectively, but to little success. Their frustration with the workings of the hip hop music industry would provide the main inspiration to Wu-Tang Clan's revolutionary business plan. According to The Wu-Tang Manual, at the group's inception, RZA promised the members that if he had total control of the Wu-Tang empire, it would conquer the hip hop world within a dynastic cycle, after which he would relinquish his total control.

Wu-Tang Clan was gradually assembled in late 1992 from friends and accomplices from around Staten Island, New York, with RZA as the de-facto leader and the group's main producer. Two of the cousins, GZA (pronounced Jizza) and RZA (pronounced Rizza), created their new Wu-Tang aliases by mimicking the sound that the words "genius" and "razor" would make when scratched on a turntable.

"Wu-Tang" comes from the name of the Taoist holy mountain Wu Dang in northwest Hubei Province in central China; it was also the site of the Ming Dynasty Purple Imperial City built during the reign of the Yongle Emperor in the early 15th century. RZA and Ol' Dirty Bastard adopted the name for the group after seeing the kung fu film Shaolin and Wu Tang, which features a school of warriors trained in Wu-Tang style. The group's debut album loosely adopted a Shaolin vs. Wu-Tang theme, dividing the album into Shaolin and Wu-Tang sections and using dialogue excerpts as skits.

The group have also developed various backronyms for the name (as hip hop pioneers like KRS-One and Big Daddy Kane did with their names), including "We Usually Take All the Niggas' Garments," "Witty Unpredictable Talent and Natural Game" and "Wisdom, Universe, Truth, Allah, Nation, and God".

Method Man has also mentioned that the "Wu" is the sound a sword makes when cutting through the air, and "Tang" is the sound it makes against a shield.

The Clan first became known to hip hop fans, and to major record labels, in 1993 (see 1993 in music) following the release of the independent single "Protect Ya Neck", which immediately gave the group a sizeable underground following. Though there was some difficulty in finding a record label that would sign Wu-Tang Clan while still allowing each member to record solo albums with other labels, Loud/RCA finally agreed, releasing their debut album, Enter the Wu-Tang (36 Chambers), in late 1993. This album was popular and critically-acclaimed, though it took some time to gain momentum. Though hip hop had long had a gritty texture, the surreal aggression and minimalist production of 36 Chambers nevertheless had a huge impact on the genre, and was to prove massively influential over the next decade. By the beginning of the 21st century, the album had become a regular fixture on "Best Albums of the 90s" lists as well as a frequent choice for "Best Albums of All Time" lists. The success of Enter the Wu-Tang (36 Chambers) established the group as a creative and influential force in early 1990s hip hop, allowing GZA, RZA, Raekwon, Ghostface Killah, Method Man, Ol' Dirty Bastard, Inspectah Deck, U-God, and Masta Killa to negotiate solo contracts.

www.wutang-corp.com
Genre not found
Artist not found
Album not found
Search results not found
Song not found