[Chorus]
Murder one of y'all niggas,
Get to hurtin' one of y'all niggas,
Bitches, snatch the shirt off one of y'all niggas
Kick dirt
Color glocks splitters just listen there's UFO visitors
Fly paintings remainin', reclinin' pro-commissioner
One boot off he Rudolph, know he hyped flew off
Hibernatin', dead in the makin', ear-rake him, gear-rake him
Technician murderer, Wu hit the universe
Our words is crush, fingers icy slush, ringers wants Mercedes bust
Tip bottles, Movado, sailin' in some Wu googles you follow
Mail and jail letters, sendin' niggas lottos
What made you murder my flow, what made you rival my clothes
What made you fuck it, yo son these niggas gotta owe
I think a lot of flows, I flip exotic hoes
We paintin' pictures if it's ? I seen a lot of those
Gettin fly with Ghost, power just buy the boats
Rsa your vision is exquisite, daddy hide your scrolls
Platonic chronic shows, tonic prose
Off the meter Panasonic know, son line me a ho
Devestatin' shockwaves strikin' the nation
Newsflash, warn the people, assassination
The hour of detonation, pure untampered or mixed in any form
In any form mixed untampered it's pure
Dissect each line of the rhyme
Find my ingredients and nutrients
Teach patience and obedience before movement
Killer bee student enrollment
I'm out your control and expose if it's synthetic
Quote these plush degrees as I inject, there's many at risk
Slang therapist Shallah Rae
Plus the people, with magnificent wordplay
[Chorus]
Hey yo you know the half, some get respect, most we show the path
They quoted tracks while we spoke math, blowin' fast
Expose the craft, first picks chosen in the draft
I don't flash, hoes love me cause I hold a stash
Known to blast, paramedics couldn't close the gash
Floatin' past in an alley with the oak dash
Show the cash, watch it blow in half, it's no fair
They goin' mad, check their tape recorders and their notepads
Crabs want to play me close and grab
Can't believe you on the canvas, I'm just throwin' jabs
Where the powers you supposed to have, hand in your soldier rag
You posin' bad, show your ass son, you won't last
With heavy weights that elevate the whole mass
Compose a smash, rollin' grass at Ghost lab
"drink to your new life, iron flag brothers"
Lyrics © Universal Music Publishing Group
Written by: COREY WOODS, ELGIN EVANDER TURNER, JASON HUNTER, LAMONT HAWKINS, ROBERT F. DIGGS

Lyrics Licensed & Provided by LyricFind
To comment on specific lyrics,
highlight them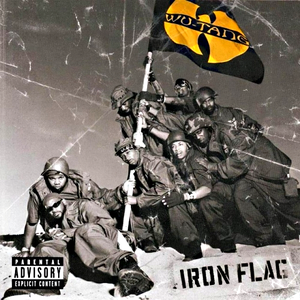 Wu-Tang Clan is a hip-hop group that consists of: RZA, GZA/Genius, Ghostface Killah, Raekwon, Ol' Dirty Bastard, Method Man, Inspectah Deck, U-God, and Masta Killa. They are frequently joined by fellow childhood friend Cappadonna, a quasi member of the group. They were formed in (and are associated with) the New York City borough of Staten Island (referred to by members as "Shaolin"), though Masta Killa and GZA are from Brooklyn and Inspectah Deck is from the Bronx.
Read Full Bio
Wu-Tang Clan is a hip-hop group that consists of: RZA, GZA/Genius, Ghostface Killah, Raekwon, Ol' Dirty Bastard, Method Man, Inspectah Deck, U-God, and Masta Killa. They are frequently joined by fellow childhood friend Cappadonna, a quasi member of the group. They were formed in (and are associated with) the New York City borough of Staten Island (referred to by members as "Shaolin"), though Masta Killa and GZA are from Brooklyn and Inspectah Deck is from the Bronx. They have gone on to become multi-platinum record producers, Grammy winners, TV and film stars, screenwriters, product spokespersons, business owners and, most recently, major motion picture composers. The Clan featured nine MCs until the death of Ol' Dirty Bastard in 2004. One of the most critically and commercially successful hip hop groups of all time, Wu-Tang Clan shot to fame through their uncompromising brand of hardcore rap music. Since their debut, they have introduced or launched the careers of numerous other artists and groups, and already in 1994 there were credited to be over 300 Wu-Tang Clan affiliates, known as the Wu-Tang Killa Bees, consisting of rappers, producers, and record label CEOs.

The founders of the Wu-Tang Clan were RZA, GZA, and Ol' Dirty Bastard, who had previously formed the group Force of the Imperial Master (later known as All In Together Now after the release of a popular single by that name). The group attracted the attention of some notable figures in the industry, including Biz Markie, but did not manage to secure a record deal. After the crew dissolved, GZA and RZA (then known as Prince Rakeem) embarked on their solo careers with Cold Chillin' Records and Tommy Boy Records respectively, but to little success. Their frustration with the workings of the hip hop music industry would provide the main inspiration to Wu-Tang Clan's revolutionary business plan. According to The Wu-Tang Manual, at the group's inception, RZA promised the members that if he had total control of the Wu-Tang empire, it would conquer the hip hop world within a dynastic cycle, after which he would relinquish his total control.

Wu-Tang Clan was gradually assembled in late 1992 from friends and accomplices from around Staten Island, New York, with RZA as the de-facto leader and the group's main producer. Two of the cousins, GZA (pronounced Jizza) and RZA (pronounced Rizza), created their new Wu-Tang aliases by mimicking the sound that the words "genius" and "razor" would make when scratched on a turntable.

"Wu-Tang" comes from the name of the Taoist holy mountain Wu Dang in northwest Hubei Province in central China; it was also the site of the Ming Dynasty Purple Imperial City built during the reign of the Yongle Emperor in the early 15th century. RZA and Ol' Dirty Bastard adopted the name for the group after seeing the kung fu film Shaolin and Wu Tang, which features a school of warriors trained in Wu-Tang style. The group's debut album loosely adopted a Shaolin vs. Wu-Tang theme, dividing the album into Shaolin and Wu-Tang sections and using dialogue excerpts as skits.

The group have also developed various backronyms for the name (as hip hop pioneers like KRS-One and Big Daddy Kane did with their names), including "We Usually Take All the Niggas' Garments," "Witty Unpredictable Talent and Natural Game" and "Wisdom, Universe, Truth, Allah, Nation, and God".

Method Man has also mentioned that the "Wu" is the sound a sword makes when cutting through the air, and "Tang" is the sound it makes against a shield.

The Clan first became known to hip hop fans, and to major record labels, in 1993 (see 1993 in music) following the release of the independent single "Protect Ya Neck", which immediately gave the group a sizeable underground following. Though there was some difficulty in finding a record label that would sign Wu-Tang Clan while still allowing each member to record solo albums with other labels, Loud/RCA finally agreed, releasing their debut album, Enter the Wu-Tang (36 Chambers), in late 1993. This album was popular and critically-acclaimed, though it took some time to gain momentum. Though hip hop had long had a gritty texture, the surreal aggression and minimalist production of 36 Chambers nevertheless had a huge impact on the genre, and was to prove massively influential over the next decade. By the beginning of the 21st century, the album had become a regular fixture on "Best Albums of the 90s" lists as well as a frequent choice for "Best Albums of All Time" lists. The success of Enter the Wu-Tang (36 Chambers) established the group as a creative and influential force in early 1990s hip hop, allowing GZA, RZA, Raekwon, Ghostface Killah, Method Man, Ol' Dirty Bastard, Inspectah Deck, U-God, and Masta Killa to negotiate solo contracts.

www.wutang-corp.com
Genre not found
Artist not found
Album not found
Search results not found
Song not found