If a miracle, could save us from
The travesty, that we've become
If a million sons would stand as one
We will overcome, overcome
If a miracle, could save us from
The travesty, that we've become
If a million sons would stand as one
We will overcome, overcome
The whole world trippin', listen it's still a cold world
The other day I had to bury my homegirl
Wrong place, caught one in her face
Plus her man's on the run and couldn't come to the wake
For Heaven's sake, you pray God open the gate
In this modern day Sodom, that's their only escape
10 year olds are cold, no, they don't hesitate
2 up a G pack, he chose the whole 8
Catch a 5 to 10 sellin' 5's and 10's
And the police informer was your childhood friend
In the real world, gotta hustle for your dream
Extend your clips, fit the muzzle with the beam
For the love of cream, it's nothin' but routine
Swing on the judge, take a couple for the team
He's the young Capone, he grew up in a drug home
Stranded on the Ave with a blunt and his gun shown
If a miracle, could save us from
The travesty, that we've become
If a million sons would stand as one
We will overcome, overcome
Alive, seen things from the Godfather saga
A Martin Scorsese classic and I'm the author
Drama at the opera, crime story novel
Tuxedo suit and silencer on the nozzle
Meeting place scheduled at the Broadway musical
Bravo, we arrive in bulletproof limo
Shotgun, the underboss of our main source
Of interest, the black widow cocaine empress
A princess rich from her family's inheritance
Now let's talk business, begin by addressin' the bricks
That was missin' in the last shipment
At first, everything nice, everything routine
Jocks lining up the food, we blessed him with the cream
But on this day he wasn't ready and my God sense keen
I noticed that his normal firm handshake shook
It wasn't steady when he squeezed
If a miracle, could save us from
The travesty, that we've become
If a million sons would stand as one
We will overcome, overcome
He went from prince to a king out of a life of rubbish
Wearin' tailor-made suits, Sky Dwellers and clusters
To perfection, rags to riches, the evil's done influenced
That pushed him off the edge, they said the greed made him do it
You're my right hand, damn, he fucked the trust up
It's ruined, niggas caught him slidin' on his belly
I'm grippin' on my hammer with the silencer twisted
Contemplatin' murder now, I'm 'bout to swerve on my biscuit
But it's my man at the same time, I don't wanna do him
He violated, broke a major code, bar what you stealin' now
It's over, in the falls of Niagara, he was soakin'
With a shell case stuck in his head, they found him floatin'
If a miracle, could save us from
The travesty, that we've become
If a million sons would stand as one
We will overcome, overcome
Allah let me lay in your arms
Hold me like a newborn, sing to me the most sweetest songs
The exalted, the most benevolent
The knower of all, keep me safe 'till I return back to your residence
This Earth, my place of birth
As time went through the ages it got worse
Sicknesses, beheadings in Syria
Ebola's killin' my people, it's gettin' scarier
Most foods ain't even real, the chip is here
Deadly fluids bein' released, contracted through air
Dear God, it's been a minute since I cried out
Since mama died, I never wild out
We need help like the phone's 'bout to die out
Can you hear me? Can you hear me now?
We need a miracle
Destroy the FDA for holdin' back cures so they can get paid
If a miracle, could save us from
The travesty, that we've become
If a million sons would stand as one
We shall overcome, overcome
Lyrics © Kobalt Music Publishing Ltd.
Written by: Robert Diggs

Lyrics Licensed & Provided by LyricFind
To comment on specific lyrics,
highlight them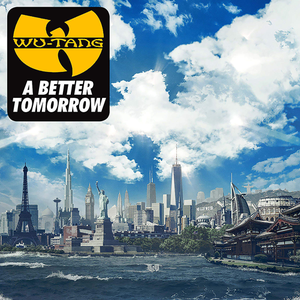 Wu-Tang Clan is a hip-hop group that consists of: RZA, GZA/Genius, Ghostface Killah, Raekwon, Ol' Dirty Bastard, Method Man, Inspectah Deck, U-God, and Masta Killa. They are frequently joined by fellow childhood friend Cappadonna, a quasi member of the group. They were formed in (and are associated with) the New York City borough of Staten Island (referred to by members as "Shaolin"), though Masta Killa and GZA are from Brooklyn and Inspectah Deck is from the Bronx.
Read Full Bio
Wu-Tang Clan is a hip-hop group that consists of: RZA, GZA/Genius, Ghostface Killah, Raekwon, Ol' Dirty Bastard, Method Man, Inspectah Deck, U-God, and Masta Killa. They are frequently joined by fellow childhood friend Cappadonna, a quasi member of the group. They were formed in (and are associated with) the New York City borough of Staten Island (referred to by members as "Shaolin"), though Masta Killa and GZA are from Brooklyn and Inspectah Deck is from the Bronx. They have gone on to become multi-platinum record producers, Grammy winners, TV and film stars, screenwriters, product spokespersons, business owners and, most recently, major motion picture composers. The Clan featured nine MCs until the death of Ol' Dirty Bastard in 2004. One of the most critically and commercially successful hip hop groups of all time, Wu-Tang Clan shot to fame through their uncompromising brand of hardcore rap music. Since their debut, they have introduced or launched the careers of numerous other artists and groups, and already in 1994 there were credited to be over 300 Wu-Tang Clan affiliates, known as the Wu-Tang Killa Bees, consisting of rappers, producers, and record label CEOs.

The founders of the Wu-Tang Clan were RZA, GZA, and Ol' Dirty Bastard, who had previously formed the group Force of the Imperial Master (later known as All In Together Now after the release of a popular single by that name). The group attracted the attention of some notable figures in the industry, including Biz Markie, but did not manage to secure a record deal. After the crew dissolved, GZA and RZA (then known as Prince Rakeem) embarked on their solo careers with Cold Chillin' Records and Tommy Boy Records respectively, but to little success. Their frustration with the workings of the hip hop music industry would provide the main inspiration to Wu-Tang Clan's revolutionary business plan. According to The Wu-Tang Manual, at the group's inception, RZA promised the members that if he had total control of the Wu-Tang empire, it would conquer the hip hop world within a dynastic cycle, after which he would relinquish his total control.

Wu-Tang Clan was gradually assembled in late 1992 from friends and accomplices from around Staten Island, New York, with RZA as the de-facto leader and the group's main producer. Two of the cousins, GZA (pronounced Jizza) and RZA (pronounced Rizza), created their new Wu-Tang aliases by mimicking the sound that the words "genius" and "razor" would make when scratched on a turntable.

"Wu-Tang" comes from the name of the Taoist holy mountain Wu Dang in northwest Hubei Province in central China; it was also the site of the Ming Dynasty Purple Imperial City built during the reign of the Yongle Emperor in the early 15th century. RZA and Ol' Dirty Bastard adopted the name for the group after seeing the kung fu film Shaolin and Wu Tang, which features a school of warriors trained in Wu-Tang style. The group's debut album loosely adopted a Shaolin vs. Wu-Tang theme, dividing the album into Shaolin and Wu-Tang sections and using dialogue excerpts as skits.

The group have also developed various backronyms for the name (as hip hop pioneers like KRS-One and Big Daddy Kane did with their names), including "We Usually Take All the Niggas' Garments," "Witty Unpredictable Talent and Natural Game" and "Wisdom, Universe, Truth, Allah, Nation, and God".

Method Man has also mentioned that the "Wu" is the sound a sword makes when cutting through the air, and "Tang" is the sound it makes against a shield.

The Clan first became known to hip hop fans, and to major record labels, in 1993 (see 1993 in music) following the release of the independent single "Protect Ya Neck", which immediately gave the group a sizeable underground following. Though there was some difficulty in finding a record label that would sign Wu-Tang Clan while still allowing each member to record solo albums with other labels, Loud/RCA finally agreed, releasing their debut album, Enter the Wu-Tang (36 Chambers), in late 1993. This album was popular and critically-acclaimed, though it took some time to gain momentum. Though hip hop had long had a gritty texture, the surreal aggression and minimalist production of 36 Chambers nevertheless had a huge impact on the genre, and was to prove massively influential over the next decade. By the beginning of the 21st century, the album had become a regular fixture on "Best Albums of the 90s" lists as well as a frequent choice for "Best Albums of All Time" lists. The success of Enter the Wu-Tang (36 Chambers) established the group as a creative and influential force in early 1990s hip hop, allowing GZA, RZA, Raekwon, Ghostface Killah, Method Man, Ol' Dirty Bastard, Inspectah Deck, U-God, and Masta Killa to negotiate solo contracts.

www.wutang-corp.com
Genre not found
Artist not found
Album not found
Search results not found
Song not found