Jump to: Overall Meaning | Line by Line Meaning
Look, homicide is illegal, death is a penalty
Never let go when you've got ahold of your enemy
Eagle claw cobra clutch by any means necessary
I'll never let it go, see my shadow ninja mic flow
I throw a great entre dart arrow to your temple
Allmighty bold Ulisies to the insidious
Plan of the Wu-Tang Clan became a world brand
We never let it go, we talk a half a mil a show
Never let go of your mind
It's a terrible thing to waste
To lose, but it's very hard to find
Being that ignorance is lethal
We must touch hearts, tune souls, harmonize the people
Never let go of your plan, execute
So when you shoot, inspire everyone on the land
Never lose knowledge of yourself
For it may become risk to your health
And great loss of wealth
Never let go of your cream, never let go of your dream
Players retire, but they never let go of the team
If you a rider then you never let go of that thing
Pull up your mans' like you better let go of that bling
This life's crazy, too many life sentences, maybe
Fatherless babies on the block but they father 380
That's just the hood lately, never let go
I'm what the hood made me
Momma told me to find a good lady
Never let go of staring at the death
Like yo, that's your best blow
I still hold on like En Vogue
The cold go to war with the heat
Eyes wide, never falling asleep
All the talking is cheap
Call 'em, ultimate warrior, W.W.F
I come up victorious, struggle is nothing to Deck
Set it straight for the seeds, to see a better new
Take the real life by the rings and I ain't letting go
I ain't letting go
No matter what the odds be
No matter how hard we
You never let go
Never let go of the fight, never let go of the mic
My honesty, my values, my loyalty, my pride
And merry are those who have passed to the other side
Never letting go, I'm never letting go of my beliefs
My faith, convictions, real
Both hands holding on, never let go the wheel
We hood legends, misunderstood
These lessons, learned
Growing up for manhood
Keep focus on the prize what you better do
A little taste of heaven, sunshine is where we headed to
States what's ahead of you, always on the schedule
Smoke the gold leaf down to the residue
Letting go, is something that I never do
Those who let go, live life regrettable
Never let go of your hope or your rope
Eyes on the prize, never let go of the scope
When I'm in jail, never let go of the soap
Hold on, boy, never let go
Never let go, the all-eye-seeing, the supreme
Never let go the love of your seeds, or your queen
Never let go your heart, or the place you started
The feeling that I had, Wu-Tang had just charted
The old earth departed, I give thanks to the martyrs
I never let go the love I have for thy father
Never let go the glow
The more I know the more that it shows
I won't let go, even if I decompose
Your seed will carry it on, we need to carry it on
Pass the baton, life is just the marathon
And ain't' playing to win it, it's an epidemic
Never let go, that's what the god recommended
No matter what the odds be
No matter how hard we
You never let go
Overall Meaning
The song "Never Let Go" by Wu-Tang Clan emphasizes the importance of staying true to one's beliefs, plans, and values in the face of adversity. The opening lines of the song reflect the group's commitment to their art even if it means breaking the law. The lyrics convey that the group will use any means necessary to pursue their passion even if that entails a risk of facing the death penalty.
The refrain "Never let go" is repeated throughout the track to underline the importance of standing firm and holding onto one's convictions. The artists urge their listeners not to let go of their minds, their plans, their cream (money), and their dreams. They also advise against letting go of hope, faith, and love. The song suggests that achieving success requires perseverance, discipline, and a focus on the ultimate goal.
The song highlights the struggle faced by impoverished communities, particularly fatherless children, who are at risk of falling into a life of crime. However, the Wu-Tang Clan advocates for perseverance and determination, no matter one's circumstances. The harsh realities of life cannot be ignored; instead, the group emphasizes the importance of resilience and owing one's destiny.

Line by Line Meaning
Look, homicide is illegal, death is a penalty
Don't take the law in your hands as murder is a punishable offense
Never let go when you've got ahold of your enemy
Don't lose the grip on your opponent when you have the upper hand
Eagle claw cobra clutch by any means necessary
Do whatever it takes to secure a victory
I'll never let it go, see my shadow ninja mic flow
I won't let go of my unique rap style
I throw a great entre dart arrow to your temple
My rhymes hit hard like a deadly weapon
Allmighty bold Ulisies to the insidious
We are powerful and brave in the face of danger and evil
Plan of the Wu-Tang Clan became a world brand
Our music became a famous and influential brand globally
We never let it go, we talk a half a mil a show
We don't lose our opportunity to earn and perform, charging exorbitantly high prices for our concerts
Never let go of your mind
Keep your sanity intact
It's a terrible thing to waste
Don't squander your intellectual and mental abilities
To lose, but it's very hard to find
It's difficult to regain lost opportunities or knowledge
Being that ignorance is lethal
Lack of knowledge can be harmful
We must touch hearts, tune souls, harmonize the people
It's our responsibility to create music that affects people emotionally and spiritually
Never let go of your plan, execute
Stick to your strategy and implement it
So when you shoot, inspire everyone on the land
When you take action, motivate everyone around you
Never lose knowledge of yourself
Always know yourself well
For it may become risk to your health
Losing self-awareness may lead to negative consequences
And great loss of wealth
Ignoring who you truly are, may result in losing your riches
Never let go of your cream, never let go of your dream
Don't lose focus of your money and aspirations
Players retire, but they never let go of the team
Team spirit stays even after playing career ends
If you a rider then you never let go of that thing
If you're committed, then you'll never lose that passion
Pull up your mans' like you better let go of that bling
Support and help others instead of prioritizing material possessions
This life's crazy, too many life sentences, maybe
Life can be hard, and one may feel trapped in unhappy situations
Fatherless babies on the block but they father 380
Many kids on the street don't have father figures and may turn to violence
That's just the hood lately, never let go
Despite the hardships, don't give up
I'm what the hood made me
My upbringing made me who I am today
Momma told me to find a good lady
My mother advised me to seek a reliable partner
Never let go of staring at the death
Don't fear the inevitable
Like yo, that's your best blow
Accept the worst and fight onward
I still hold on like En Vogue
I persist like the R&B group En Vogue
The cold go to war with the heat
Opposing forces collide, leading to conflict
Eyes wide, never falling asleep
Maintain alertness and vigilance
All the talking is cheap
Words are not enough to prove oneself
Call 'em, ultimate warrior, W.W.F
Reference to wrestling legend, Ultimate Warrior, in World Wrestling Federation
I come up victorious, struggle is nothing to Deck
I emerge triumphantly, struggle poses no challenge
Set it straight for the seeds, to see a better new
Leave a good legacy for future generations
Take the real life by the rings and I ain't letting go
Seize real opportunities and hold on tight
No matter what the odds be
Regardless of the difficulties
No matter how hard we
Even if we have to work very hard
Never let go
Remain persistent and resilient
Never let go of the fight, never let go of the mic
Continue to fight for what you believe in and perform confidently
My honesty, my values, my loyalty, my pride
My integrity, principles, faithfulness, and dignity are essential
And merry are those who have passed to the other side
Happy are the deceased who lived a fulfilling life
Never letting go, I'm never letting go of my beliefs
Persistent in holding onto my convictions
My faith, convictions, real
My religious or moral beliefs are genuine
Both hands holding on, never let go the wheel
Remain steady and control the situation
We hood legends, misunderstood
We're popular figures, but often misjudged
These lessons, learned
The experiences gained
Growing up for manhood
Maturing into adulthood
Keep focus on the prize what you better do
Concentrate on your goals and work hard to achieve them
A little taste of heaven, sunshine is where we headed to
A glimpse of happiness, a brighter future is our destination
States what's ahead of you, always on the schedule
The future is predictable, always plan ahead
Smoke the gold leaf down to the residue
Smoke the finest marijuana till the end
Letting go, is something that I never do
I don't give up easily
Those who let go, live life regrettable
People who give up tend to have regrets
Never let go of your hope or your rope
Never lose faith or perseverance
Eyes on the prize, never let go of the scope
Focused on the objective without distractions
When I'm in jail, never let go of the soap
Even in dire situations, don't let your guard down
Hold on, boy, never let go
Stay determined and don't give up easily
The all-eye-seeing, the supreme
The highest and greatest authority
Never let go the love of your seeds, or your queen
Never lose affection for your children or significant other
Never let go your heart, or the place you started
Remember your roots and don't lose your passion
The feeling that I had, Wu-Tang had just charted
We're ecstatic about our success and influence
The old earth departed, I give thanks to the martyrs
We're grateful to our ancestors and those who sacrificed for us
Never let go the love I have for thy father
Hold onto the love you have for your father
Never let go the glow
Never lose your shine and radiance
The more I know the more that it shows
My knowledge is evident in my actions and words
I won't let go, even if I decompose
I'll hold on to my beliefs even after I die
Your seed will carry it on, we need to carry it on
The legacy we leave behind will be carried by future generations
Pass the baton, life is just the marathon
Life is a long race, pass on the endurance to others
And ain't' playing to win it, it's an epidemic
We're not competing; we're fighting a widespread problem
Never let go, that's what the god recommended
God advises us to remain persistent and not give up easily
Lyrics © Sony/ATV Music Publishing LLC
Written by: Robert Diggs

Lyrics Licensed & Provided by LyricFind
To comment on or correct specific content,
highlight it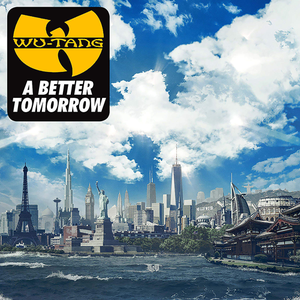 Wu-Tang Clan is a hip-hop group that consists of: RZA, GZA/Genius, Ghostface Killah, Raekwon, Ol' Dirty Bastard, Method Man, Inspectah Deck, U-God, and Masta Killa. They are frequently joined by fellow childhood friend Cappadonna, a quasi member of the group. They were formed in (and are associated with) the New York City borough of Staten Island (referred to by members as "Shaolin"), though Masta Killa and GZA are from Brooklyn and Inspectah Deck is from the Bronx.
Read Full Bio
Wu-Tang Clan is a hip-hop group that consists of: RZA, GZA/Genius, Ghostface Killah, Raekwon, Ol' Dirty Bastard, Method Man, Inspectah Deck, U-God, and Masta Killa. They are frequently joined by fellow childhood friend Cappadonna, a quasi member of the group. They were formed in (and are associated with) the New York City borough of Staten Island (referred to by members as "Shaolin"), though Masta Killa and GZA are from Brooklyn and Inspectah Deck is from the Bronx. They have gone on to become multi-platinum record producers, Grammy winners, TV and film stars, screenwriters, product spokespersons, business owners and, most recently, major motion picture composers. The Clan featured nine MCs until the death of Ol' Dirty Bastard in 2004. One of the most critically and commercially successful hip hop groups of all time, Wu-Tang Clan shot to fame through their uncompromising brand of hardcore rap music. Since their debut, they have introduced or launched the careers of numerous other artists and groups, and already in 1994 there were credited to be over 300 Wu-Tang Clan affiliates, known as the Wu-Tang Killa Bees, consisting of rappers, producers, and record label CEOs.

The founders of the Wu-Tang Clan were RZA, GZA, and Ol' Dirty Bastard, who had previously formed the group Force of the Imperial Master (later known as All In Together Now after the release of a popular single by that name). The group attracted the attention of some notable figures in the industry, including Biz Markie, but did not manage to secure a record deal. After the crew dissolved, GZA and RZA (then known as Prince Rakeem) embarked on their solo careers with Cold Chillin' Records and Tommy Boy Records respectively, but to little success. Their frustration with the workings of the hip hop music industry would provide the main inspiration to Wu-Tang Clan's revolutionary business plan. According to The Wu-Tang Manual, at the group's inception, RZA promised the members that if he had total control of the Wu-Tang empire, it would conquer the hip hop world within a dynastic cycle, after which he would relinquish his total control.

Wu-Tang Clan was gradually assembled in late 1992 from friends and accomplices from around Staten Island, New York, with RZA as the de-facto leader and the group's main producer. Two of the cousins, GZA (pronounced Jizza) and RZA (pronounced Rizza), created their new Wu-Tang aliases by mimicking the sound that the words "genius" and "razor" would make when scratched on a turntable.

"Wu-Tang" comes from the name of the Taoist holy mountain Wu Dang in northwest Hubei Province in central China; it was also the site of the Ming Dynasty Purple Imperial City built during the reign of the Yongle Emperor in the early 15th century. RZA and Ol' Dirty Bastard adopted the name for the group after seeing the kung fu film Shaolin and Wu Tang, which features a school of warriors trained in Wu-Tang style. The group's debut album loosely adopted a Shaolin vs. Wu-Tang theme, dividing the album into Shaolin and Wu-Tang sections and using dialogue excerpts as skits.

The group have also developed various backronyms for the name (as hip hop pioneers like KRS-One and Big Daddy Kane did with their names), including "We Usually Take All the Niggas' Garments," "Witty Unpredictable Talent and Natural Game" and "Wisdom, Universe, Truth, Allah, Nation, and God".

Method Man has also mentioned that the "Wu" is the sound a sword makes when cutting through the air, and "Tang" is the sound it makes against a shield.

The Clan first became known to hip hop fans, and to major record labels, in 1993 (see 1993 in music) following the release of the independent single "Protect Ya Neck", which immediately gave the group a sizeable underground following. Though there was some difficulty in finding a record label that would sign Wu-Tang Clan while still allowing each member to record solo albums with other labels, Loud/RCA finally agreed, releasing their debut album, Enter the Wu-Tang (36 Chambers), in late 1993. This album was popular and critically-acclaimed, though it took some time to gain momentum. Though hip hop had long had a gritty texture, the surreal aggression and minimalist production of 36 Chambers nevertheless had a huge impact on the genre, and was to prove massively influential over the next decade. By the beginning of the 21st century, the album had become a regular fixture on "Best Albums of the 90s" lists as well as a frequent choice for "Best Albums of All Time" lists. The success of Enter the Wu-Tang (36 Chambers) established the group as a creative and influential force in early 1990s hip hop, allowing GZA, RZA, Raekwon, Ghostface Killah, Method Man, Ol' Dirty Bastard, Inspectah Deck, U-God, and Masta Killa to negotiate solo contracts.

www.wutang-corp.com
Genre not found
Artist not found
Album not found
Search results not found
Song not found