[Intro: Raekwon (samples)]
(Make me yours) He get out of line, break his fucking arm...
You know how it go (What am I supposed to say? Yeeaaah)
You know, word up, not playing the games, with these niggaz, man
(Somebody tell me what do I do...)
None at all, man... hit 'em off, none of that, man
[Raekwon]
Aiyo, jump out the Acura, crazy heavy, what's popping?
Us locking the game, word to every hand on the lockmen
Street gwop, everybody eats, sweep blocks
This is a message, ain't go no grams, we gon' beatbox
Study like lessons, niggaz in the game biting the grain
You knowing where it came from, stop it
You thought we wasn't coming? You dumbing, you blunted again
Watch Lex get that dough out ya pocket, rhyme all 'pallegic
Can't nothing move when I rhyme, when I drop lines it's law out in Egypt
Love ups, don't need no batteries now, what?
The only niggaz that'll glow'll be us
Yo, throw me in Sin City, leave me with the vultures and bats
Then give me two weeks to bubble like Kim titties
Dirt Dog, we miss you, now it's time to murder the game
Cuz if things change, you know it ain't against Wu
[Chorus 1.5X: sample]
What am I supposed to say? Yeeaaah
Somebody tell me what do I do...
[GZA]
We keep it hot, keep the heat on the block
We never stop, drawing water up until it begin to drop
Raining with the patchwork of puzzles
That was written in the year of the dragon
More raw than you could ever imagine
How much of a great blessing to a rap city
Where the youth is organically fed, from the Witty
Unpredictable, Talent And Natural Game is lyrical
Analyze the picture, the portrait, the visual
A Cuban Link Chef cooks spaghetti that's untied
RAGU nigga whose tomatoes are sundried
He gave y'all niggaz whiplash from bling bling
But my rhyme'll give ya hot flash and moodswings
Math shed light on divine secrets, then science leaked it
For the lower level creatures that can't peep it
I observe MC's, regardless
From a neighboring world which is ten times the sharpness...
[Chorus]
[Masta Killa]
Let the track wind and ya mind flow free
Remain conscious on this ride to ya best ability
Infinity, back to the source of which it came
Energy, see it change forms, atoms being born, never ending
On and on and on and, travel with me
Not trying to convince the pack, that it's a fact
For those who can't adapt, I lived it, shitted it back
We have agreed, you'll feel the impact of the truth when I'll squeeze
The brain feels something pop, hip hop, locked in texts
Fat checks, fly whips, jewelry, chicks
Enough kicks, fitted crown, buttoned down
Underneath the white T lies the four pound
This is forty-five minutes of menacing
Dismantling, any MC opponent stepping in the zone
Get ya face blown (Get ya face blown)
[Chorus]
[Inspectah Deck]
Observe the word, when I speak, get the truth's heard
True to the curb, Wu classic is the new birth
Spreading the blessing across seven continents
Arm of the trench, there's no form of defense
Entertainment, nine swords swing rapid
Check the techniques, first bow to The Abbott
Witty Unpredictable, gritty individual
Valid, if it's Actual, Talent and it's Natural
Game, rugged like the train, pump it in ya vein
I and I ride or die under the name
W-U, the primary, ya secondary
Definitely not necessary, the legendary
You printed the blueprints to do this shit
Moving the youth in the bricks
Spit poison tipped darts that rip hearts
Through the chest, when I manifest my sick art
[Method Man]
Speaking my mind, fall in line when I spit mine
Still in my prime, still'll shine til it quit time
If this is a crime, find me guilty, I'm so sublime
So rapid with rhymes, same slacking is assonine
Revealing the truth, catching feelings, it's still the Wu
Gorilla the booth, body armored, them killa proof
In living proof, I'm the Wittiest Unpredictable
Most Talented rap muthafucker you ever listened to
[Cappadonna]
I'm a hustler, I grind til my pack is done
Give a seed, mad knowledge til they cracked and run
Can't nobody fuck with me, I'm just too nice
Smack niggas in they head everytime I write
Yo, I'm straight from Park Hill where the guns is popping
Where them little black kids do they grocery shopping
Go to school fucked up, it's Africa Island
We poor in the bricks but inside it's nothing but talent
Lyrics © Universal Music Publishing Group
Written by: CLIFFORD SMITH, COREY WOODS, DARRYL ROBERT HILL, ELGIN EVANDER TURNER, GARY E. GRICE, JASON HUNTER, JOHN FRUSTRANTIE, ROBERT F. DIGGS

Lyrics Licensed & Provided by LyricFind
To comment on specific lyrics,
highlight them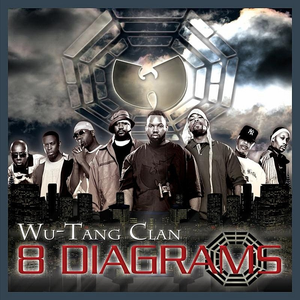 Wu-Tang Clan is a hip-hop group that consists of: RZA, GZA/Genius, Ghostface Killah, Raekwon, Ol' Dirty Bastard, Method Man, Inspectah Deck, U-God, and Masta Killa. They are frequently joined by fellow childhood friend Cappadonna, a quasi member of the group. They were formed in (and are associated with) the New York City borough of Staten Island (referred to by members as "Shaolin"), though Masta Killa and GZA are from Brooklyn and Inspectah Deck is from the Bronx.
Read Full Bio
Wu-Tang Clan is a hip-hop group that consists of: RZA, GZA/Genius, Ghostface Killah, Raekwon, Ol' Dirty Bastard, Method Man, Inspectah Deck, U-God, and Masta Killa. They are frequently joined by fellow childhood friend Cappadonna, a quasi member of the group. They were formed in (and are associated with) the New York City borough of Staten Island (referred to by members as "Shaolin"), though Masta Killa and GZA are from Brooklyn and Inspectah Deck is from the Bronx. They have gone on to become multi-platinum record producers, Grammy winners, TV and film stars, screenwriters, product spokespersons, business owners and, most recently, major motion picture composers. The Clan featured nine MCs until the death of Ol' Dirty Bastard in 2004. One of the most critically and commercially successful hip hop groups of all time, Wu-Tang Clan shot to fame through their uncompromising brand of hardcore rap music. Since their debut, they have introduced or launched the careers of numerous other artists and groups, and already in 1994 there were credited to be over 300 Wu-Tang Clan affiliates, known as the Wu-Tang Killa Bees, consisting of rappers, producers, and record label CEOs.

The founders of the Wu-Tang Clan were RZA, GZA, and Ol' Dirty Bastard, who had previously formed the group Force of the Imperial Master (later known as All In Together Now after the release of a popular single by that name). The group attracted the attention of some notable figures in the industry, including Biz Markie, but did not manage to secure a record deal. After the crew dissolved, GZA and RZA (then known as Prince Rakeem) embarked on their solo careers with Cold Chillin' Records and Tommy Boy Records respectively, but to little success. Their frustration with the workings of the hip hop music industry would provide the main inspiration to Wu-Tang Clan's revolutionary business plan. According to The Wu-Tang Manual, at the group's inception, RZA promised the members that if he had total control of the Wu-Tang empire, it would conquer the hip hop world within a dynastic cycle, after which he would relinquish his total control.

Wu-Tang Clan was gradually assembled in late 1992 from friends and accomplices from around Staten Island, New York, with RZA as the de-facto leader and the group's main producer. Two of the cousins, GZA (pronounced Jizza) and RZA (pronounced Rizza), created their new Wu-Tang aliases by mimicking the sound that the words "genius" and "razor" would make when scratched on a turntable.

"Wu-Tang" comes from the name of the Taoist holy mountain Wu Dang in northwest Hubei Province in central China; it was also the site of the Ming Dynasty Purple Imperial City built during the reign of the Yongle Emperor in the early 15th century. RZA and Ol' Dirty Bastard adopted the name for the group after seeing the kung fu film Shaolin and Wu Tang, which features a school of warriors trained in Wu-Tang style. The group's debut album loosely adopted a Shaolin vs. Wu-Tang theme, dividing the album into Shaolin and Wu-Tang sections and using dialogue excerpts as skits.

The group have also developed various backronyms for the name (as hip hop pioneers like KRS-One and Big Daddy Kane did with their names), including "We Usually Take All the Niggas' Garments," "Witty Unpredictable Talent and Natural Game" and "Wisdom, Universe, Truth, Allah, Nation, and God".

Method Man has also mentioned that the "Wu" is the sound a sword makes when cutting through the air, and "Tang" is the sound it makes against a shield.

The Clan first became known to hip hop fans, and to major record labels, in 1993 (see 1993 in music) following the release of the independent single "Protect Ya Neck", which immediately gave the group a sizeable underground following. Though there was some difficulty in finding a record label that would sign Wu-Tang Clan while still allowing each member to record solo albums with other labels, Loud/RCA finally agreed, releasing their debut album, Enter the Wu-Tang (36 Chambers), in late 1993. This album was popular and critically-acclaimed, though it took some time to gain momentum. Though hip hop had long had a gritty texture, the surreal aggression and minimalist production of 36 Chambers nevertheless had a huge impact on the genre, and was to prove massively influential over the next decade. By the beginning of the 21st century, the album had become a regular fixture on "Best Albums of the 90s" lists as well as a frequent choice for "Best Albums of All Time" lists. The success of Enter the Wu-Tang (36 Chambers) established the group as a creative and influential force in early 1990s hip hop, allowing GZA, RZA, Raekwon, Ghostface Killah, Method Man, Ol' Dirty Bastard, Inspectah Deck, U-God, and Masta Killa to negotiate solo contracts.

www.wutang-corp.com
Genre not found
Artist not found
Album not found
Search results not found
Song not found