Wu-Tang: 7th Chamber
Wu-Tang Clan Lyrics
Take that motherfucker
Good morning Vietnam!
Yeah, good morning to all you motherfuckin' notty-headed niggas
Word to the camouflage large niggas
Bitch niggas fuckin' my body
Bring that fuckin' meth in here
Yo yo yo yo
Now we gonna drink some good night train
And yo, set it off
Champion gear that I rock, you get your boots knocked
Then attack you like a pit that lock shit down
As I come and freaks the sound, hardcore
But giving you more and more, like ding!
Nah shorty, get you open like six packs
Killer bees attack, flippin' what, murder one, phat tracks
Aight? I kick it like a night flite!
Word life, I get that ass while I'm fulla spite!
Check the method from bedrock, cause I rock ya head to bed
Just like rockin' what? twin glocks!
Shake the ground while my beats just break you down
Raw sound, we going to war right now
So, yo, bombin'
We usually take all niggas garments
Save ya breath before I bomb it
I be that insane nigga from the psycho ward
I'm on the trigger, plus I got the wu-tang sword
So how you figure that you can even fuck with mine?
Hey, yo, Rza! hit me with that shit one time!
And pull a foul, niggas save the beef on the cow
I'm milkin' this ho, this is my show, tical
The fuck you want to do? more than spike lee's do
I'm like a sniper, hyper off the ginseng root
Plo style, buddha monks with the owls
So who's the fucking man? meth-tical
On the chess box
Yo, yeah, yo
I leave the mic in body bags, my rap style has
The force to leave you lost, like the tribe of shabazz
Murderous material, made by a madman
It's the mic wrecker, inspector, bad man
From the bad lands of the killer, rap fanatic
Representing with the skill that's iller
Dare to compare, get pierced just like an ear
The zoo-we-do-wop-bop strictly hardware
Armed and geared cause I just broke out the prison
Charged by the system, for murdering the rhythm!
Now, lo and behold, another deadly episode
Bound to catch another fuckin' charge when I explode
Slammin' a hype-ass verse til ya head burst
I ram shack dead in the track, and that's that
Rap assassin, fastin', quick to blast and hard rock
I ran up in spots like fort knox!
I'm hot, top notch, ghost thinks with logic
Flashback's how I attacked your whole project
I'm raw, I'm rugged and raw! I repeat, if I die
My seed'll be ill like me
Approachin' me, you out of respect, chops ya neck
I get vexed, like crashing up a phat-ass lex'
So clear the way, make way, yo! open the cage
Peace, I'm out, jettin' like a runaway slave
Yo
Ya gettin' stripped from ya garments, boy, run ya jewels
While the meth got me open like fallopian tubes
I bring death to a snake when he least expect
Ain't a damn thing changed, boy, protect ya neck
Ruler zig zag, zig-allah jam is fatal
Quick to stick my wu-tang sword right through ya navel
Suspenseful, plus bein' bought through my utensil
The pencil, I break strong winds up against your
Abbot, that run up through your county like the maverick
Caps through the tablets, I gots to make the fabrics
Are you, uh, ah, uh
Are you a warrior? killer? slicin' shit like a samurai
The ol' dirty bastard vundabah
Ol' dirty clan of terrorists
Comin' atcha ass like a sorceress, shootin' that piss!
Niggas be gettin' on my fuckin' nerves
Rhymes they be kickin' make me want to kick they fuckin' ass to the curb
I got funky fresh, like the old specialist
A carrier, messenger, bury ya
This experience is for the whole experience
Let it be applied, and then drop that science
My my my
My clan is thick like plaster
Bust ya, slash ya
Slit a nigga back like a dutch master killer
Style jumped off and killa, hill-er
I was the thriller in the ali-frazier manilla
I came down with phat tracks that combine and interlock
Like getting smashed by a cinder block
Blaow! now it's all over
Niggas seeing pink hearts, yellow moons
Orange stars and green clovers
Lyrics © Universal Music Publishing Group, Downtown Music Publishing
Written by: CLIFFORD SMITH, COREY WOODS, DENNIS DAVID COLES, GARY E. GRICE, JASON HUNTER, LAMONT HAWKINS, ROBERT F. DIGGS, RUSSELL T. JONES

Lyrics Licensed & Provided by LyricFind
To comment on specific lyrics,
highlight them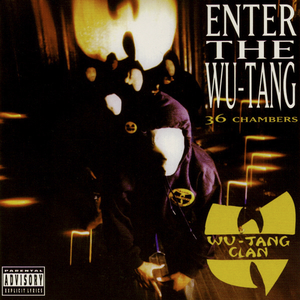 Wu-Tang: 7th Chamber - Part II - Conclusion
Wu-Tang Clan is a hip-hop group that consists of: RZA, GZA/Genius, Ghostface Killah, Raekwon, Ol' Dirty Bastard, Method Man, Inspectah Deck, U-God, and Masta Killa. They are frequently joined by fellow childhood friend Cappadonna, a quasi member of the group. They were formed in (and are associated with) the New York City borough of Staten Island (referred to by members as "Shaolin"), though Masta Killa and GZA are from Brooklyn and Inspectah Deck is from the Bronx.
Read Full Bio
Wu-Tang Clan is a hip-hop group that consists of: RZA, GZA/Genius, Ghostface Killah, Raekwon, Ol' Dirty Bastard, Method Man, Inspectah Deck, U-God, and Masta Killa. They are frequently joined by fellow childhood friend Cappadonna, a quasi member of the group. They were formed in (and are associated with) the New York City borough of Staten Island (referred to by members as "Shaolin"), though Masta Killa and GZA are from Brooklyn and Inspectah Deck is from the Bronx. They have gone on to become multi-platinum record producers, Grammy winners, TV and film stars, screenwriters, product spokespersons, business owners and, most recently, major motion picture composers. The Clan featured nine MCs until the death of Ol' Dirty Bastard in 2004. One of the most critically and commercially successful hip hop groups of all time, Wu-Tang Clan shot to fame through their uncompromising brand of hardcore rap music. Since their debut, they have introduced or launched the careers of numerous other artists and groups, and already in 1994 there were credited to be over 300 Wu-Tang Clan affiliates, known as the Wu-Tang Killa Bees, consisting of rappers, producers, and record label CEOs.

The founders of the Wu-Tang Clan were RZA, GZA, and Ol' Dirty Bastard, who had previously formed the group Force of the Imperial Master (later known as All In Together Now after the release of a popular single by that name). The group attracted the attention of some notable figures in the industry, including Biz Markie, but did not manage to secure a record deal. After the crew dissolved, GZA and RZA (then known as Prince Rakeem) embarked on their solo careers with Cold Chillin' Records and Tommy Boy Records respectively, but to little success. Their frustration with the workings of the hip hop music industry would provide the main inspiration to Wu-Tang Clan's revolutionary business plan. According to The Wu-Tang Manual, at the group's inception, RZA promised the members that if he had total control of the Wu-Tang empire, it would conquer the hip hop world within a dynastic cycle, after which he would relinquish his total control.

Wu-Tang Clan was gradually assembled in late 1992 from friends and accomplices from around Staten Island, New York, with RZA as the de-facto leader and the group's main producer. Two of the cousins, GZA (pronounced Jizza) and RZA (pronounced Rizza), created their new Wu-Tang aliases by mimicking the sound that the words "genius" and "razor" would make when scratched on a turntable.

"Wu-Tang" comes from the name of the Taoist holy mountain Wu Dang in northwest Hubei Province in central China; it was also the site of the Ming Dynasty Purple Imperial City built during the reign of the Yongle Emperor in the early 15th century. RZA and Ol' Dirty Bastard adopted the name for the group after seeing the kung fu film Shaolin and Wu Tang, which features a school of warriors trained in Wu-Tang style. The group's debut album loosely adopted a Shaolin vs. Wu-Tang theme, dividing the album into Shaolin and Wu-Tang sections and using dialogue excerpts as skits.

The group have also developed various backronyms for the name (as hip hop pioneers like KRS-One and Big Daddy Kane did with their names), including "We Usually Take All the Niggas' Garments," "Witty Unpredictable Talent and Natural Game" and "Wisdom, Universe, Truth, Allah, Nation, and God".

Method Man has also mentioned that the "Wu" is the sound a sword makes when cutting through the air, and "Tang" is the sound it makes against a shield.

The Clan first became known to hip hop fans, and to major record labels, in 1993 (see 1993 in music) following the release of the independent single "Protect Ya Neck", which immediately gave the group a sizeable underground following. Though there was some difficulty in finding a record label that would sign Wu-Tang Clan while still allowing each member to record solo albums with other labels, Loud/RCA finally agreed, releasing their debut album, Enter the Wu-Tang (36 Chambers), in late 1993. This album was popular and critically-acclaimed, though it took some time to gain momentum. Though hip hop had long had a gritty texture, the surreal aggression and minimalist production of 36 Chambers nevertheless had a huge impact on the genre, and was to prove massively influential over the next decade. By the beginning of the 21st century, the album had become a regular fixture on "Best Albums of the 90s" lists as well as a frequent choice for "Best Albums of All Time" lists. The success of Enter the Wu-Tang (36 Chambers) established the group as a creative and influential force in early 1990s hip hop, allowing GZA, RZA, Raekwon, Ghostface Killah, Method Man, Ol' Dirty Bastard, Inspectah Deck, U-God, and Masta Killa to negotiate solo contracts.

www.wutang-corp.com
Genre not found
Artist not found
Album not found
Search results not found
Song not found