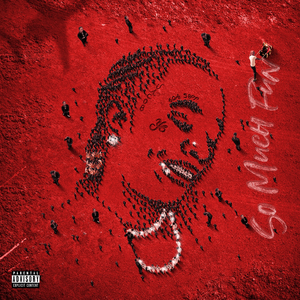 Bad Bad Bad (feat. Lil Baby)
On "Bad Bad Bad," Young Thug and Lil Baby team up for a track where they bra…
Read Full Bio ↴
On "Bad Bad Bad," Young Thug and Lil Baby team up for a track where they brag about all the luxurious brands they can afford to buy for women and themselves.

This is hardly the first collaboration between the two rappers, with the Baby appearing most notably on Thug's 2018 track "Chanel (Go Get It)," and Thug appearing on Baby's 2017 track "Right Now."
Jump to: Overall Meaning ↴ Line by Line Meaning ↴
Wheezy outta here
Rose gold seat on a fucking helicopter
Double C, no Chanel, 'cause she bad, bad, bad
Ridin' Kawasaki, and I could cop you a new 'Rari
Let you ride it in your Rafs and you're bad, bad, bad
No playin', no Atari, I won't play with you for nothing
I can eat you like Hibachi 'cause you bad, bad, bad
I just took the doors off the 'Ghini, now I'm riding
And I'm sliding in her sideways, now she call me her Zaddy
Rich nigga shit, I bought my thottie a new Patek
Got a model, got a thickie, got a BM, got a stallion
Got a billion dollar corporation, fuck a Xanny
I got millions to go get and a couple bitches to- uh, yeah
You my dawg 'til we dead, not a question
But I can't fuck with you like I want 'cause you ratted
Got a million dollars in the wall, in the band'
Got it stepped on, got it hard, got it cracking on her
Half a million, I just did a warm up for
Half a million, uh, uh, mm
I could buy the building
I could rent this shit out and save it for the children
I could dead this shit out and give it to the villains
Somewhere they can hide when they do some killing
All of the rides got grenade ceilings
Loaded with a ride cost a cool million
Rose gold seat on a fucking helicopter
Double C, no Chanel, 'cause she bad, bad, bad
Ridin' Kawasaki, and I could cop you a new 'Rari
Let you ride it in your Rafs and you're bad, bad, bad
No playin', no Atari, I won't play with you for nothing
I can eat you like Hibachi 'cause you bad, bad, bad
I just took the doors off the 'Ghini, now I'm riding
And I'm sliding in her sideways, now she call me her Zaddy
Paper tag, peanut butter seats, I'm ridin'
I be in the foreign, I fuck with slime, we tied in (slatt)
Different color Diors on my feet, I couldn't decide which
Never talked about it, she done made herself my side bitch
Trash bag gang, I can put that on Elijah
Streets chose me, I ain't never had to sign up
Then we hittin' bitches in the group, I make 'em line up
Beep, beep, beep, that's me, nigga, get back
Real dope boy, don't know how to work a CashApp
How many you got? I'll send it long, bring the cash out
I been sipping lean, 'bout to pee 'til I pass out
Went to sleep 'partment, woke up in a paradise
Niggas stealin' drip but it don't matter, they don't wear it right
They don't even speak but I can see I got 'em terrified
Double R truck, come through, shit on everybody
Bad, bad, bitch, good head, hit her every night
Rose gold seat on a fucking helicopter
Double C, no Chanel, 'cause she bad, bad, bad
Ridin' Kawasaki, and I could cop you a new 'Rari
Let you ride it in your Rafs and you're bad, bad, bad
No playin', no Atari, I won't play with you for nothing
I can eat you like Hibachi 'cause you bad, bad, bad
I just took the doors off the 'Ghini, now I'm riding
And I'm sliding in her sideways, now she call me her Zaddy
Take the four doors off of the Jeep (bad, bad, bad)
I ain't doin' no swaps with a freak, uh (bad, bad, bad)
We can handle this shit out in the streets, yeah (bad, bad, bad)
I ain't goin' to a house for a meetin', yeah (bad, bad, bad)
Pull up in a truck, any season
Niggas never comin' out, then we leavin'
How could nigga take a loss if he leavin'?
Quickly take off like I'm LeBron
Overall Meaning
The song Bad Bad Bad by Young Thug is basically about a rich guy who has everything he wants in life except for a bad girl who can turn him on, challenge him, and who is adventurous. The bad girl is sexy, rides Kawasaki bikes, and can even have a new Ferrari gifted to her without hesitation. She's dangerous but enjoys a luxurious life. Young Thug shows admiration for her in the lyrics, even offering to let her ride in her Rafs.
The chorus of the song is the highlight because it talks about the "bad, bad, bad" girl who is exclusive and distinguishes herself from other women. Young Thug is attracted to her because of her wild and adventurous nature. The lyrics mention other things that show Young Thug's affluence such as having a rose gold seat on a helicopter, having a million dollars' worth of money hidden in walls, and his status as a "dope boy." Young Thug also takes jabs at other rappers claiming they don't wear his fashion style correctly or are afraid of him.
Overall, the song Bad Bad Bad is a celebration of the lavish lifestyle Young Thug leads, he sings about nature, fashion and the lure of the bad girl he's after.

Line by Line Meaning
Wheezy outta here
Producer Wheezy produced this track
Rose gold seat on a fucking helicopter
I'm so rich, I have a rose gold seat on my helicopter
Double C, no Chanel, 'cause she bad, bad, bad
She doesn't need Chanel to be considered bad (sexy/cool)
Ridin' Kawasaki, and I could cop you a new 'Rari
I can buy you anything from a Kawasaki to a brand new Ferrari
Let you ride it in your Rafs and you're bad, bad, bad
You'll look so good in your Raf Simons while riding in it
No playin', no Atari, I won't play with you for nothing
I don't have time for games, and definitely not for free
I can eat you like Hibachi 'cause you bad, bad, bad
You look so delicious, just like a Hibachi meal
I just took the doors off the 'Ghini, now I'm riding
I removed the doors from my Lamborghini and now I'm driving it
And I'm sliding in her sideways, now she call me her Zaddy
I'm having sex with her sideways and now she calls me her daddy
Rich nigga shit, I bought my thottie a new Patek
I bought my girlfriend a new Patek Philippe watch, that's how rich I am
Got a model, got a thickie, got a BM, got a stallion
I have different types of women, including models, curvy ladies, BMWs, and horses
Got a billion dollar corporation, fuck a Xanny
I have a billion dollar corporation, I don't need Xanax (drug)
I got millions to go get and a couple bitches to- uh, yeah
I have millions to get and a couple of women to spend it on
You my dawg 'til we dead, not a question
We'll be friends forever
But I can't fuck with you like I want 'cause you ratted
I can't be close to you like I want because you snitched
Got a million dollars in the wall, in the band'
I have a million dollars hidden in the wall, in a band
Got it stepped on, got it hard, got it cracking on her
I have a lot of drugs and they're strong, and we're having a good time
Half a million, I just did a warm up for
I made half a million from a quick/easy project
I could buy the building
I have enough money to buy a whole building
I could rent this shit out and save it for the children
I can rent it out and save money for my future children
I could dead this shit out and give it to the villains
I can give it all up to the bad guys if I want to
Somewhere they can hide when they do some killing
I can give them a hiding place where they can kill without getting caught
All of the rides got grenade ceilings
I have explosive features in all my vehicles
Loaded with a ride cost a cool million
I spent a million dollars on adding modifications to my ride
Take the four doors off of the Jeep (bad, bad, bad)
Remove the doors from your Jeep and be cool/sexy
I ain't doin' no swaps with a freak, uh (bad, bad, bad)
I'm not swapping anything with a weird person, that's not cool/sexy
We can handle this shit out in the streets, yeah (bad, bad, bad)
We'll handle this outside, that's more badass
I ain't goin' to a house for a meetin', yeah (bad, bad, bad)
I don't want to meet you in a house, that's boring
Pull up in a truck, any season
I have a truck that's suitable for any season
Niggas never comin' out, then we leavin'
If people don't come out, we're leaving
How could nigga take a loss if he leavin'?
You can't lose if you don't compete
Quickly take off like I'm LeBron
I quickly leave like LeBron James when he plays basketball
Lyrics © Ultra Tunes, Universal Music Publishing Group, Sony/ATV Music Publishing LLC, RESERVOIR MEDIA MANAGEMENT INC, Warner Chappell Music, Inc.
Written by: Dominique Jones, Jeffery Lamar Williams, Nils Noehden, Wesley Tyler Glass

Lyrics Licensed & Provided by LyricFind
To comment on or correct specific content,
highlight it
Genre not found
Artist not found
Album not found
Search results not found
Song not found