Hook:
Break dancin, break dancin, break dancin
Break dancin, break dancin, break dancin
Put the dime piece, I'ma bring and make you break dancin
Chopper got you spinnin' on your head like you break dancin'
Pistol in the club will be I don't wanna break that,
Let's mackle I'ma make a nigga screw, like you shake that
My favourite weapon at eleven, blackin wippin 9-11
What's so broke at 9 to 7, pray from crib we come from heaven
Nigga used to laugh when I walk from both the Christian
'cause who's laughing laugh I just pull up in the 9-11
Money don't make me clothes, don't make me laugh, you still ain't hurting me,
They use just know me locally, now they know me globally
And lana over local apartment, just can't bet from oversea
If I can do it, you can do it,
You started with more of me,
... don't really do much for me,
So use... at lunch for free
Best of so many people, that my... won't even blind to me
Lot of hope that he forgive but f*ck that nigga that's history,
Yeah for nigga I stole your bomb
Hope that is your mystery
And if is all about the time, you're my type this cost 80 Gs,
... for 80 P, budget on your...
[Hook:]
... f*ck them benz, we go underbase,
Got a rife with my dog like I'm under bed
Red bottom and despite, I'm upon her,
She wanna suck all of this niggas, she got hunger,
F*ck the purses on my motherf*cking tigers
Ash... supper that I'm...
Everybody with me ink, we got fight
In the kitchen rapping rapping like a cyphur,
Told you one too many time we got dime, it's my prime time
Round we king slime, that's my slime,... we go behind
We gonna drop a dime on that line,
He's a Busta line Rhymes, never commit a crime when did on time,
[Hook:]
Contributed by Keira T. Suggest a correction in the comments below.
To comment on specific lyrics,
highlight them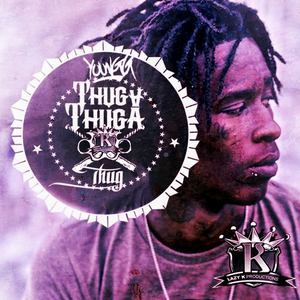 Jeffery Williams, better known by his stage name Young Thug (also uses the name "SEX!!" and was briefly known as "Jeffery"), is an American rapper from Atlanta, Georgia who is signed to Gucci Mane's 1017 Brick Squad Records, Asylum Records and Atlantic Records. Thug grew to prominence in 2013 after releasing his mixtape 1017 Thug to positive critical reception. He has collaborated with artists such as Gucci Mane, Young Scooter, Rich Homie Quan and Waka Flocka Flame.
Read Full Bio
Jeffery Williams, better known by his stage name Young Thug (also uses the name "SEX!!" and was briefly known as "Jeffery"), is an American rapper from Atlanta, Georgia who is signed to Gucci Mane's 1017 Brick Squad Records, Asylum Records and Atlantic Records. Thug grew to prominence in 2013 after releasing his mixtape 1017 Thug to positive critical reception. He has collaborated with artists such as Gucci Mane, Young Scooter, Rich Homie Quan and Waka Flocka Flame.

Thug was born amongst the masses eliminating any doubt that he wouldn't be special. The second youngest child of 11 children developed a skill for standing out amongst many, early. Young Thug moved to Jonesboro, an impoverished suburb of Georgia where his lifestyle was engrossed by the crime, drug addiction and violence that surrounded him. It was there that he developed an insatiable appetite to succeed his current situation. After discovering and acknowledging his talent and creativity for music in 2010, Thug started a new hustle that would soon mature as one of the most promising music careers in the South.

Eyeballing the throne of Hip hop royalty, Young Thug began to create a sound and style that would inevitably place him on top. Young Thug's catchy verses and raw lyrical talent distinguished noise from art, clearly being the latter his creations are the best that remain of Southern hip hop. He is the embodiment of the evolution of Southern hip-hop. Young Thug is the representative for a generation that doesn't see hip-hop as a hobby but a lifestyle. Keeping true to himself, his art, and his home Young Thug will stand alone as the one true savior of the Southern movement.

2. Young Thug aka The Demon Child is hardcore/horrorcore rapper/beatmaker from Central France. Often collaborated with Lil Prod. Also he made 2 albums under the alias Da Mystic Terror, in these 2 albums he changed his voice to make it sounds like it's an other person rapping.
Official blogspots:
http://demonchildproductions.blogspot.com/
http://lilproddiscographie.blogspot.com/
Genre not found
Artist not found
Album not found
Search results not found
Song not found