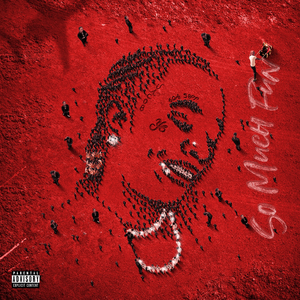 Jeffery Lamar Williams, better known by his stage name Young Thug (also uses the…
Read Full Bio ↴
Jeffery Lamar Williams, better known by his stage name Young Thug (also uses the name "SEX!!" and was briefly known as "Jeffery"), is an American rapper from Atlanta, Georgia who is signed to Gucci Mane's 1017 Brick Squad Records, Asylum Records and Atlantic Records. Thug grew to prominence in 2013 after releasing his mixtape 1017 Thug to positive critical reception. He has collaborated with artists such as Gucci Mane, Young Scooter, Rich Homie Quan and Waka Flocka Flame.

Thug was born amongst the masses eliminating any doubt that he wouldn't be special. The second youngest child of 11 children developed a skill for standing out amongst many, early. Young Thug moved to Jonesboro, an impoverished suburb of Georgia where his lifestyle was engrossed by the crime, drug addiction and violence that surrounded him. It was there that he developed an insatiable appetite to succeed his current situation. After discovering and acknowledging his talent and creativity for music in 2010, Thug started a new hustle that would soon mature as one of the most promising music careers in the South. He also founded the record label YSL ( Young Stoner/Slatt Life) in 2010.


Eyeballing the throne of Hip hop royalty, Young Thug began to create a sound and style that would inevitably place him on top. Young Thug's catchy verses and raw lyrical talent distinguished noise from art, clearly being the latter his creations are the best that remain of Southern hip hop. He is the embodiment of the evolution of Southern hip-hop. Young Thug is the representative for a generation that doesn't see hip-hop as a hobby but a lifestyle. Keeping true to himself, his art, and his home Young Thug will stand alone as the one true savior of the Southern movement.

2. Young Thug aka The Demon Child is hardcore/horrorcore rapper/beatmaker from Central France. Often collaborated with Lil Prod. Also he made 2 albums under the alias Da Mystic Terror, in these 2 albums he changed his voice to make it sounds like it's an other person rapping.
Official blogspots:
http://demonchildproductions.blogspot.com/
http://lilproddiscographie.blogspot.com/
Jump to: Overall Meaning ↴ Interesting Facts ↴ Line by Line Meaning ↴
Me and Wheezy, that's the wave
Yeah
Yeah
Millions, put it in the casket and buried it
Millions, niggas with me, bitches think we terrorists
Billions, stack this cash and lay low like barbarians
Brazilians, wax it and pass it to Australians
Ayy, I suppose it's a proposal (I suppose it's a proposal)
Ayy, most these niggas, they some bozos
Ayy, put the racks in the console (racks)
Ayy, blowin' O's just like Cheerios
Pakistanian bitch wanna lay with me (ayy)
I been in the trenches, slangin' since a nigga was three
I've been on the road, on a plane, take a pic with me
Bitch, I took a picture, try to frame me, try to riddle me (ha)
Ayy, made a million bucks but I didn't touch the key
Ayy, I done tore it up now shawty lovin' me (swear)
Ayy, I done ran it up and now she fuck with me
Now she wanna make a baby, now she wan' be stuck with me
Nasty ass bitch (ha)
Trippin' tryna kiss me, after suckin' niggas' dicks (ayy)
I can't put no hickey on your titties or your lips (facts)
Fuck it, where your head? I ain't even tryna hit (swear)
All my cars fast, I ain't even try to dip (try)
I ain't no Dorito type of nigga, I stack chips (racks)
Ain't no pussy eatin' type of nigga, you ain't dip
Bitch, your mamacita tryna fuck us off the rip
Ten racks, hunnid racks
Millions, put it in the casket and buried it
Millions, niggas with me, bitches think we terrorists
Billions, stack this cash and lay low like barbarians
Brazilians, wax it and pass it to Australians
Ayy, I suppose it's a proposal (I suppose it's a proposal)
Ayy, most these niggas, they some bozos (most these niggas, they some bozos)
Ayy, put the racks in the console (racks)
Ayy, blowin' O's just like Cheerios (slime)
Hunchback, Cadillac (slime)
Dirty fat sacks, my bitch a brat (slime)
I've been in the trenches, fuckin' that (slime)
All the hood hoes need love, gotta give it back (slime)
Yeah, pay the bitches homage (homage)
All my niggas with me one hunnid (hunnid)
All the opps die every summer (slatt)
All the Glocks, give 'em to my mama (on God)
All the Ks (yeah), at the hide' (brr)
I'm a stunna, with the racks
I'm a slimeball 'til I die (slime)
All the freaky hoes come outside (all your hoes come)
All the nasty bitches outside (yeah)
You can't run, you can't even stay inside (you can't even stay inside)
Get you killed, got a show in the Chi' (woo)
Thumb through it fast, got this bitch sayin', "God", nigga
Millions, put it in the casket and buried it
Millions, niggas with me, bitches think we terrorists
Billions, stack this cash and lay low like barbarians
Brazilians, wax it and pass it to Australians
Ayy, I suppose it's a proposal (I suppose it's a proposal)
Ayy, most these niggas, they some bozos
Ayy, put the racks in the console (racks)
Ayy, blowin' O's just like Cheerios
Me and Wheezy, that's the wave
Overall Meaning
In "Millions," Young Thug brags about his wealth and lifestyle of extravagance. He raps about burying millions of dollars in cash, moving like a barbarian, and waxing and passing joints to Brazilians and Australians. He's propositioning a woman, boasting about his sexual prowess, and condemning other men as "bozos." The line "Me and Wheezy, that's the wave" refers to his frequent collaborator, producer Wheezy, and their winning formula for creating hit songs.
In the first verse, Young Thug covers a range of topics related to his wealth and status. He talks about burying millions of dollars in cash in a casket, which could be seen as a metaphor for his nonchalant attitude towards money. He's been so rich for so long that it's lost its value to him. He also mentions that women think he's a terrorist because of his reputation for erratic behavior and extreme wealth. He advocates for stacking cash and laying low like barbarians, who were known for their austere and warlike way of life. Finally, he waxes and passes joints to Brazilians and Australians, suggesting that he's a global superstar with fans around the world.
The second verse is more focused on his personal and sexual relationships. He talks about a Pakistani woman who wants to "lay" with him, suggesting that her interest in him is purely physical. He brags about having made a million dollars without "touching the key," referring to drug trafficking. He has a romantic interest who wants to have a baby with him and be "stuck" with him. He criticizes women who are too eager to please him and implies that he's too important and too rich to bother with them. Overall, the song is a celebration of Young Thug's money, fame, and status, with a strong emphasis on his ability to have any woman he wants.
Interesting facts about the song:
Interesting Facts
Note: This section uses generative AI, which can be inaccurate.


Line by Line Meaning
Me and Wheezy, that's the wave
Young Thug and his collaborator Wheezy are at the forefront of the current musical movement
Millions, put it in the casket and buried it
Young Thug has amassed a fortune, but he's keeping it hidden away
Millions, niggas with me, bitches think we terrorists
Young Thug and his crew have a lot of money, and people are intimidated by them
Billions, stack this cash and lay low like barbarians
Young Thug plans to keep accumulating wealth and laying low to avoid scrutiny
Brazilians, wax it and pass it to Australians
Young Thug plans to transport his illicit earnings through various countries
Ayy, I suppose it's a proposal (I suppose it's a proposal)
Young Thug has an idea or a plan that he's presenting to someone
Ayy, most these niggas, they some bozos
Young Thug doesn't hold a high opinion of most of his peers in the music industry
Ayy, put the racks in the console (racks)
Young Thug puts his money in the center console of his car
Ayy, blowin' O's just like Cheerios
Young Thug is smoking and blowing smoke rings, similar to the shape of Cheerios cereal
Pakistanian bitch wanna lay with me (ayy)
A woman from Pakistan is interested in sleeping with Young Thug
I been in the trenches, slangin' since a nigga was three
Young Thug has been hustling since he was a young child
I've been on the road, on a plane, take a pic with me
Young Thug has been traveling extensively for his music career and wants to take pictures with fans
Bitch, I took a picture, try to frame me, try to riddle me (ha)
Someone may be trying to frame Young Thug or create problems for him using a photo he's taken
Ayy, made a million bucks but I didn't touch the key
Young Thug has made a lot of money without explicitly stating how
Ayy, I done tore it up now shawty lovin' me (swear)
Young Thug has gained a lot of success and attention, and people are attracted to him for it
Ayy, I done ran it up and now she fuck with me
Young Thug has made a lot of money, and someone he's interested in is attracted to him for it
Now she wanna make a baby, now she wan' be stuck with me
Someone Young Thug is involved with wants to have a child with him and be together long-term
Nasty ass bitch (ha)
Young Thug is derogatorily referring to someone he finds unappealing
Trippin' tryna kiss me, after suckin' niggas' dicks (ayy)
Someone is attempting to kiss Young Thug after being involved with other men sexually
I can't put no hickey on your titties or your lips (facts)
Young Thug does not want to mark up someone's body with a hickey
Fuck it, where your head? I ain't even tryna hit (swear)
Young Thug is uninterested in being sexually involved with someone
All my cars fast, I ain't even try to dip (try)
Young Thug has fast cars and doesn't need to speed to experience their power
I ain't no Dorito type of nigga, I stack chips (racks)
Young Thug is focused on making and accumulating money
Ain't no pussy eatin' type of nigga, you ain't dip
Young Thug is not interested in performing oral sex right now
Bitch, your mamacita tryna fuck us off the rip
Someone's mother or an older woman is attempting to proposition Young Thug and others for sex immediately
Ten racks, hunnid racks
Young Thug is making and spending a lot of money
Hunchback, Cadillac (slime)
Young Thug is discussing his car
Dirty fat sacks, my bitch a brat (slime)
Young Thug has a lot of money and his partner may be difficult to deal with
All the hood hoes need love, gotta give it back (slime)
Young Thug is discussing relationships in less privileged areas and wants to show support
Yeah, pay the bitches homage (homage)
Young Thug wants to show respect and admiration for the women in his life
All my niggas with me one hunnid (hunnid)
Young Thug's team and associates are loyal and supportive
All the opps die every summer (slatt)
Young Thug's rivals and enemies tend to have a difficult time or fail during the summer months
All the Glocks, give 'em to my mama (on God)
Young Thug trusts his mother to hold and protect his firearms
All the Ks (yeah), at the hide' (brr)
Young Thug has weapons stored or hidden somewhere
I'm a stunna, with the racks
Young Thug is confident and has a lot of money
I'm a slimeball 'til I die (slime)
Young Thug identifies with the term 'slime' which means a loyal and trustworthy person
All the freaky hoes come outside (all your hoes come)
Young Thug is looking for women who are interested in sexual exploration
All the nasty bitches outside (yeah)
Young Thug is seeking people who may be interested in sexual acts that others may find distasteful
You can't run, you can't even stay inside (you can't even stay inside)
Young Thug's presence and influence is pervasive and can't be avoided
Get you killed, got a show in the Chi' (woo)
Young Thug's circumstances could potentially lead to danger or violence during a performance in Chicago
Thumb through it fast, got this bitch sayin', "God", nigga
Young Thug is counting and handling a large sum of money quickly, and someone is impressed by it
Lyrics © Universal Music Publishing Group, Sony/ATV Music Publishing LLC, RESERVOIR MEDIA MANAGEMENT INC, Warner Chappell Music, Inc.
Written by: Jeffery Lamar Williams

Lyrics Licensed & Provided by LyricFind
To comment on or correct specific content,
highlight it
Genre not found
Artist not found
Album not found
Search results not found
Song not found