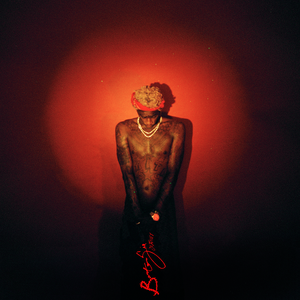 Jeffery Lamar Williams, better known by his stage name Young Thug (also uses the…
Read Full Bio ↴
Jeffery Lamar Williams, better known by his stage name Young Thug (also uses the name "SEX!!" and was briefly known as "Jeffery"), is an American rapper from Atlanta, Georgia who is signed to Gucci Mane's 1017 Brick Squad Records, Asylum Records and Atlantic Records. Thug grew to prominence in 2013 after releasing his mixtape 1017 Thug to positive critical reception. He has collaborated with artists such as Gucci Mane, Young Scooter, Rich Homie Quan and Waka Flocka Flame.

Thug was born amongst the masses eliminating any doubt that he wouldn't be special. The second youngest child of 11 children developed a skill for standing out amongst many, early. Young Thug moved to Jonesboro, an impoverished suburb of Georgia where his lifestyle was engrossed by the crime, drug addiction and violence that surrounded him. It was there that he developed an insatiable appetite to succeed his current situation. After discovering and acknowledging his talent and creativity for music in 2010, Thug started a new hustle that would soon mature as one of the most promising music careers in the South. He also founded the record label YSL ( Young Stoner/Slatt Life) in 2010.


Eyeballing the throne of Hip hop royalty, Young Thug began to create a sound and style that would inevitably place him on top. Young Thug's catchy verses and raw lyrical talent distinguished noise from art, clearly being the latter his creations are the best that remain of Southern hip hop. He is the embodiment of the evolution of Southern hip-hop. Young Thug is the representative for a generation that doesn't see hip-hop as a hobby but a lifestyle. Keeping true to himself, his art, and his home Young Thug will stand alone as the one true savior of the Southern movement.

2. Young Thug aka The Demon Child is hardcore/horrorcore rapper/beatmaker from Central France. Often collaborated with Lil Prod. Also he made 2 albums under the alias Da Mystic Terror, in these 2 albums he changed his voice to make it sounds like it's an other person rapping.
Official blogspots:
http://demonchildproductions.blogspot.com/
http://lilproddiscographie.blogspot.com/
Jump to: Overall Meaning ↴ Line by Line Meaning ↴
And them boys in Atlanta they don't play yah
And them boys from Atlanta, tote them K's yeah
And them boys from Atlanta got bananas for these monkey niggas
And I got plenty ammo for your family nigga
Ammo for these pussy mothafuckas
Run up I swear to God I want tears from your mother
Fuck nigga tripping I get prison and fuck your father
Imma tell 'em one time, ain't going farther
I'm doing numbers
I got bands in the bando
And I'm beating David Banner
And I'm smoking on cabana
Leanin' movin' slow as grandma
Motor runnin', spent them commas, now it's thunder
Count a hundred want a hunnid more that's hunger
Yeah baby, Thugger Thugger hungry, yes I'm hungry
Young Thugger got the munchies
All my diamonds come in yellow like a Funyon
Yeah all my gold made 'em sick and they can vomit
Pussy nigga know they can vomit
I'm growing green me and chi-chi, no pet
I'm chasing dreams, Free Meek Milly
And them boys in Atlanta they don't play yah
And them boys from Atlanta, tote them K's yeah
And them boys from Atlanta got bananas for these monkey niggas
And I got plenty ammo for your family nigga
Ammo for these pussy mothafuckas
Run up I swear to God I want tears from your mother
Fuck nigga tripping I get prison and fuck your father
Imma tell 'em one time, ain't going farther
I'm doing numbers
Imma tell em one time
I can read your mind
Pop, pop, pop, pop, then start ridin'
Brand new 24's, bitch on climb
You's a busta, mothafucka rhymes
No Sticky fingers, no porcupine
Genius I'll chase the day
Wait, let me pick up his remains
Hey, let them gators get their prey
Hold up hold up, wait
And them boys in Atlanta they don't play yah
And them boys from Atlanta, tote them K's yeah
And them boys from Atlanta got bananas for these monkey niggas
And I got plenty ammo for your family nigga
Ammo for these pussy mothafuckas
Run up I swear to God I want tears from your mother
Fuck nigga tripping I get prison and fuck your father
Imma tell 'em one time, ain't going farther
I'm doing numbers
Overall Meaning
In the lyrics of "Numbers" by Young Thug, the rapper is making a statement about Atlanta and its violent reputation. He warns that "them boys in Atlanta don't play" and that they are armed with K's (referring to AK-47s). He further emphasizes the danger of dealing with Atlanta gang members by stating that they have "bananas for these monkey n***as," meaning that they have guns ready to take on any challengers. Young Thug proclaims that he has "plenty of ammo for your family n***a," implying that he is well-armed and ready for a fight.
The second verse of the song has Young Thug boasting about his wealth and status. He raps about having "bands in the bando," which means that he has a lot of money stored away in abandoned buildings. He also mentions smoking on cabana (a type of cigar) and being "leanin' movin' slow as grandma," implying that he is high on drugs. Young Thug declares that he is "doing numbers," which can be understood as a euphemism for making a lot of money or being successful in general.
Overall, "Numbers" is a song that portrays Young Thug as a tough and wealthy gangster who is not afraid to take on his enemies. It also highlights the harsh reality of gang violence and the dangerous lifestyle that many young people in Atlanta are forced to live.

Line by Line Meaning
And them boys in Atlanta they don't play yah
The people of Atlanta are not to be messed with.
And them boys from Atlanta, tote them K's yeah
Those from Atlanta carry guns and are willing to use them.
And them boys from Atlanta got bananas for these monkey niggas
The people from Atlanta have weapons (bananas) for anyone they see as less than human (monkey niggas).
And I got plenty ammo for your family nigga
I have enough bullets to kill multiple members of your family.
Ammo for these pussy mothafuckas
I have bullets for anyone who is weak or cowardly.
Run up I swear to God I want tears from your mother
I want to cause so much pain that your mother cries.
Fuck nigga tripping I get prison and fuck your father
If someone tries to mess with me, I'll have them arrested and harm their father.
Imma tell 'em one time, ain't going farther
I will warn them once, but if they don't listen, I'll take it further.
I'm doing numbers
I'm being successful, making lots of money and gaining power.
Imma tell em one time
I'll give them a warning.
I can read your mind
I'm very good at understanding people's thoughts and intentions.
Pop, pop, pop, pop, then start ridin'
I'll shoot at someone and then quickly leave the area.
Brand new 24's, bitch on climb
I have new wheels on my car and they're impressive.
You's a busta, mothafucka rhymes
You are weak and your lyrics are not impressive.
No Sticky fingers, no porcupine
I won't hesitate to take what I want, and I won't back down if someone tries to stop me.
Genius I'll chase the day
I'm a skilled and intelligent person who will achieve success.
Wait, let me pick up his remains
I need to finish off someone I've already wounded or killed.
Hey, let them gators get their prey
I'm not going to interfere with something that's out of my control, like nature.
Hold up hold up, wait
I need to pause and re-evaluate the situation.
Lyrics © CANNY LARK MUSIC, Universal Music Publishing Group, Kobalt Music Publishing Ltd., Warner Chappell Music, Inc.
Written by: LONDON TYLER HOLMES, JEFFREY LAMAR WILLIAMS

Lyrics Licensed & Provided by LyricFind
To comment on or correct specific content,
highlight it
Genre not found
Artist not found
Album not found
Search results not found
Song not found