You're pelican, fly, you're pelican, fly, you're pelican, fly
Baby, you're pelican, fly, oh yeah, you're pelican, fly
Oh yeah you're pelican, fly, oh god, oh god, oh god
Thugger, Thugger started whippin' packs, aye
Throw the bong like propane, aye
40k the price for bricks a day, aye
Niggas know I'm runnin' off, no pay
Black diamonds dancin', I'm night today
Thug built a teepee on the runway
No Falcon, but I see birds every Sunday
Magic city on a Monday, ayee
Throw a whole 50 on a bitch ass, ayee
Smoke a whole ounce of gas, ayee
Nigga drinkin' lean in E-class
Private flights, you gotta grind, you can't get it overnight
Lean, lean, Mr. Sprite, the green or the red? I drink it straight
RIP to Pimp, C-C-C-C, I'mma drink you everyday
You're pelican, fly, you're pelican, fly, you're pelican, fly
Baby, you're pelican, fly, oh yeah, you're pelican, fly
Oh yeah you're pelican, fly, oh god, oh god, oh god
Thugger, Thugger started whippin' packs, aye
Throw the bong like propane, aye
40k the price for bricks a day, aye
Niggas know I'm runnin' off, no pay
Take off runnin' down the damn street
Take off runnin' with this 30
Ain't gotta say it, you know I believe
I don't give no damn 'bout what you say to me
That's a bad boy ridin' through the hood
Man I got a hood, I'm Trayvon good
My car got no hood, misunderstood
I nick-named your ho timber, she love the wood
I'm in my zone, can't find my way home
If everything ain't right, then something gone go wrong
Man they flooded Atlanta, RIP to the dome
No harmony, she gone bone cause she stoned
She pelican, fly, she pelican, fly, she pelican, fly
Yeah, she a pelican, fly, oh shit, she pelican, fly
Oh yeah she pelican, fly, oh god, oh god, oh god
x2
Thugger, Thugger started whippin' packs, aye
Throw the bong like propane, aye
40k the price for bricks a day, aye
Niggas know I'm runnin' off, no pay
Think I'm runnin', think I'm runnin', think I'm runnin'
Contributed by Violet D. Suggest a correction in the comments below.
To comment on specific lyrics,
highlight them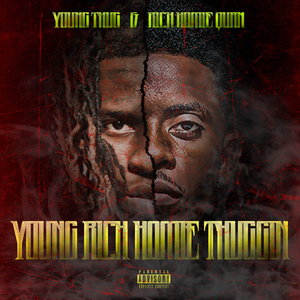 Jeffery Williams, better known by his stage name Young Thug (also uses the name "SEX!!" and was briefly known as "Jeffery"), is an American rapper from Atlanta, Georgia who is signed to Gucci Mane's 1017 Brick Squad Records, Asylum Records and Atlantic Records. Thug grew to prominence in 2013 after releasing his mixtape 1017 Thug to positive critical reception. He has collaborated with artists such as Gucci Mane, Young Scooter, Rich Homie Quan and Waka Flocka Flame.
Read Full Bio
Jeffery Williams, better known by his stage name Young Thug (also uses the name "SEX!!" and was briefly known as "Jeffery"), is an American rapper from Atlanta, Georgia who is signed to Gucci Mane's 1017 Brick Squad Records, Asylum Records and Atlantic Records. Thug grew to prominence in 2013 after releasing his mixtape 1017 Thug to positive critical reception. He has collaborated with artists such as Gucci Mane, Young Scooter, Rich Homie Quan and Waka Flocka Flame.

Thug was born amongst the masses eliminating any doubt that he wouldn't be special. The second youngest child of 11 children developed a skill for standing out amongst many, early. Young Thug moved to Jonesboro, an impoverished suburb of Georgia where his lifestyle was engrossed by the crime, drug addiction and violence that surrounded him. It was there that he developed an insatiable appetite to succeed his current situation. After discovering and acknowledging his talent and creativity for music in 2010, Thug started a new hustle that would soon mature as one of the most promising music careers in the South.

Eyeballing the throne of Hip hop royalty, Young Thug began to create a sound and style that would inevitably place him on top. Young Thug's catchy verses and raw lyrical talent distinguished noise from art, clearly being the latter his creations are the best that remain of Southern hip hop. He is the embodiment of the evolution of Southern hip-hop. Young Thug is the representative for a generation that doesn't see hip-hop as a hobby but a lifestyle. Keeping true to himself, his art, and his home Young Thug will stand alone as the one true savior of the Southern movement.

2. Young Thug aka The Demon Child is hardcore/horrorcore rapper/beatmaker from Central France. Often collaborated with Lil Prod. Also he made 2 albums under the alias Da Mystic Terror, in these 2 albums he changed his voice to make it sounds like it's an other person rapping.
Official blogspots:
http://demonchildproductions.blogspot.com/
http://lilproddiscographie.blogspot.com/
Genre not found
Artist not found
Album not found
Search results not found
Song not found