I got a feelin', one of these niggas gon' try me
No I'm not fearing, my bitch got tattoos and piercings
Yeah she got tattoos and piercings, tattoos and piercings bitch
Tattoos and piercings
Ten racks on shawty too
Ten racks on brothers too
Ten racks on sisters too
Ten racks, on Rollies too
Ten racks, I'm bloody too
Ten racks I give you two
Ten racks, I need a few
Ten racks, gon' pay my dues
I don't like your middle man
Boat life like Gilligan
I push the ceiling in
None of you trill as him
I done went brazy
Talk about equations
Penthouse a play pen
Boolin' I'm lazy
I done bought so many mollies, I'm in Michigan
Put my hoe friend out the spot, you know she listening
And I might be in some trouble if she mention it
I might get a bitch a band, just to look at them
I done iced out the gold Rollie
It look better than a trophy
And these bitches conniving, I know all these bitches want me
They gon' fuck my lil homie, yeah, yeah, they bogus
I'mma pull out screaming hokey pokey okey
I got a feelin', one of these niggas gon' try me
No I'm not fearing, my bitch got tattoos and piercings
Yeah she got tattoos and piercings, tattoos and piercings bitch
Tattoos and piercings
Ten racks on shawty too
Ten racks on brothers too
Ten racks on sisters too
Ten racks, on Rollies too
Ten racks, I'm bloody too
Ten racks I give you two
Ten racks, I need a few
Ten racks, gon' pay my dues
Take out some time and just count it
I don't like old schools, I'm not mounted
YSL, bitch, I'm the founder
Suck dick and get an allowance
What do they know about my swag?
How many bands in my bag?
Bitten and curbing the style
Fifty-six thousand on cabs
Paid for my test I did not have to cheat
I am no Beyonce but I'm a big B
I got extendos, not talking no tees
You smoking Indo, don't stand next to me
I get my weed from Snoop Dogg, it's OG, yeah
Money still growing on trees, yeah
Rich nigga ride with police, yeah
Won't jeopardize none of these pieces, yeah
I got a feelin', one of these nigga's gon' try me
No I'm not fearing, my bitch got tattoos and piercings
Yeah she got tattoos and piercings, tattoos and piercings bitch
Tattoos and piercings
Ten racks on shawty too
Ten racks on brothers too
Ten racks on sisters too
Ten racks, on Rollies too
Ten racks, I'm bloody too
Ten racks I give you two
Ten racks, I need a few
Ten racks, gon' pay my dues
Lyrics © Universal Music Publishing Group, RESERVOIR MEDIA MANAGEMENT INC, Warner Chappell Music, Inc.
Written by: LONDON TYLER HOLMES, JEFFREY WILLIAMS

Lyrics Licensed & Provided by LyricFind
To comment on specific lyrics,
highlight them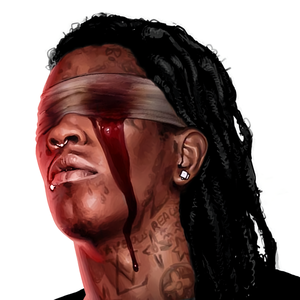 Jeffery Lamar Williams, better known by his stage name Young Thug (also uses the name "SEX!!" and was briefly known as "Jeffery"), is an American rapper from Atlanta, Georgia who is signed to Gucci Mane's 1017 Brick Squad Records, Asylum Records and Atlantic Records. Thug grew to prominence in 2013 after releasing his mixtape 1017 Thug to positive critical reception. He has collaborated with artists such as Gucci Mane, Young Scooter, Rich Homie Quan and Waka Flocka Flame.
Read Full Bio
Jeffery Lamar Williams, better known by his stage name Young Thug (also uses the name "SEX!!" and was briefly known as "Jeffery"), is an American rapper from Atlanta, Georgia who is signed to Gucci Mane's 1017 Brick Squad Records, Asylum Records and Atlantic Records. Thug grew to prominence in 2013 after releasing his mixtape 1017 Thug to positive critical reception. He has collaborated with artists such as Gucci Mane, Young Scooter, Rich Homie Quan and Waka Flocka Flame.

Thug was born amongst the masses eliminating any doubt that he wouldn't be special. The second youngest child of 11 children developed a skill for standing out amongst many, early. Young Thug moved to Jonesboro, an impoverished suburb of Georgia where his lifestyle was engrossed by the crime, drug addiction and violence that surrounded him. It was there that he developed an insatiable appetite to succeed his current situation. After discovering and acknowledging his talent and creativity for music in 2010, Thug started a new hustle that would soon mature as one of the most promising music careers in the South. He also founded the record label YSL ( Young Stoner/Slatt Life) in 2010.


Eyeballing the throne of Hip hop royalty, Young Thug began to create a sound and style that would inevitably place him on top. Young Thug's catchy verses and raw lyrical talent distinguished noise from art, clearly being the latter his creations are the best that remain of Southern hip hop. He is the embodiment of the evolution of Southern hip-hop. Young Thug is the representative for a generation that doesn't see hip-hop as a hobby but a lifestyle. Keeping true to himself, his art, and his home Young Thug will stand alone as the one true savior of the Southern movement.

2. Young Thug aka The Demon Child is hardcore/horrorcore rapper/beatmaker from Central France. Often collaborated with Lil Prod. Also he made 2 albums under the alias Da Mystic Terror, in these 2 albums he changed his voice to make it sounds like it's an other person rapping.
Official blogspots:
http://demonchildproductions.blogspot.com/
http://lilproddiscographie.blogspot.com/
Genre not found
Artist not found
Album not found
Search results not found
Song not found