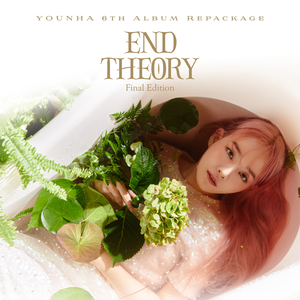 1) Go Youn-ha (Hangul: 고윤하, Hanja: 高潤荷; born April 29, 1988, in Seou…
Read Full Bio ↴
1) Go Youn-ha (Hangul: 고윤하, Hanja: 高潤荷; born April 29, 1988, in Seoul, South Korea), better known by the mononym Younha (Korean: 윤하, Japanese: ユンナ), is a K-Pop and J-Pop singer-songwriter and record producer under C9 Entertainment. She debuted in 2004 with the release of her first single, "ゆびきり" (Yubikiri).

Younha made her debut as an artist at the young age of sixteen. Nicknamed the "Oricon comet" for her success in Japan, she has released eight singles and two albums there with varying degrees of success. Several of her songs have been featured in anime/dramas. In 2006, she debuted in South Korea, where she is regarded as one of the country's best singer-songwriters.

2) YOUHA is a different artist whose scrobbles inexplicably appear under "Younha." Youha is a soloist currently under the label Universal Music Korea and has been since September 2020. Previously, she had been a YG trainee for 9 years until she left in 2019.

Youha is well known for helping with the composition, writing and production of her music as well as other artists' music. She has been credited for the writing/composing of songs such as LOONA's 'PTT (Paint The Town)' and 'Wow' and VICTON's 'What I Said'.

On September 29 2020 she debuted with her single 'ISLAND'. The following year, August 24 2021, she released a single album titled 'Sweet-Tea' with pre-release single 'Cherry On Top' and title track 'Ice-T'. On August 25 2022, she released an ep titled 'love you more,' featuring 5 songs.
Event Horizon
Younha Lyrics
Jump to: Overall Meaning ↴ Interesting Facts ↴ Line by Line Meaning ↴
생각이 많은 건 말이야
당연히 해야 할 일이야
나에겐 우리가 지금 일순위야
안전한 유리병을 핑계로
바람을 가둬 둔 것 같지만
기억나? 그날의 우리가
잡았던 그 손엔 말이야
설레임보다 커다란 믿음이 담겨서
난 함박웃음을 지었지만
울음이 날 것도 같았어
소중한 건 언제나 두려움이니까
문을 열면 들리던 목소리
너로 인해 변해있던 따뜻한 공기
여전히 자신 없지만 안녕히
저기 사라진 별의 자리
아스라이 하얀 빛
한동안은 꺼내 볼 수 있을 거야
아낌없이 반짝인 시간은
조금씩 옅어져 가더라도
너와 내 맘에 살아 숨 쉴 테니
여긴 서로의 끝이 아닌
새로운 길모퉁이
익숙함에 진심을 속이지 말자
하나둘 추억이 떠오르면
많이 많이 그리워할 거야
고마웠어요 그래도 이제는
사건의 지평선 너머로
솔직히 두렵기도 하지만
노력은 우리에게 정답이 아니라서
마지막 선물은 산뜻한 안녕
저기 사라진 별의 자리
아스라이 하얀 빛
한동안은 꺼내 볼 수 있을 거야
아낌없이 반짝인 시간은
조금씩 옅어져 가더라도
너와 내 맘에 살아 숨 쉴 테니
여긴 서로의 끝이 아닌
새로운 길모퉁이
익숙함에 진심을 속이지 말자
하나둘 추억이 떠오르면
많이 많이 그리워할 거야
고마웠어요 그래도 이제는
사건의 지평선 너머로
저기 사라진 별의 자리
아스라이 하얀 빛
한동안은 꺼내 볼 수 있을 거야
아낌없이 반짝인 시간은
조금씩 옅어져 가더라도
너와 내 맘에 살아 숨 쉴 테니
여긴 서로의 끝이 아닌
새로운 길모퉁이
익숙함에 진심을 속이지 말자
하나둘 추억이 떠오르면
많이 많이 그리워할 거야
고마웠어요 그래도 이제는
사건의 지평선 너머로
사건의 지평선 너머로
Overall Meaning
The lyrics for Younha's song Event Horizon speak of uncertainty and the fear of the unknown as well as the importance of treasuring precious memories. The singer acknowledges that she has a lot on her mind but feels that her current priority is the person she is with. She uses the metaphor of a safe glass bottle to hold onto the things that she feels may escape her grasp.
The song then moves to reminiscing about a past moment where holding her significant other's hand filled her with a belief that was bigger than just excitement. In that moment, she was laughing but also felt like crying as she knew how precious that moment was. The door that was opened and the familiar warm voice that she heard all changed because of him.
The chorus talks about how much she will miss the memories that they made in this moment and how even if those moments fade away slowly, they will always be alive in their hearts. She also expresses the hope that this moment is not the end for them but the start of a new path, where they can cherish each other and not deceive themselves with familiarity. The song concludes with final goodbyes and the reassurance that they will always have those precious memories to look back on even if they don't know what tomorrow holds.
Interesting facts about the song:
Interesting Facts
Note: This section uses generative AI, which can be inaccurate.


Line by Line Meaning
생각이 많은 건 말이야
I have a lot of thoughts to express.
당연히 해야 할 일이야
I should naturally fulfill my responsibilities.
나에겐 우리가 지금 일순위야
Right now, our relationship is my top priority.
안전한 유리병을 핑계로
I'm using a safe excuse to keep the wind at bay.
바람을 가둬 둔 것 같지만
It seems like I've contained the wind, but in reality, I haven't.
기억나? 그날의 우리가
Do you remember us from that day?
잡았던 그 손엔 말이야
In that hand we held, there was more than just excitement.
설레임보다 커다란 믿음이 담겨서
It was filled with faith that surpassed the fluttering feelings.
난 함박웃음을 지었지만
I managed to smile brightly, but I felt like crying.
울음이 날 것도 같았어
I was on the verge of tears.
소중한 건 언제나 두려움이니까
Because what's precious always comes with fear.
문을 열면 들리던 목소리
The voice I used to hear when I opened the door,
너로 인해 변해있던 따뜻한 공기
And the warmth in the air that changed because of you,
여전히 자신 없지만 안녕히
Even though I still lack self-assurance, I'll say goodbye.
저기 사라진 별의 자리
The spot in the sky where the disappeared star was,
아스라이 하얀 빛
It shines with a milky white light.
한동안은 꺼내 볼 수 있을 거야
We can take it out and look at it for a while.
아낌없이 반짝인 시간은
The time that sparkled freely,
조금씩 옅어져 가더라도
Even though it's gradually becoming faint,
너와 내 맘에 살아 숨 쉴 테니
It will always live and breathe within our hearts.
여긴 서로의 끝이 아닌
This isn't the end for us,
새로운 길모퉁이
Just a new turn in our path.
익숙함에 진심을 속이지 말자
Let's not deceive ourselves with familiarity.
하나둘 추억이 떠오르면
When one by one, the memories come to me,
많이 많이 그리워할 거야
I'll miss them terribly.
고마웠어요 그래도 이제는
Thank you for everything, but now it's time,
사건의 지평선 너머로
To cross over the horizon of that event.
솔직히 두렵기도 하지만
Honestly, even though it's scary,
노력은 우리에게 정답이 아니라서
Putting effort doesn't necessarily lead us to the right answer,
마지막 선물은 산뜻한 안녕
So my final gift to you is a fresh goodbye.
Lyrics © Universal Music Publishing Group, Peermusic Publishing
Written by: Youn Ha Go, Jun Ho Son

Lyrics Licensed & Provided by LyricFind
To comment on or correct specific content,
highlight it
Genre not found
Artist not found
Album not found
Search results not found
Song not found