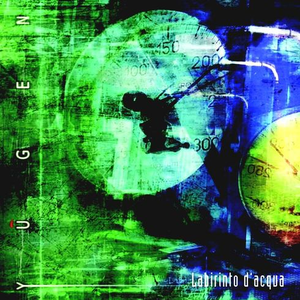 There are (at least) two artists that use the name "yugen."

Yugen is a mu…
Read Full Bio ↴
There are (at least) two artists that use the name "yugen."

Yugen is a musical project born during autumn of 2004 from an idea by Francesco Zago and Marcello Marinone. Four years after the end of The Night Watch, with whom he published the only cd of the group (Twilight, 1997), and after several musical experiences far from rock (Musicamorfosi, Exaquier, OZ, Contrapplugged, Flabby Puddings), Francesco Zago begins thinking about a synthesis between rock (progressive and RIO-style oriented) and chamber music. Thanks to the ideas and fundamental support of Marcello Marinone, the project takes its shape from a few chamber compositions (Danze corazzate, Catacresi5), enriched with electric sounds and a rock rhythm section. The name of the project became Yugen, a japanese word impossible to translate in its precise meaning which expresses the aesthetic canon of japanese art, as haiku in poetry or No in theatre.
Between December of 2004 and January of 2005 the first demo of Yugen was produced. Diego Donadio, formerly drummer of The Night Watch, contributes to the drums arrangements. In February, during an extemporaneous jam session in Tradate, the keyboard player Paolo Botta (French TV) and swiss saxophone player Markus Stauss (Spaltklang, Ulterior Lux) joined the group. Then Stephan Brunner, who plays electric bass in Spaltklang, and reed player Peter Schmid (Evan Parker, Vinny Golia) accept to play with Yugen.
In the meantime, new compositions come out: Zago writes Le rovine circolari e Corale metallurgico, plus other little acoustic pieces. To satisfy the complexity and richness of the arrangements, other instrumentalist join the band: the percussionist Massimo Mazza, Giuseppe Olivini (OZ, Contrapplugged) plays harpsichord, the classical players Maurizio Fasoli (piano), Elia Mariani (violin) and Marco Sorge (clarinets). Last arrivals, but not less important, the drummer Mattia Signò, Tommaso Leddi (Stormy Six) and U.S. drummer Dave Kerman (Thinking Plague, 5uus, Present, Blast, Ahvak.) for Corale Metallurgico drums.
The recordings began in June of 2005 and they continued until January of 2006. During the following months, Udi Koomran (Avhak, Present, Thinking Plague, Chris Cutler.) worked on mixing and mastering.
The first cd of Yugen will be entitled Labirinto d'acqua (Water maze) and probably released between September and October of 2006.

Members:

Francesco Zago, Diego Donadio (Nightwatch)
Tommaso Leddi (Stormy six)
Dave Kerman (5uus, U Totem, Thinking Plague, Ahvak, Blast)
Markus Stauss, Stephan Brunner (Spaltklang)
Peter Schmid (Evan Parker, Vinnie Golia)
Paolo Botta (French TV)
And many others check the site www.yugen.it


* --- * * --- * * --- * * --- * * --- * * --- * * --- * * --- * * --- * * --- *


ambient/new age/experimental instrumentals, dreamy love songs, layered vocal tone-poems, etc.

Yugen means "mysterious vagueness, subtle order of beauty." I have taken this beautiful concept to name my own music and art, which generally reflects the mood of Zen rice-paper-and-ink paintings depicting landscapes enveloped in mist and cloud. In the words of Alan Watts, yugen is:

"to watch the sun sink behind a flower-clad hill, to wander on and on in a huge forest without thought of return, to stand upon the shore and gaze after a boat that disappears behind distant islands, to contemplate the flight of wild geese seen and lost among the clouds... When the vision is the sudden perception of something mysterious and strange, hinting at an unknown never to be discovered..."
In my own words:

"yugen seeks the fringes, the boundaries, the periphery of consciousness. It exists within the grey areas, where sound and vision meet in the blackness behind our eyes. I experience music as as a conjunction between dimensions, as a place where other-worldy living entities transform themselves into a form we as humans can understand."
Genre not found
Artist not found
Album not found
Search results not found
Song not found