Police and thieves in the street
Fightin' the nation with their guns and ammunition
Police and thieves in the street
Scarin' the nation with their guns and ammunition
From genesis to revelations, yes
The next generation will be, hear me
All the crimes committed, day by day
No one tried to stop it in any way
All the peacemakers turned war officers
Hear what I say
Police and thieves in the street
Fightin' the nation with their guns and ammunition
Police and thieves in the street
Scarin' the nation with their guns and ammunition
All the crimes committed, day by day
No one tried to stop it in any way
All the peacemakers turned war officers
Hear what I say
Police and thieves in the street
Fightin' the nation with their guns and ammunition
Police and thieves in the street
Police and thieves in the street
Police and thieves
Police and thieves
Writer(s): L. Perry

Contributed by Nicholas I. Suggest a correction in the comments below.
To comment on specific lyrics,
highlight them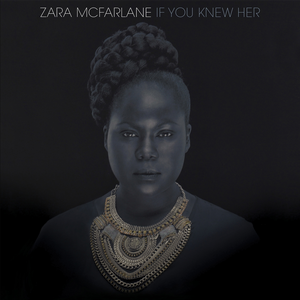 Zara McFarlane's debut album, 2011's Until Tomorrow, came garlanded with rave reviews and a MOBO award nomination, and heralded a major new talent in the world of British jazz. The follow-up, also recorded for Gilles Peterson's Brownswood Recordings, is a more ambitious collection that draws from many more influences: from the deep spiritual jazz of Pharoah Sanders to dub and reggae.

"With the first album," says Zara, "I was trying to create a cohesive sound, one that used the same line up and the same instrumentation throughout.
Read Full Bio
Zara McFarlane's debut album, 2011's Until Tomorrow, came garlanded with rave reviews and a MOBO award nomination, and heralded a major new talent in the world of British jazz. The follow-up, also recorded for Gilles Peterson's Brownswood Recordings, is a more ambitious collection that draws from many more influences: from the deep spiritual jazz of Pharoah Sanders to dub and reggae.

"With the first album," says Zara, "I was trying to create a cohesive sound, one that used the same line up and the same instrumentation throughout. This time the focus is on the songwriting, and the arrangements are tailor-made to suit each song. There's a lot more variation – around half of the tracks are duets, and I use more than one band. If there is a unified, cohesive theme, it's in the lyrics: the songs represent a journey through a woman's life."

Gilles Peterson has been a key figure in Zara's career. They first met when she was performing with the house music project Bopstar at the Southport Weekender in May 2010, where she gave him an EP of acoustic jazz songs she'd recorded. Within a few months, an impressed Peterson had signed Zara to his Brownswood Recordings label, and that EP eventually provided the basis for her debut album Until Tomorrow.

"Gilles has been an incredibly enthusiastic person to work with," says Zara. "With the first album, I'd recorded most of it before he'd signed me, but this time he's been more involved in its creation and made suggestions. He's passionate about all kinds of music, not just jazz, which has allowed me to experiment with different sounds."

Zara McFarlane was born 30 years ago into a Jamaican family in Dagenham, on the borders of Essex and London. She grew up in a household that loved reggae ("we played it all the time – parties, social gatherings, weddings, funerals, you name it!"), as well as the R&B of Michael Jackson and Luther Vandross. Her TV debut came at the tender age of 14, when she did a Lauryn Hill impression on Stars In Their Eyes against a line-up of grown ups.

She was educated at a local comprehensive before moving to the BRIT School in Croydon in her sixth-form to study musical theatre. "I fell in love with musicals and learned tons of old showtunes," says Zara. "I quickly realised that they were also jazz standards, and I always preferred the jazz versions." After a BMus degree in Popular Music Performance from the Tech Music School in Acton (part of the University of West London) she started to pursue her love of jazz, studying jazz and improvisation at the Guildhall School of Music & Drama.

When not working on her own material, Zara has performed as a featured vocalist in Gary Crosby's ska orchestra Jazz Jamaica, and performed with esteemed British jazzers such as Orphy Robinson, Denys Baptiste and Soweto Kinch. She's made house music with Bopstar and paid tribute to Tammi Terrell with Norwegian DJ/producer Dalminjo. Her tracks have been remixed and reworked by the likes of Viennese techno duo Ogris Debris, Ninja Tune's Floating Points, Afro-funker Osunlade and space-jazzers Emanative. She's fronted Italian DJ Nicola Conte's big band, performed at a Nina Simone tribute concert in Amsterdam and played support for South African trumpeter Hugh Masekela and American singer Gregory Porter. At the upcoming London Jazz Festival she'll be appearing opposite Dianne Reeves (Queen Elizabeth Hall, 20 November). She also maintains a role in education, teaching workshops in vocals and improvisation around Britain and Europe.

"I love all areas of this work – the teaching, the performing – but this album showcases what I'm most into at the moment, which is writing," she says. "These songs on this new album are more personal than anything I've ever written. It's me opening up, taking listeners on a journey."
Genre not found
Artist not found
Album not found
Search results not found
Song not found