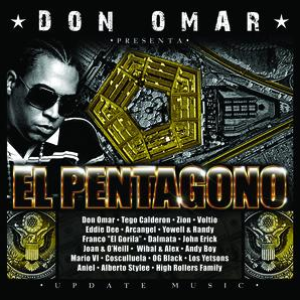 Zion (also known as Zumbi) is also the solo artist name of the MC from the world…
Read Full Bio ↴
Zion (also known as Zumbi) is also the solo artist name of the MC from the world famous underground rap group Zion I fame from Oakland California. Zumbi became fascinated by Hip Hop in its early stages; songs like "The Breaks" by Kurtis Blow and "Rock Box" by Run-D.M.C. got him hooked on the budding culture. He has said that Q-Tip from A Tribe Called Quest gave him lyrical inspiration, originally feeling that his unique vocal tone and style wouldn't be accepted. Zumbi wrote his first rhyme around 1990 during one of his Social Studies classes in High School. After continuing his writing, he gained the confidence to start rapping in local ciphers and began learning about critical aspects of rapping, like breath control, cadences and rhyme patterns.

3. Zion was a reggae band fronted by Carlton Pride, son of country music legend Charley Pride.
Originally known as One, the name was changed to Zion in 1996. That same year Zion released the album Reggae Rock Down and headlined the Bob Marley Festival. They would continue to headline the Bob Marley Festival until 2003. The band has since undergone another name change and is now known as Carlton Pride & Mighty Zion.

4. Zion is also the solo project of Crossover's vocalist

5. Zion was also an early Christian metal band, formed in 1981. Official site: http://www.zionrocks.org/
Veo
Zion Lyrics
Jump to: Overall Meaning ↴ Line by Line Meaning ↴
Chiq-ch-ch-chiq-ch-ch-chiq
Z Diddy
Zion baby
Te quiero ver (te quiero ver, te quiero ver)
En el mismo lugar en que te vi ayer (te vi ayer) (Zion y Lennox)
Y hacer lo que hicimos de nuevo, otra vez (otra vez) (blep)
Esta noche quiero amarte en secreto (-creto, -creto)
Dime si te veo (dime si te veo, dime si te veo, dime si te veo)
Dime si te veo (veo)
Me mata el deseo (-eo)
Tú me amas y luego
Me dejas con ganas de verte de nuevo (dile Zion)
Dime si te veo
Me mata el deseo
Me muero de ganas por verte de nuevo (nuevo, nuevo)
Me mata el dolor (Zion) (The Gold Pen)
Me mata el dolor (Zion)
Oh oh (me muero de ganas de verte de nuevo)
Ly-ly-ly (uh)
Vamo' a darle un flashback, que en la parte de atrás, un phillie (uh)
Vuelve y pa' la peste un Tic Tac
Se me quedó en los labio' el lipstick rojo de MAC (eh)
Mientras te rompí el aro, como los Lakers and Shaq
Ninguno da pa' llenarte ese espacio (uah)
Cuando te agarraba el pelo lacio (eh eh)
¿Quién va a imitar esa sensación? (Oh)
Nadie cambia un Rolex por un Casio, baby
Dime si te escapas pa' volverte a ver
Y si te vuelvo a tener (eh)
En tu cama vuelve a llover, baby
Dime si te veo (dime)
Me mata el deseo (uh)
Tú me amas y luego (yeah)
Me dejas con ganas de verte de nuevo
Dime si te veo
Me mata el deseo (yeah yeah)
Me muero de ganas por verte de nuevo (nuevo, nuevo)
Me mata el dolor (Zion) (Me muero por verte)
Me mata el dolor (Zion)
Oh oh (Me muero de ganas de verte de nuevo)
(Blep, blep)
Dime qué es lo que yo tengo que hacer pa' verte (yeah)
¿Qué tengo yo que hacer para besar tu boca de nuevo? (Eh)
Si luego tú te vas y me dejas así (yeah, yeah yeah)
Con tantas ganas de ti (ah)
Seco y sediento de esos besos que nos damos (ah, ah, ah, ah, ah) (mamacita)
Quiero verte de nuevo (yah)
Dime si te veo
Tuve anoche un sueño
En donde seguía tus pasos, bebé (bebé)
Dime si te veo (mamacita)
Me mata el deseo
Tú me amas y luego
Me dejas con ganas de verte de nuevo
Dime si te veo
Me mata el deseo
Me muero de ganas por verte de nuevo (nuevo, nuevo)
Zion y Lennox
Me mata el dolor (Zion)
Me mata el dolor (Zion)
Rome
Oh oh (me muero de ganas por verte de nuevo)
Urba
Los Evo Jedis, The Album
Rome
Urba
Chiq-ch-ch-chiq-ch-ch-chiq
Z Diddy
Ly-Ly-Ly-Ly
Overall Meaning
The song "Veo" by Zion is a story about a man and a woman who are drawn to each other and cannot resist their desire for each other. They meet each other from a distance, and he feels a strong attraction towards her. As they spend time together, they become more and more intimate, eventually confessing that they each have desires for one another. They sweat together while playing a game of being unfaithful, but he cannot help wanting to kiss her sweet lips. The singer knows that the woman is attracted to him because of the tension and pressure between them.
In the chorus, the singer expresses his overwhelming desire for the woman and that he cannot resist her. They have been together only once, but he cannot help feeling anxious and full of anticipation to be with her again. He fights for her and now that she is his, they should enjoy the night without any fear. He wants to make their intimate moments last forever.
Overall, the song portrays the intensity of desire and attraction between two people and the power it holds over them.

Line by Line Meaning
Entrando desde lejos
Zion enters from afar and feels a strong attraction towards someone.
Sentí un fuerte coqueteo
He senses a strong flirtation from the other person.
Ahí es que eh why veo
Zion realizes that they both desire each other.
Que ambos tenemos deseo
Both of them have desire for each other.
Entre tantas atreví
Out of many attempts, Zion dared to approach.
Como yo soy así
Zion is confident and bold.
Te saque de allí
Zion took the other person away from the situation.
Que si sentíamos deseo
Confirming their mutual desire.
Sudando piel con piel
Skin on skin, they are sweating due to the intimacy.
En una luna de miel
In the honeymoon stage of their relationship.
Jugando a ser infiel
They are playing with the idea of being unfaithful.
Como atrevernos, pagó
They take a risk and enjoy the consequences.
Yo se que tu solo me buscas
Zion knows that the other person is attracted to the excitement and tension.
Por que te encanta tanta tensión, presión
Because that excitement and tension is what they crave.
Solo te vi una ves
Zion only saw the other person once.
Why no pude resistir
But couldn't resist their attraction.
Tanta ansiedad por ti
The attraction caused a lot of anticipation and anxiety.
Tuve que pelear por ti ahora aquí
Zion had to fight for the other person's affection and attention.
Te tengo why no quiero
Zion has the other person, but doesn't want to let them go.
Why me desesperó, me muero
Zion is desperate for them and can't live without them.
Por besar tu boca tan dulce ma
Zion wants to kiss the other person's sweet lips.
Loco por hacerte sentirlo ma
Zion is crazy about making the other person feel loved and desired.
Hacerte sentirlo ma
Zion wants to make the other person feel loved and desired.
Tu sabes que decirlo ma
The other person knows what to say to feel loved and desired.
No hablemos mas
Stop talking and let actions speak louder.
Convertamos, hagámoslo eterno ma
Let's not waste time, and make our love everlasting.
Ya eres mía
The other person belongs to Zion now.
Ahora prepárate
Zion is ready to take their love to the next level.
Que hoy la noche es tuya
Tonight belongs to the other person.
Mujer no hay que esconderse ya
There is no need to hide their love anymore.
No hay palabras que detengan lo que sentimos
Their love cannot be stopped by mere words.
Juntos sin temerle a nah
They will face anything together without fear.
Rebol up date music
The type of music they are creating is called Rebol up date.
Baby records
Zion's music is produced by Baby Records.
Esto es el pentágono
This is the headquarters of their music group.
Doble A why nales
Zion's music group is called 'Doble A why nales'.
Los presidentes
The creators of this song are known as 'Los Presidentes'.
Hey eh, hey eh, hey eh
This is a chant to hype up the song.
Lyrics © Universal Music Publishing Group, Kobalt Music Publishing Ltd.
Written by: Edgardo Rafael Cuevas, Felix Ortiz Torres, Gabriel Antonio Cruz Padilla, Gabriel Enrique Pizarro, Jonathan Miranda-Asencio, Luis Jorge Romero, Noah K. Assad, Urbani Mota Cedeno

Lyrics Licensed & Provided by LyricFind
To comment on or correct specific content,
highlight it
Genre not found
Artist not found
Album not found
Search results not found
Song not found