ne mi prinest še ene pijače če ne se bom zaljubu v prvo toplo stvar
mrknite sonce prinesite oblake naj ugasnejo ogenj pod mojo krvjo
naj utihnejo tiste majhne pernate živali naj utihne topli veter naj ne piha v drevo
tolko lepih punc in nikoli ne bom vedu katera ima najbolj toplo telo
ne me gledat ne me gledat zdaj
ugodno prodam tretjino svojih možganov tisoč dvesto hormonov in eno zlato ribico
si bom kupu lovsko puško in eno škatlo patronov bom streljal na kupida in njegovo puščico
bom maskiran v jagodo špijoniral po vrtu bom v čisto nizkem letu prebijal zvočni zid
tolko lepih punc in nikoli ne bom vedu katera ima najbolj toplo telo
ne me gledat ne me gledat zdaj
Contributed by Connor S. Suggest a correction in the comments below.
To comment on specific lyrics,
highlight them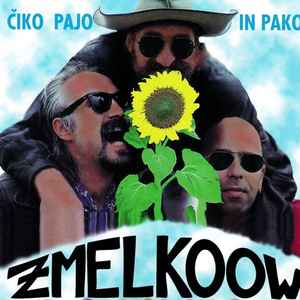 Zmelkoow are a cult Slovenian rock ("baroque-folk-jazz" and something in between) band from the coastal region. The "core" band consists of Gorazd "Goga" Sedmak (vocals, guitar), Žare Pavletič (bass guitar) and Aleš Koščak (drums, percussions) but they also have supporting team which are: Aleksandra Čermelj (vocal, violine), Eva Brajkovič (vocal) and Anuša Podgornik (synth, vocal, flute). They are known for funny and crazy songs and that despite this, the lyrics have a lot of deep metaphorical meaning.
Read Full Bio
Zmelkoow are a cult Slovenian rock ("baroque-folk-jazz" and something in between) band from the coastal region. The "core" band consists of Gorazd "Goga" Sedmak (vocals, guitar), Žare Pavletič (bass guitar) and Aleš Koščak (drums, percussions) but they also have supporting team which are: Aleksandra Čermelj (vocal, violine), Eva Brajkovič (vocal) and Anuša Podgornik (synth, vocal, flute). They are known for funny and crazy songs and that despite this, the lyrics have a lot of deep metaphorical meaning. Their first creation was the EP "Streloowod + Brrr... + Čau sonček" with the song Čau Slonček that awakened the attention of the public. Their first big hit was Yo! from "Kdo se je zbral?" and from there on they became a favourite among rockers all over Slovenia (especially in the region from where they are), but they became known to larger, mainstream Slovenian public in 1999 with the song Bit from their "Dej, nosorog, pazi kam stopaš!" album. Many regard them as one of the best and most original rock bands in Slovenia, and the album "Čiko, Pajo in Pako" has achieved almost cult status among the youth because of it's melodical roughness, originality and lyrical content.

Discography:
1993 - Streloowod + Brrr... + Čau sonček (EP)
1994 - Kdo Se Je Zbral?
1996 - Čiko, Pajo in Pako
1997 - Srebrna
1998 - Kishta (EP)
1999 - Dej, nosorog, pazi kam stopaš!
2000 - Izštekani pri Juretu Longyki (Unplugged)
2001 - Superheroji v akciji
2004 - Zmelkoow Plošča
2009 - Čista jajca?

Official website:
http://www.zmelkoow.net/
Genre not found
Artist not found
Album not found
Search results not found
Song not found