There's always one kid in every school
Who's, oh, so full of hate
Seething rage and vengeful genes
But, yeah, he plays it straight
His deeds are always sick and wrong
Although he's just a kid
Used to be a baby
'Til he burned down his crib
Clapped his hands and all he said was:
Finito, neato, neato, neato
Woah, oh, oh
Then everyone fell dead and said...
Don't talk to him, cos he's a villain
Don't talk to him, don't look at him
Don't listen to his lies, He's a villain
Villain
Some misguided teachers said
He's just misunderstood
But everybody understands
A villain ain't no good
Andy's always building
Evil, evil rays (for the GRA)
That boy's not upset, my friend, no
That boy's not ok
Stay away from classroom five A
Saty away...
Contributed by Gabriella S. Suggest a correction in the comments below.
To comment on specific lyrics,
highlight them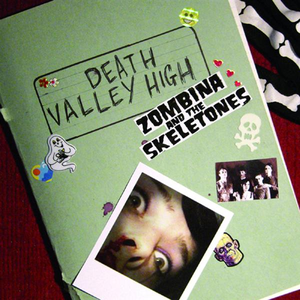 Zombina and the Skeletones are a horror rock band from Liverpool, England, formed in 1998 around the nucleus of vocalist Zombina and songwriter Doc Horror. The majority of their tongue in cheek lyrical content deals with themes of horror and science fiction, yet their musical style is upbeat and pop oriented, with elements of garage punk, doo wop and hard rock. Due to their apparent obsession with B Movies and black humour their fanbase extends to the gothic rock, deathrock and psychobilly scenes.
Read Full Bio
Zombina and the Skeletones are a horror rock band from Liverpool, England, formed in 1998 around the nucleus of vocalist Zombina and songwriter Doc Horror. The majority of their tongue in cheek lyrical content deals with themes of horror and science fiction, yet their musical style is upbeat and pop oriented, with elements of garage punk, doo wop and hard rock. Due to their apparent obsession with B Movies and black humour their fanbase extends to the gothic rock, deathrock and psychobilly scenes.
Debut album "Taste The Blood Of Zombina & The Skeletones" was released in late 2002 and quickly sold out following gigs up and down the country with the likes of The Damned, The Misfits, and The Meteors.

In 2003 the band set up the finest glam/punk/rock 'n' roll club the Mersey area has ever seen - "Useless" happened every other Tuesday at the Zanzibar in Liverpool for almost 3 years before a change of name and venue saw new night "Zombie Hop" arrive (and then disappear soon after) at the Heaven & Hell club.

Late 2004 saw the release of debut single "I Was A Human Bomb For The F.B.I.", the first in a series of three limited edition 7" records which has now sold out. The "Mondo Zombina!" EP followed in July 2005, and gigs alongside Jayne County and Wednesday 13 in the UK as well as a short tour of Germany saw supplies of the second pressing of the album run out fast.

The final installment in the Zombina & The Skeletones 7" Trilogy - "Staci Stasis" - was released in November 2005 along with the third pressing of the debut album, with a new long player set for release in early 2006.


Current lineup:

* Zombina Venus Hatchett - Vocals (1999-Present)
* Doc Horror - Bass/Guitar/Vocals(1999-Present)
* Jonny Tokyo - Keyboard/Bass/Vocals (1999-Present)
* Louie Diablo - Guitar/Vocals (On "Prom Night) (2005-Present)
* Kit Shivers - Drums/Vocals (On "Prom Night") (1999-2006)


www.zombina.com
Genre not found
Artist not found
Album not found
Search results not found
Song not found